A New World of Realistic Playability
Thanks to its NWX (Natural Wood X) keyboard with synthetic ivory keytops and escapement, you'll enter a whole new world of realistic playability when you sit down in front of the Yamaha Clavinova CLP-545. And it sounds as great as it feels, with meticulously sampled Yamaha CFX and Bösendorfer Imperial concert grand pianos onboard. Yamaha calibrated the CLP-545's cabinet for full-bodied resonance, so it sounds natural at any volume. And everything is packed into a gorgeous traditional-styled cabinet that will look great in any room. Also onboard is a 16-track recorder so you can capture inspiration when it strikes. If you're looking for a top-shelf digital piano, look no further than the Yamaha Clavinova CLP-545.
Real Grand Expression gives you the experience of playing an acoustic grand
The Clavinova CLP-545 delivers the authentic feel and response of a real acoustic piano. Yamaha calls it Real Grand Expression - and they should know. They've been perfecting their piano-making craft for over a century, and their grand pianos are standard equipment in top studios and on premier concert stages worldwide. Packed with unique, expertly integrated Yamaha technologies, the Clavinova CLP-545 delivers renowned expressive capability as it precisely executes your nuanced musical intent through the responsive touch of its keys and the feel of its pedals. As you play, you'll revel in the experience of playing an acoustic grand piano.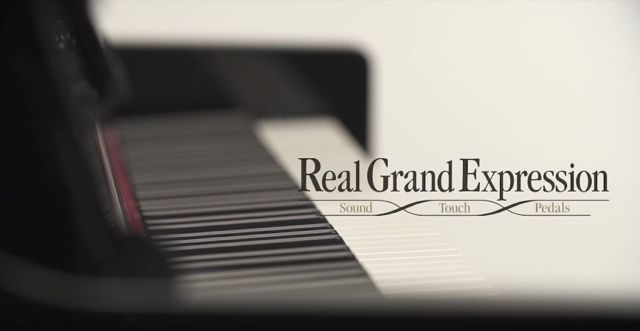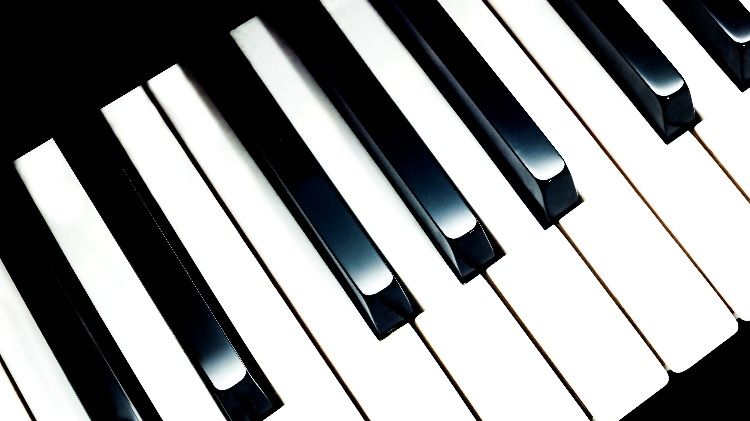 Natural Wood X (NWX) keybed delivers stunningly realistic playing feel
The material used for Natural Wood X (NWX) keyboards is cut from wood that has been carefully dried specifically for use in making musical instruments. Yamaha's NWX key action gives you incredibly realistic grand piano touch and response. Fitted with the same hammer system and springless mechanism as a grand piano, NWX keyboard action gives all keys an authentic resistance that increases from the top register to the lower - just as on an actual acoustic piano. Which means that you can pound out thunderous low notes with your left hand on the Clavinova CLP-545 and let the fingers on your right dance on the high notes. It also features Yamaha's three-sensor technology, which accurately senses and interprets the behavior of the keyboard for superbly realistic feel and response. The NWX keyboard features an escapement mechanism that gives you the feel of an acoustic piano as it goes through the let-off of the jack and the fall of the hammer when a key is played very softly. Add to that the superb feel of Yamaha's synthetic ivory keytops which mimic the tactile surface of the ivory keyboards once used in only the finest pianos. Yamaha uses a highly absorbent material that gives you the ideal texture and feel, while preventing your fingers from slipping even after hours of performing. Take it from Sweetwater, the Clavinova CLP-545 is a keyboard that begs to be played
The superb sound of the world's finest concert grand pianos
The Clavinova CLP-545 grand piano voices are sourced from premium, hand-selected Yamaha CFX and Bösendorfer Imperial concert grand pianos tuned to perfection by top professional piano tuners. Only then were the sounds meticulously sampled in varying velocities, for a stunningly realistic grand piano sound with smooth tonal transformations perfectly matched to key pressure. From staccato to legato, you get superbly expressive sound that responds beautifully to your touch. Featuring Yamaha Smooth Release technology, CLP-545 gives you realistic crisp staccatos and luxurious legatos, for nuanced response just like a real grand piano.
Full-bodied resonance, just like an acoustic piano
In a process analogous to that of an acoustic piano, the Clavinova's body materials and speaker positioning are meticulously calibrated to ensure that the instrument resonates optimally. To achieve a sonic image uncannily close to a grand piano's, the CLP-545 employs tone escape ports in multiple locations throughout the cabinet; this allows the sound from the speakers to be projected naturally to the listener's ears without getting trapped inside the instrument. The body of the CLP-545 has Acoustic Optimizers that control tone and regulate the flow of sound, for natural, smooth sonic richness across the entire keyboard range.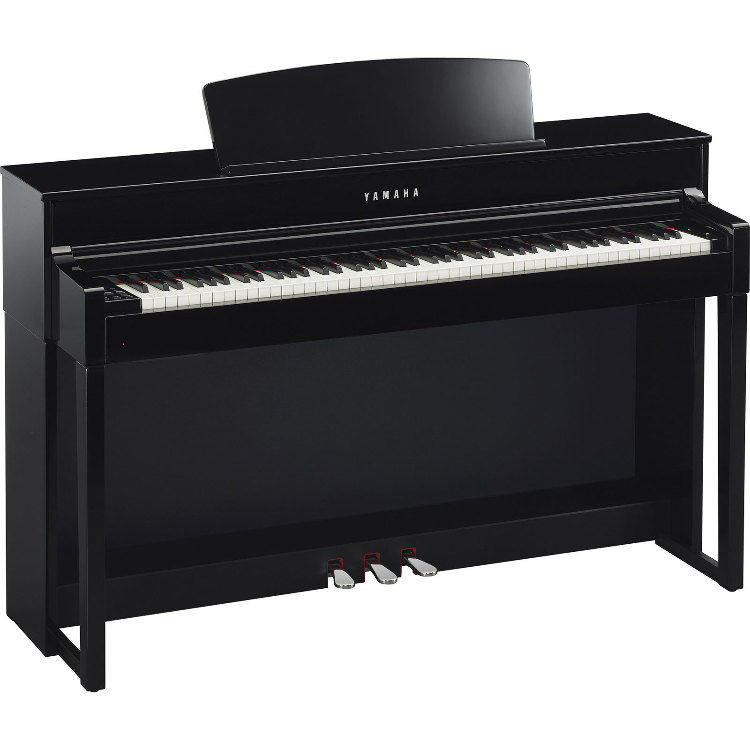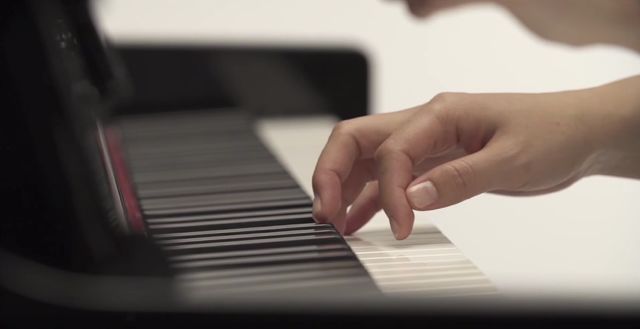 Instantly record your ideas with the built-in song recorder
The Yamaha CLP-545 has a 16-track, 250-song recorder to capture your creativity. When it's time to share your music, simply record your performances to a USB flash memory device as a WAV audio file. With 16 tracks and teh CLP-545's 34 high-quality instrument Voices you can build up complex arrangements for compelling demos or to flesh out your song ideas.
Intelligent Acoustic Control (IAC) is ideal for playing at home
You can't always rock out at home without disturbing your family or flatmates. Of course, the Yamaha CLP-545 sports dual headphone outputs, but for those occasions when you prefer not to use 'phones, the CLP-545 lets you adjust your speaker volume while compensating for the loss of bass and treble you get at lower levels. Yamaha calles it Intelligent Acoustic Control (IAC); we call it brilliant. IAC acts like the "Loudness" contour on vintage hi-fi receivers, boosting highs and lows at lower volumes so you enjoy balanced sound at any setting.
Which Clavinova is right for you?
Yamaha's Clavinova line offers a digital piano solution for any budget and situation. If you're having a hard time figuring out which Clavinova is right for you, check out our in-depth buying guide, where we outline the differences between the models. And of course, your Sweetwater Sales Engineer is always happy to help you choose!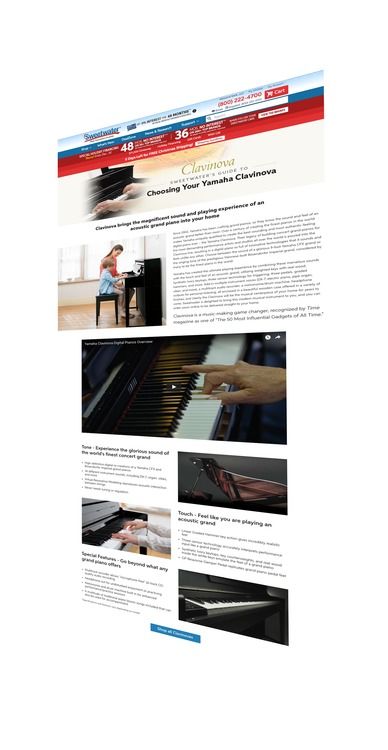 Yamaha Clavinova CLP-545 Digital Piano Features:
Yamaha CFX and Bösendorfer Imperial grand piano samples
34 Instrument voices
Natural Wood X (NWX) keyboard action with escapement
Synthetic ivory and matte black key tops
Acoustic Optimizer technology
Smooth Release, Key Off, and Damper Resonance samples
Traditional upright design with front legs and Yamaha logo
5-year parts-and-labor, in-home limited warranty
Real Grand Expression (RGE) sound engine; 256-note polyphony; dual-layer capability
Intelligent Acoustic Control (IAC); DSP Smooth Release
Onboard multi-effects, including reverb and chorus
16-track, 250-song recorder; 303 lesson songs
Soft, sostenuto, and damper pedals; half-damper effect