Classic FET Compression, Done Right
The Fredenstein Artistic 500 Series Compressor is a single channel FET design with multi-channel link capability. The Artistic Compressor delivers the sonic essence of classic FET designs, but with modern refinements that include a quality, US-made steel-core transformer as well as Fredenstein's proprietary OPA2 op-amp and Reverse-Mancini FET architecture. One of the first things you'll notice about this unit is that there is no interaction between Attack, Release, and Threshold controls! You'll find the other rotary controls — Input, Release, Ratio, Make-up Gain, and Wet/Dry Mix — instantly familiar. You can set Attack Time and the side-chain highpass filter in three steps. A toggle switch for Bypass and another for Link completes the feature set. An LED bar-graph meter indicates the gain reduction in a range of 1dB to 16dB.
Big iron and the OPA2
The Fredenstein Artistic Compressor employs a US-made steel-core transformer, which is particularly critical to the sound of the unit, helping to deliver its punchy, vintage-inspired sound with clarity and detail. Also under the hood is Fredenstein's proprietary OPA2 op-amp. Not a clone of an older design; the OPA2 is new technology with matched, integrated dual input transistors that greatly improve upon the specifications of vintage op-amps. Like vintage units, however, it's a socketed design with industry-standard pin-out that you can swap without tools. The OPA2 (along with the high-quality transformer) is key to the Artistic Compressor's sonic wizardry. At Sweetwater, We've put the Artistic Compressor to the test, and we like what we're hearing. We think you will too.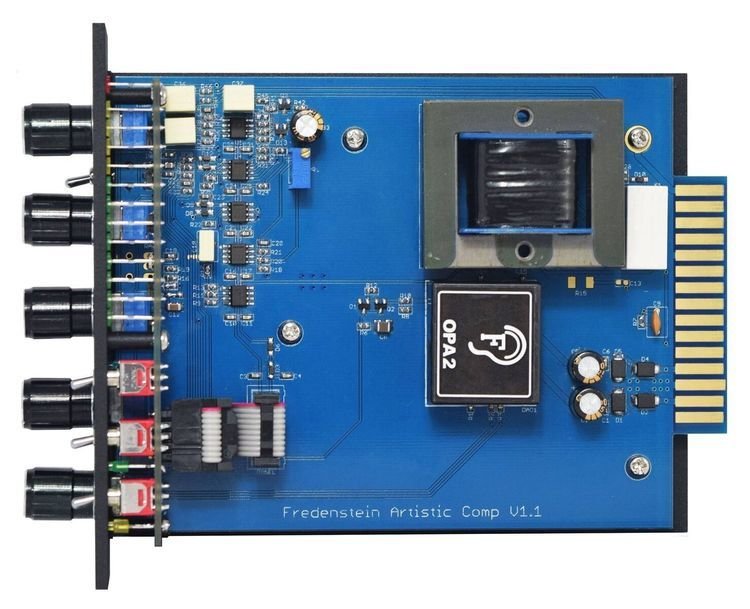 Fredenstein Artistic Compressor Features:
Classic FET compression, updated for the modern studio
Fredenstein's proprietary OPA2 op-amp and Reverse-Mancini FET architecture
High-quality, US-made steel-core transformer
Input, Release, Ratio, Make-up Gain, and Wet/Dry Mix rotary controls
3-position switches for Attack Time and the side-chain highpass filter
Toggle switches for Bypass and Link