The Envy of Your Drum Circles
The Remo Ngoma drum's enormous size lends itself to some distinct performance advantages. For starters, all that length leads to a great resonant tone in the hands of the player, with a deep fundamental and satisfying sustain. The other advantage is that it can be played standing up without the help of a stand. The Remo Ngoma's feet support its elongated 40" profile, lifting the sound hole off the ground and delivering rich bass tones. The Ngoma standing drum comes fitted with a key-tunable Remo Mondo Nuskyn head for an authentic touch and feel. It also has a handle to make transport easier.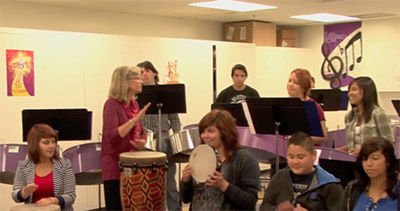 Built for the performer, fit for the classroom
Though the Remo Ngoma is nothing short of a performer's instrument, it also makes up an important part of a world music curriculum. Teaching students that percussion exists outside the drum set is an important part of Remo's company goals — one that Sweetwater percussionists are proud to stand behind.
Remo Ngoma Drum Features:
14" x 40" standing drum
A performer's instrument that's fit for the classroom
Long length delivers a deep fundamental and rich, satisfying sustain
Plays upright without the help of a stand
Elongated Acousticon shell is made from 100% recycled wood fiber
Ships with a Mondo Nuskyn drumhead for a professional-grade touch and feel
Can be tuned with a standard drum key for easy upkeep