Big Top Boost Tone in a Little Amp!
There are two classic Vox tones that guitar players really want, the classic, clean chime and the rowdier Top Boost. The Vox AC4C1 gives you both in a compact and affordable package. This all-tube 4-watt combo gives you classic Vox tones through a Celestion 12" speaker. Volume, treble, bass, and gain controls let you dial in everything from clean, chimey, classic Vox to serious overdrive — and everything in between. The AC4C1 has cool vintage cosmetics that make it stand out on stage. Grab the tones you've been looking for in the cool-looking, compact, and affordable Vox AC4C1 combo amp.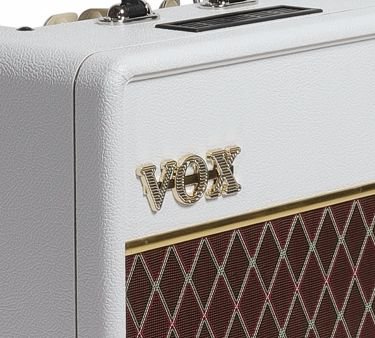 Vox Top Boost tone
Finally, Vox has brought the sought-after Top Boost tone to an all-tub, affordable combination. The Vox AC4C1 gives you legendary Top Boost tone in a perfect studio-sized package. This expressive amp lets you also dial in clean chime all the way to heavy crunch. Get the historic Vox tone you've been looking for with the Vox AC4C1.
All-tube design
Guitar players love tubes, and a Vox wouldn't be a Vox without glowing glass. Just like its big brothers, the Vox AC4C1 combo features 12AX7 preamp tubes and an EL84 power tube. This combination gives you the classic Vox Top Boost tones at reasonable volume levels, making it one of the most popular practice amplifiers at Sweetwater.
Vintage look
Besides giving you the legendary Top Boost sound, the AC4C1 gives you a cool vintage vibe with old school looks not seen since the '60s. A cool White Bronco cabinet makes this amp stand out from the crowd. An old-school Bakelite handle finishes off the vintage vibe and cosmetics of the Vox AC4C1 combo.
Vox AC4C1 Electric Guitar Combo Amplifier Features:
Limited Edition White Bronco cosmetics
4-watt all-tube mini combo amp
12AX7 preamp tubes and EL84 power tube
Vintage-style cosmetics
1 x 12" Celestion speaker
Classic Vox chime and Top Boost tones