A Small Guitar with Astonishing Projection
The Taylor 812ce 12-fret Deluxe acoustic-electric guitar features Indian rosewood back and sides and a premium-grade Sitka spruce top, delivering the perfect combination of deep lows, sparkling highs, and solid projection. Adirondack spruce bracing brings intensified clarity to your playing. The 812ce 12-fret Deluxe is a treat to play, because of its smaller Grand Concert body, comfortable arm rest, and cozy mahogany neck. Top-shelf plugged-in performance will be yours, by means of this guitar's ES2 electronics. The Taylor 812ce 12-fret Deluxe Grand Concert acoustic-electric guitar has a robust output, dynamic range, and sensitive response for all types of players.
Super-comfortable Grand Concert body style provides excellent tonal balance
Taylor's Grand Concert body style gives you clarity, focus, and balanced tone that sits beautifully in thicker arrangements where a larger-bodied acoustic would take up too much real estate. The 812ce 12-fret Deluxe's modified bracing and shorter scale length give you a darker and punchier tone than the standard 14-fret model. At the same time, the way the neck joins the body at the 12th fret adds serious natural acoustic projection to this instrument. At Sweetwater, we've found that the 812ce 12-fret Deluxe is a wonderful choice if you want a smaller-bodied guitar, while still maintaining a full-bodied sound.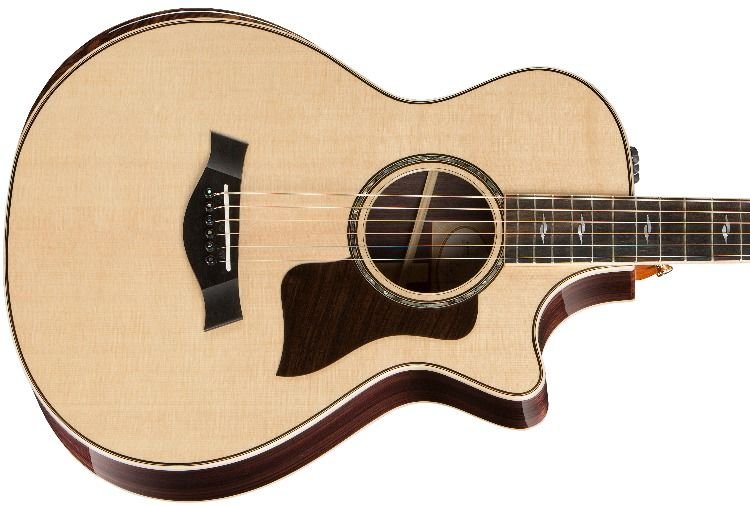 A richer, more vibrant voice than ever before thanks to custom bracing
You'll notice that the Taylor 812ce 12-fret Deluxe boasts exceptionally vibrant tone with a unique character. Taylor went back to the drawing board and redesigned their bracing patterns to get the optimum response out of each of their iconic body shapes. Taylor even added side bracing to add rigidity to the sides and enhance top and back movement. In the words of luthier Andy Powers, the updated bracing pattern gives the 812ce 12-fret Deluxe a "nice, cushy swell and long sustain, even with a delicate touch."
Cutting-edge Taylor Expression System 2 electronics
If you play plugged in, then you're going to love the Taylor Expression System 2 (ES2) electronics built into your 812ce 12-fret Deluxe. The key to this fantastic system is the 3-section proprietary pickup located behind the saddle. Because of where it's positioned and how it's integrated into the 812ce 12-fret Deluxe's saddle, the ES2 pickup provides you with remarkably clear and accurate sound. In addition to a master volume control, a pair of tone controls lets you tweak your highs and lows to get the sound you want, and a discreet phase switch offers vital onboard feedback suppression.

Taylor 812ce 12-fret Deluxe Acoustic-electric Guitar Features:
Smaller 12-fret Grand Concert body style is extremely comfortable and naturally loud
Shorter scale length and modified bracing give you a darker, punchier sound
Sitka spruce provides a bright and balanced tone
Indian rosewood back and sides add sparkle and projection
Adirondack spruce bracing yields intensified clarity
Graceful Venetian cutaway gives you access all the way up the fingerboard
Redesigned armrest provides a comfortable playing experience
Expression System 2 electronics deliver natural acoustic sound to your amp or PA