Now with VST Support!
Modern 64-bit DAWs are great. With access to 16 Exabytes of RAM (a massive upgrade from 32-bit's 4GB limit), these DAWs are extremely powerful. Unfortunately, upgrading means leaving your tried-and-true 32-bit plug-ins behind. Talk about a workflow killer! So what do you do? You can upgrade to 64-bit plug-ins, but that's expensive — and what if your favorite plug-ins aren't available in 64-bit? Luckily, Sound Radix has given us 32 Lives 2.
This product requires that you have an iLok account for authorization, although it does not require a physical iLok key. Please call your Sweetwater Sales Engineer if you have any questions.
Bring your favorite 32-bit plug-ins back from the dust bin
With 32 Lives 2, you can utilize your best-loved 32-bit VST and AU plug-ins with modern 64-bit DAWs. Open your older 32-bit sessions with presets, parameters, and automation intact. And it's completely transparent — no special rewiring or routing is required. Your 32-bit plugs will even be displayed in your plug-in menu alongside your 64-bit ones. Sweetwater knows that upgrading your DAW can be difficult, but Sound Radix 32 Lives 2 makes it easier.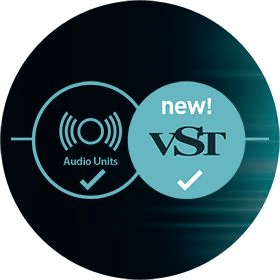 Sound Radix 32 Lives 2 Features:
Give your 32-bit plug-ins new life with this 64-bit adapter
Adapts your 32-bit VST and Audio Units plug-ins for 64-bit DAWs
Load your old 32-bit sessions with presets, parameters, and automation intact
Transparent GUI doesn't require extra clicks and windows to access your 32-bit plugs
Works with VST and Audio Units in Mac OS X 10.6.8 and above
Compatible with with Logic Pro X, Logic 9, Cubase, Nuendo, Live, Mainstage, Final Cut Pro, Garageband, Digital Performer, Studio One, Audition CC, Tracktion, Triumph, QLab, and more