Dark-voiced Crash with a Powerful Attack
Sabian's dark, sultry wash kindles feelings of excitement in every drummer's heart. And whether you're a jazzer or a rocker, the Sabian AAX Dark Crash can take you from soft, subtle accents to powerful cascades of color. Sabian's thin B20 bronze yields a bold attack and glassy partials. A special pinpoint lathing process creates a velvety-smooth decay beyond the initial attack. And though it's dynamic, the AAX Dark Crash's max projection is perfectly suited to modern styles of music.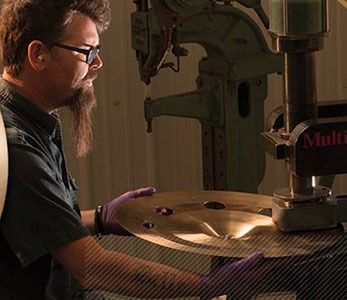 Sabian's B20 bronze is the secret to a musical crash
Sabian casts all its top-end cymbals from a centuries-old recipe of copper, tin, and silver — also known as B20 bronze. This bell bronze is one of the most musical alloys on earth, and together with Sabian's expert craftsmanship, is the secret to the AAX Dark Crash's ear-pleasing overtones and complex characteristics.
Pinpoint lathing tightens up decay
Two of Sabian's Vault craftsmen have been recognized for having hand-lathed over a million cymbals each. This level of expertise helped develop pinpoint lathing in the AAX series — a process that thins the metal using smooth, tight tonal grooves along the cymbal's surface. This results in a controlled, predictable decay, which is evident in every strike of the Sabian AAX Dark Crash.