What is Pro Tools M-Powered?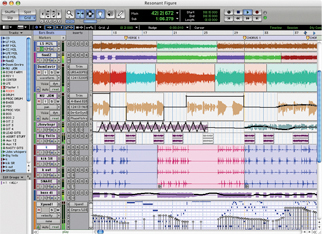 Pro Tools M-Powered is a version of Pro Tools software that is compatible with a wide variety of M-Audio audio interfaces and control surfaces. With Pro Tools M-Powered and a compatible M-Audio interface, you can record, mix, and edit anywhere, anytime with the industry standard in music production software. Sessions you create in Pro Tools M-Powered can also be transferred to LE and HD systems and back, so you can collaborate with thousands of other Pro Tools users.


Pro Tools M-Powered Advantages

Pro Tools M-Powered brings the power of Pro Tools to a new level of affordability. With a compatible M-Audio interface - starting at under $60 - you can record, edit, and mix your music using the most popular DAW software in the business.

Recording


With Pro Tools M-Powered 8 and an M-Audio interface you can work with up to 48 mono or stereo audio tracks. And, with flexible features such as loop recording, punch recording, playlists, I/O routing, and more, it's easier than ever to establish a fluid workflow and get your tracks into the system. Add the Music Production Toolkit 2 and you can create huge mixes in Pro Tools M-Powered, with up to 64 mono or stereo audio tracks.


Editing


Pro Tools' editing capabilities set the standard for what we expect from a DAW. Using a single screen - the Edit Window - you are able to adjust literally every aspect of both audio and MIDI tracks. And, Pro Tools M-Powered 8's non-linear, nondestructive approach to editing enables you to act instantly on your decisions without having to commit to them, and the versatile Super Tool turns your cursor into a tour de force of editing power and speed. Pro Tools M-Powered 8 also supports Elastic Time - so you can easily change the tempo and timing of your audio files - and Elastic Pitch - which lets you easily transpose an entire audio region. All in all, with Pro Tools M-Powered 8, you can make necessary edits with surgical precision, while preserving flawless audio quality.


Mixing


The Mix Window offers an extremely intuitive means of adjusting the parameters of your mix with all the functionality of a traditional console. Pro Tools M-Powered 8 gives you the ability to change the colors of channels, tracks, and regions as well as customize the toolbar the way you want, so you can quickly identify tracks and ultimately speed up your workflow. You can also use new Automation and Controller lanes to view and edit automation for volume, pan, and plug-ins, as well as all your MIDI CC data - without changing track views. And, for those who prefer a hands-on approach, an M-Audio ProjectMix I/O merges the software and hardware world and places the power beneath your fingertips. However you choose to operate, Pro Tools presents you with a variety of methods to control and automate your mix - all within a non-destructive, recovery-friendly environment that's geared toward rapid, superior results!


Plug-Ins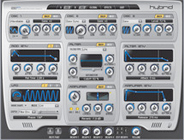 Pro Tools M-Powered 8 includes dozens of plug-ins ranging from dynamics to effects to instruments. To name just a few, there are a Mini Grand piano, a drum machine, 20 A.I.R. effects, multiple synths, guitar and amp modeling tools, and a host of processing plug-ins - plus more than 9GB of high-quality loops. To use plug-ins, you simply activate them within Pro Tools. You are also free to employ presets, customize settings, and/or automate any plug-in's activity. Plug-ins that have been designed for Pro Tools lend a world of flavors to your sonic landscape!


Compatibility


Any session you create can seamlessly be moved between both Windows- and Macintosh-based Pro Tools LE, M-Powered, or HD systems while retaining all automation, track configurations, MIDI data, and even plug-in assignments. Pass your session to a collaborator or take it to a professional studio without compromising your session's integrity. And, because Pro Tools M-Powered 8 shares the same user interface as professional HD systems, everything you learn using Pro Tools M-Powered is transferable to Pro Tools|HD systems.


MIDI and Notation


The full MIDI sequencing capabilities of the industry-standard audio production software allow you to record, edit, and mix up to 256 MIDI tracks alongside your audio. MIDI events and sequences are manipulated as easily as audio in Pro Tools M-Powered 8. What's more, Pro Tools M-Powered 8's new Score Editor lets you view, edit, arrange, and print MIDI data as music notation - all within the Pro Tools environment. You can write parts on a single staff or grand staff, easily place and edit notes, edit the meter and key signature at will, and you can also add chord symbols and chord diagrams to sessions. Transcribe MIDI parts in real time. Print out a score in its entirety or print only certain instrumental parts. You can even export sessions as Sibelius (.sib) files for further finessing in Sibelius.


Popular M-Audio Interfaces

With Pro Tools M-Powered you have the freedom to select one of over 20 compatible M-Audio interfaces to create a system that fits your needs. Here are just a few of the most popular choices.
Audiophile 2496
If you're running a studio using a PCI-equipped Mac or PC, the Audiophile 2496 represents one of the most affordable ways to get into the world of Pro Tools M-Powered. By offering a 2 x 2 full duplex audio performance with gold-plated RCA connectors, S/PDIF I/O, and MIDI at resolutions up to 24-bit/96kHz, the 2496 offers a ton of Pro Tools bang for very few bucks!
---
FireWire 410
With Pro Tools M-Powered loaded onto your laptop and a FireWire 410 you've got a mobile recording package that's about as hassle-free as it comes. The FireWire 410 can be powered via bus power, and sports a pair of mic pres, S/PDIF, and MIDI - everything you need for a portable Pro Tools-based system!
---
Fast Track Pro
The Fast Track Pro offers the power of Pro Tools M-Powered with a convenient USB connection to a computer. Portable, affordable, and full of professional-level features, the Fast Track Pro is a great stepping stone into Pro Tools!
---
Black Box
For guitarists, the Black Box represents not only a great effects processor, but also an intuitive and very guitar-friendly means to tap into the recording power of industry-standard Pro Tools software. Great effects and Pro Tools M-Powered - if you're a guitarist, you can't afford not get one of these!
---
ProFire Lightbridge
Many great multi-channel preamps boast the ability to output signal via lightpipe, and the ProFire Lightbridge lets you take up to 18 channels of audio into Pro Tools M-powered through a single cable. Now you can mix and match lightpipe - equipped interfaces to build your ultimate front-end and harness the power of Pro Tools M-Powered at the same time.
---
Click here to see all Pro Tools M-Powered-compatible interfaces.