What is Pro Tools LE?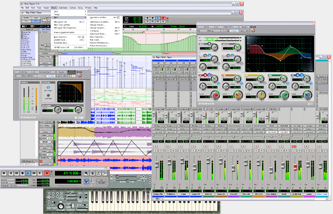 A Pro Tools LE 8 system is a completely self-contained 48-track project studio. It enables you to record, edit, mix, master, and deliver your finished product with many of the same features as its HD big brother. Pro Tools LE 8 software is included with Digidesign hardware audio interfaces - an Mbox 2 Mini, Mbox 2, Mbox 2 Pro, a Digidesign 003, a 003 Rack+, or a 003 Rack. LE systems rely on the processing power of your computer, so the speed and power of your CPU and RAM determine how many plug-in effects and virtual instruments you can use simultaneously. Whether your art is audio engineering, music creation, or post production, Pro Tools LE provides an affordable platform with professional performance.


Pro Tools LE Advantages

Pro Tools LE gives you affordable access to a wide range of recording, editing, and mixing tools that are used by audio professionals worldwide.

Recording


With Pro Tools LE and a Digidesign 003 or 003 Rack+/Rack you can work with up to 48 mono or stereo audio tracks. And, with flexible features such as loop recording, punch recording, playlists, I/O routing, and more, it's easier than ever to establish a fluid workflow and get your tracks into the system. Add Music Production Toolkit 2 or DV Toolkit 2 and you can create huge mixes, with up to 64 mono or stereo audio tracks. And with the new Complete Production Toolkit, which combines both toolkits, you can work with up to 128 audio tracks AND get 7.1 surround mixing capabilities, so you can seamlessly collaborate with Pro Tools|HD users.


Editing


Pro Tools' editing capabilities set the standard for what we expect from a DAW. Using a single screen - the Edit Window - you are able to adjust literally every aspect of both audio and MIDI tracks. Pro Tools' non-linear, nondestructive approach to editing enables you to act instantly on your decisions without having to commit to them, and the versatile Super Tool turns your cursor into a tour de force of editing power and speed. Pro Tools LE 8 also supports Elastic Time - so you can easily change the tempo and timing of your audio files - and Elastic Pitch - which lets you easily transpose an entire audio region. All in all, with Pro Tools LE 8, you can make necessary edits with surgical precision, while preserving flawless audio quality.


Mixing


The Mix Window offers an extremely intuitive means of adjusting the parameters of your mix with all the functionality of a traditional console. Plus, Pro Tools 8 added the ability to fluidly change channel colors, tracks, and regions as well as customize the toolbar the way you want, so you can quickly identify tracks and speed up your workflow. You can also use new Automation and Controller lanes to view and edit automation for volume, pan, and plug-ins, as well as all your MIDI CC data - without changing track views. And, for those who prefer a hands-on approach, a Digidesign-compatible control surface merges the software and hardware world and places the power beneath your fingertips. However you choose to operate, Pro Tools presents you with a variety of methods to control and automate your mix - all within a non-destructive, recovery-friendly environment that's geared toward rapid, superior results!


Plug-Ins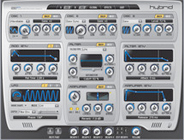 Pro Tools LE 8 includes dozens of plug-ins ranging from dynamics to effects to instruments. To name just a few, there are a Mini Grand piano, a drum machine, 20 A.I.R. effects, multiple synths, guitar and amp modeling tools, and a host of processing plug-ins - plus more than 9GB of high-quality loops. To use plug-ins, you simply activate them within Pro Tools. You are also free to employ presets, customize settings, and/or automate any plug-in's activity. Plug-ins that have been designed for Pro Tools lend a world of flavors to your sonic landscape!


Compatibility


Any session you create can seamlessly be moved between both Windows- and Macintosh-based Pro Tools LE, M-Powered, or HD systems while retaining all automation, track configurations, MIDI data, and even plug-in assignments. Pass your session to a collaborator or take it to a professional studio without compromising your session's integrity. Plus, with the newest track-expansion options, including full 7.1 support, it's easier than ever to collaborate with Pro Tools|HD users. And, because Pro Tools LE 8 shares the same user interface as professional HD systems, everything you learn using Pro Tools LE is transferable to Pro Tools TDM systems.


MIDI and Notation


The full MIDI sequencing capabilities of the industry-standard audio production software allow you to record, edit, and mix up to 256 MIDI tracks alongside your audio. MIDI events and sequences are manipulated as easily as audio in Pro Tools LE. What's more, Pro Tools LE 8's new Score Editor lets you view, edit, arrange, and print MIDI data as music notation - all within the Pro Tools environment. You can write parts on a single staff or grand staff, easily place and edit notes, edit the meter and key signature at will, and you can also add chord symbols and chord diagrams to sessions. Transcribe MIDI parts in real time. Print out a score in its entirety or print only certain instrumental parts. You can even export sessions as Sibelius (.sib) files for further finessing in Sibelius.


Pro Tools LE Interfaces

Create a Pro Tools environment that matches the way you work with these interfaces and control surfaces from Digidesign.
Mbox 2 Micro
The Digidesign Mbox 2 Micro provides an ultra-portable way to mix and edit with Pro Tools LE 8 anywhere you and your laptop go! At about the size of a flash drive, the USB-powered Mbox 2 Micro is a perfect solution for working on your Pro Tools projects on the road. This output-only device comes complete with Pro Tools LE software (plus a host of great plug-ins and Digidesign's Xpand! sample player/synth workstation), and lets you work at up to 24-bit/48kHz resolution.
---
Mbox 2 Mini
The Mbox 2 Mini is your solution for the ultimate in compact, on-the-go Pro Tools audio recording. It features a pair of analog audio inputs, with a single microphone preamplifier, and is far and away the most affordable way to start recording in Pro Tools. And, thanks to its incredibly small footprint and great value, the Mbox 2 Mini is perfect for any studio setup that is seriously short on space, or for musicians and singer-songwriters who need a streamlined, easy path to record into Pro Tools software.
---
Mbox 2
Digidesign's Mbox 2 follows up the wildly successful Mbox with some heavy-duty improvements! The original Mbox helped thousands of musicians get into Pro Tools LE thanks to its ease of use, integration with Pro Tools software, great sonic characteristics, and affordable price. Digidesign went one better, giving the Mbox 2 improved sound on both input and output, incorporating an integrated MIDI interface, and including more simultaneous audio I/O. In addition, Mbox 2 comes with more free value-added software and tools.
---
Mbox 2 Pro
The Mbox started out as the ultra-compact and ultra-affordable Pro Tools LE package. Digidesign's Mbox 2 Pro adds the capability to handle sample rates of up to 96kHz, FireWire connectivity, and word clock to this compact design. Think of this handy box as a "grown up" version of the original. Mbox 2 Pro has quickly become a very popular means of location recording, and its perfect for mixing Pro Tools sessions on the road.
---
Digidesign 003 Rack
For those of us who don't mind mousing around while editing and mixing - or already have a Pro Tools-compatible control surface - Digidesign offers the 003 Rack, a 2U rackmountable interface. The 003 Rack sports the same great features as the control surface version (minus the jog wheel), but is packaged in a compact rack unit. The 003 Rack has the same retooled preamps, upgraded A/D conversion, and new features, sans control surface. If space is a concern in your studio or you don't need a control surface, take a good look at the Digi 003 Rack!
---
Digidesign 003
The 003 represents the latest evolutionary step of the ground-breaking Digi 002. All the incredible features are still there - eight motorized faders, eight rotary encoders, tons of I/O, and transport controls - but this latest incarnation further beefs up the feature set by adding cool new features such as word clock, a pair of headphone outputs with independent volume controls, and a jog/shuttle wheel that allows you to zip through the session timeline. Digidesign's 003 proves that just because it's not broken doesn't mean you can't make it even cooler!