We're excited to announce the grand opening of Sweetwater's Piano Showroom! Home to an amazing selection of fine acoustic and digital pianos, there are more reasons than ever before to visit Sweetwater. From stunning full-sized concert grands to a huge selection of home models, you'll find the piano you've always wanted in the Sweetwater Piano Showroom.
Bringing the Sweetwater Difference to the Piano Showroom
At Sweetwater, the Piano Showroom is more than just an impressive collection of incredible Roland and Yamaha pianos, it's a great new opportunity for us to share the Sweetwater Difference with the greater Fort Wayne area. It starts with our piano expert, Clete Goens. Part of the fabric of the Fort Wayne arts community, Clete's decades of professional playing and consulting experience make him uniquely qualified to help you find the perfect piano.
But expert advice is only part of the Sweetwater piano shopping experience. We offer the largest available selection of Yamaha acoustic pianos and Clavinovas for the lowest prices you'll find, without the hassle and haggling you'd expect from conventional piano dealers. We are also the only Foresta dealership representing Roland's incomparable line of home and institutional digital pianos. What's more, we add value to every piano we sell, including delivery and installation from the best technicians in northeast Indiana.
Continuing a Fort Wayne Tradition
of Fine Pianos
Sweetwater is proud to carry on the commitment to excellence established by Fred Meyers, who provided the Fort Wayne area with fine pianos for over 50 years. Today, you'll find the world's most sought-after acoustic and digital pianos, all on display in our Piano Showroom. We carry an excellent assortment of digital home pianos by Yamaha, Roland, Kurzweil, Kawai, and Casio. Don't just dream about it, discover the piano of your dreams in the Sweetwater Piano Showroom!
Shop Sweetwater's Selection of Pianos
Using the Links Below.
Find the Piano You've Always Wanted
In the Sweetwater Piano Showroom!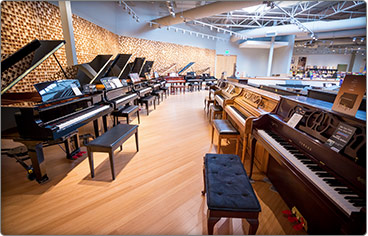 The Sweetwater Piano Showroom features:
Roland Foresta series digital pianos
Yamaha Disklavier digital player instruments
Yamaha CLP and CVP Clavinova digital home pianos
Fine digital pianos from Kurzweil, Kawai, and Casio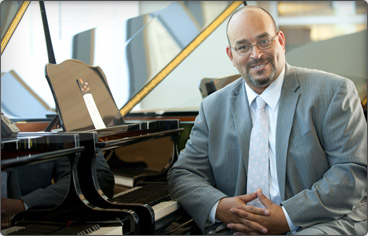 With over 30 years of professional experience playing, selling, and maintaining pianos, you can trust our resident acoustic and digital piano expert, Clete Goens, to help you choose the right piano for your home!
Visit us today or call (260) 432-8176 ext. 1219, to schedule a personal demonstration.
In-store Sales Only Due to shipping weight, customer service considerations, and manufacturer requirements, these instruments are available only in our Fort Wayne piano showroom.