Use your card to make easy monthly payments!
Nobody is better at getting you the gear you want than Sweetwater. With 3 Easy Payments, we make it easy to get your hands on new gear faster than ever. If you've got a major credit card, you can pay 1/3 now and make two equal payments later. No application, no interest, no hassle. So whether you've had your eye on that special guitar, a boutique mic, handwired amp, killer analog synth, or a lighting rig to take your band to the next level, just give us a call and you can get it today.
Simply make three payments over three months, starting with 1/3 at the time of purchase!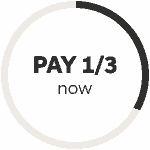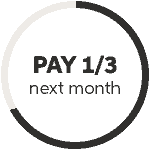 + $10 Processing Fee
+ Shipping Cost (if any - most items ship free)
+ Indiana Sales Tax (only if shipped within Indiana)

Ordering by Phone?
Simply tell your Sales Engineer you want to use Sweetwater's 3 Easy Payments plan option!

Ordering Online?
Select the 3 Easy Payments option at the bottom of the cart page!
Use Your Own Card!

Since Sweetwater's 3 Easy Payments plan charges your order to your current Visa, MasterCard, Discover or American Express card, there's no requirement for a separate credit card.
NOTE: This offer is subject to credit approval. We will pull a copy of your credit report to approve this payment plan.
Before placing your order, please read the following terms of Sweetwater's 3 Easy Payments plan: