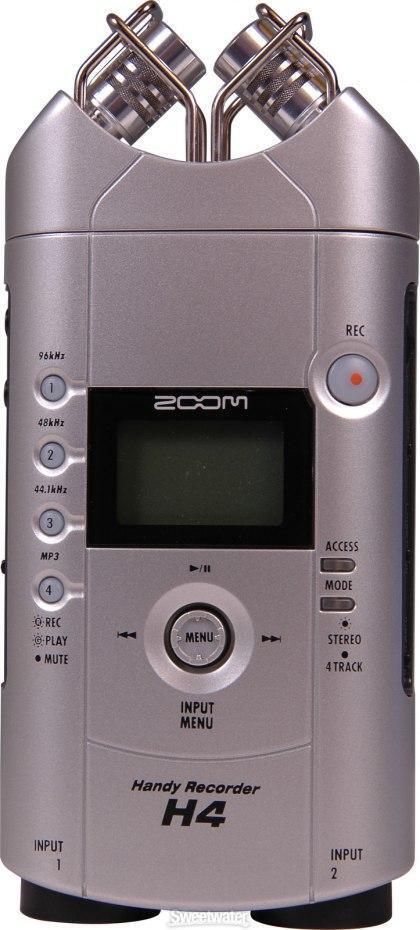 This unit packs a lot of features into one easy-to-operate, small box.
Since I had never operated an H4 before, I didn't know exactly what I was in for. After first opening the box, I saw an owner's manual staring me in the face, and thinking, "What's the fun in that?" I gently placed the owner's manual aside and turned this baby on. After playing with it for about five minutes, I sheepishly picked up the owner's manual. It has an excellent quick-start guide, so within minutes, I was up and running.
As an interface, you just plug your USB cable (not included) into the USB ports on your H4 and computer, and you're ready to record into your favorite DAW. If you don't have a DAW, they include a copy of Cubase LE with it!
As a recorder, you have the option of recording stereo 2-track, or you can multitrack with the 4-channel recorder! Not enough tracks for you? Well, just mix those four tracks down to two tracks and you have two more tracks available! It's like having your own project studio in one small box. Use this with your laptop, and you have a great-sounding personal studio with unlimited tracks and an audio interface with you at all times.
For memory, this unit comes with a 128MB SD card (not nearly enough to do a project) and you can add up to a 2GB card. The only limitation is how many cards you have! There is no internal memory to worry about filling up. Do one project, and load another card into the slot. You don't have to worry about going back to the studio to download your project. And the SD memory cards are readily available anywhere.
For input, you can either use the stereo X-Y mics, or you can plug in a guitar (or two) or a mic (or two) into the 1/4″/XLR combination jacks. This unit even has phantom power for powering up your favorite condenser mics. For the onboard stereo mics, you can choose the modeling feature in the (extensive) menu to make it sound like your favorite mic. The H4 models some of the best recording mics, like the Neumann U87 and the AKG 414, to name a few.
I think that for the sound designer, musician, songwriter, or anybody that wants a great sounding stereo recorder/audio interface, this unit packs a lot of features into one easy-to-operate, small box.