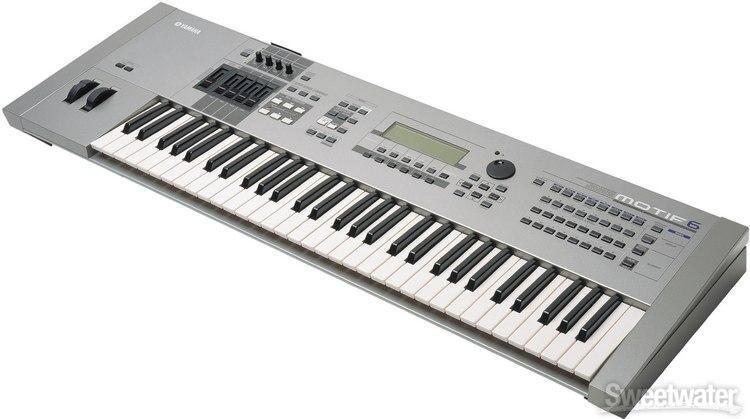 The MOTIF6 by Yamaha is an amazing music production workstation loaded with tons of extremely useful sounds for musicians, composers, or sound designers in a post-production world. My introduction to the MOTIF6 immediately placed me in the driver's seat on the road to creativity. Put simply, this is a great sounding workstation full of rich, textured, well-thought-out sounds and rhythms. I was excited about the possibilities: ease of use when scoring for film, building killer underscores complete sound effects for corporate video, or creating the hottest track for a number one hit single.
In it's simplest form, the MOTIF6 is home to some of the best sounding pianos I've heard. The acoustic grand for example is rich, warm, resonant and pleasing to the ear. Solo instruments in the MOTIF6 such as trumpet, sax, cello, and flute are also a delightful exercise in realism and form. They're a nice compliment to ambient soundscapes found in the MOTIF6 offering a well-rounded starting point for any project. In addition to all this, the preset rhythm grooves make a very compelling case to get right to work, which translates to a quick trip when creating music. Let's face it, creativity comes and goes and when it's there, you want to take advantage of the moment. This is where a 16 track sequencer with an integrated sampler comes in handy, combining the worlds of MIDI and audio more seamlessly than before. When you're finished programming your MIDI tracks, you can add a vocal line or a guitar part allowing you to be more flexible whether you're at home or on the road. Archive your work to an external hard drive via the SCSI port or save your precious data to a Smart Media storage card and you're well on your way to success.
The Yamaha MOTIF6, it's powerful yet intuitive. It just makes great sense.