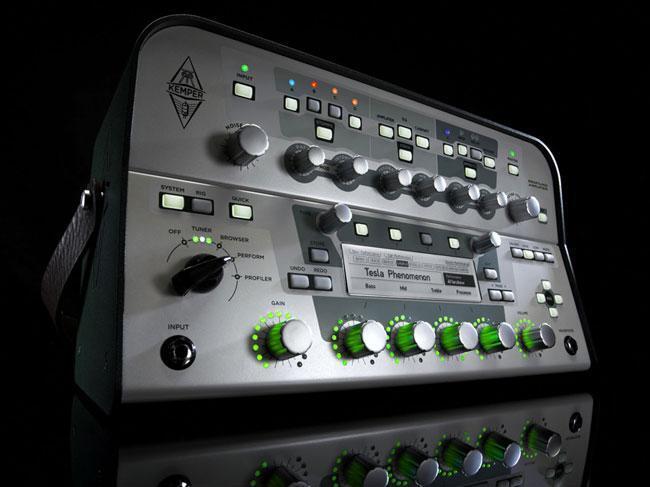 If you've been following high-tech guitar gear lately, you've probably come across the new Kemper Profiling Amp. Even if you're not a guitarist, this ingenious little box has serious implications for guitar recording. Despite the name, the Kemper Profiling Amp isn't exactly a guitar amplifier. Rather, it's an amp emulator, with the capability to capture the sound of any guitar amplifier you can get your hands on. This is a major breakthrough in recording technology, as you can capture any guitarist's exact tone, as well as accurately re-amp any cleanly recorded signal long after the guitarist has packed up.
The way that the Kemper Profiling Amp works is ingenious. Plug your guitar into the Profiling Amp's input, and the output into your favorite amplifier. Next, mic up your amp the way you would in the studio or onstage. The profiling process itself is automatic and takes only about a minute. When you're done, you can A/B the sound of your guitar plugged straight into your amp against the Profiling Amp's model. Because the profiling process is dynamic, you can adjust the tone and volume of your guitar, and the emulation remains spot-on.
But that's just the beginning. The Profiling Amp lets you use the emulation you've created as a jumping-off point, giving you near-limitless options for tweaking the very characteristics of the amp. Give your favorite vintage amp more modern attack characteristics, or dial in power-amp sag, an effect that typically requires you to play at noise-code-violating volumes. Top it off with a comprehensive stompbox array, a master effects section, and a ton of preloaded amp emulations, and the Kemper Profiling Amp instantly becomes any guitarist's dream toy.