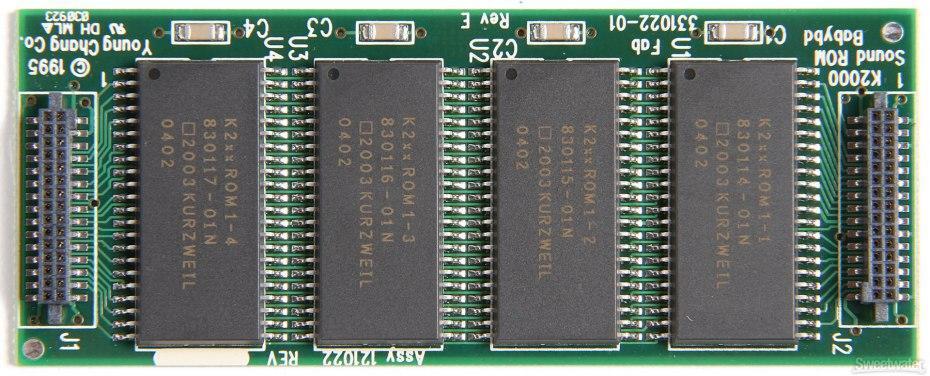 Looking for some new Kurzweil sounds to spark your creative drive? You need the "Best of V.A.S.T." collection, available free from Kurzweil. It's a series that includes 99 Setups, 240 Programs, and 115 Songs that offer new timbres and rhythmic grooves for your K2600/2661.
The focal points of the Best of V.A.S.T. are Setups 1-30, which are called Groove Setups. These are combinations of drum programs, patterns (which are actually song files), and bass sounds. When you're playing a Groove Setup, you can activate a drum pattern by pressing any key below C3 (C below middle C). Once triggered, the drum pattern is automatically held or latched (in other words, you don't need hold the key down for the groove to continue playing). Most grooves have a bass sound assigned to the left-hand keyboard region, as well as some sounds for right-hand playing.
Best of V.A.S.T. also includes 240 programs that take full advantage of real-time controllers for tonal variation. For example, Program 9, "Classic FM Epiano,"includes controls for LFO Detune, Layer Delay, Tine Overtones, FM Depth, Attack Rate, LFO Pan Depth, Hall Level, Reverb Time, Hall Time, Chorus Feedback, Reverb Predelay, and Reverb In/Out.
You will need the following to install Best of V.A.S.T. (if it's not already installed on your K2600):
• The Best of V.A.S.T. object files (OBJB400A and OBJB400B). Download them here. A Best of V.A.S.T. User Guide is located here.
• Version 4 (the most current version) of the K2600 operating system, or the most recent K2661 OS