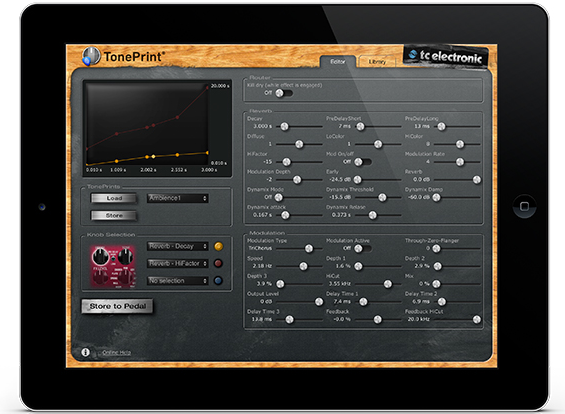 TC Electronic's Tone Print family of pedals and bass amps have been incredibly popular due to several reasons: great sound quality, versatile effects, affordable prices, compact form factor…the list goes on! One of the most interesting features of the Tone Print pedals is that you can download new settings for the pedal using a mobile phone.
Until recently, new Tone Prints were created solely by TC; but due to customer demand, Tone Print editor software was released. And now, the Tone Print Editor is available for iPad!
With the Tone Print Editor for iPad, you can create your own Tone Prints, create endless variations of sounds, exchange Tone Prints with Mac or PC-based Tone Print Editor, and build your own library — all you need is an Apple Camera Connection kit to hook your iPad up to your Tone Print pedals! The Tone Print Editor for iPad is free of charge; download it from the App Store.
Here's a guide to using the Tone Print Editor: