Check out the complete Summer NAMM 2005 Show Report
Click here »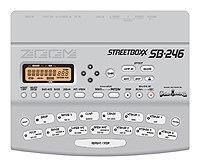 The SB-246 includes over 500 sounds including kick drums, snares, claps, hits, beat-boxes, bases and many extras that are available at the touch of a button with no load time. There are over 70 drum kits available like East Coast, West Coast, Dirty South, Old School, Future, Ethnic, and Mix-Ups, each with three separate levels of performance layouts and drums hits. 13 touch-sensitive pads light up for live performing and easy programming, and an oversized repeat controller triggers dramatic rolls and earth shaking rumbles. Over 25 Bass and Synth sounds provide plenty of low sub frequency rumble to help lay down the foundation of your grooves. There are also over 100 preprogrammed rhythms and patterns at your fingertips.
When it comes to programming your own beats the SB-246 offers EZ Loop Recording that captures rhythms on the fly allowing you to get in and out of recording mode without stopping the beat. The SB-246 is also great for live performing with features like Groove Play that assigns beats to individual pads for quick and easy layering, and Real Time Song Shuffle for free style remixing of Intro, Verse, Fills and Breaks.
Tons of Multi-effects processing with presets including Compressor, EQ, Rez Filter, Lo-Fi, Chorus, BPM Delay and Reverb adds a professional studio quality touch to your rhythmic creations. The SB-246 also has a MIDI in that allows the Street Box to operate as a stand-alone sound module and the Footswitch option allows you to control virtually any function of the SB-246 for complete solo performance control. The Unit also operates on 4 AA batteries or an optional power adapter.