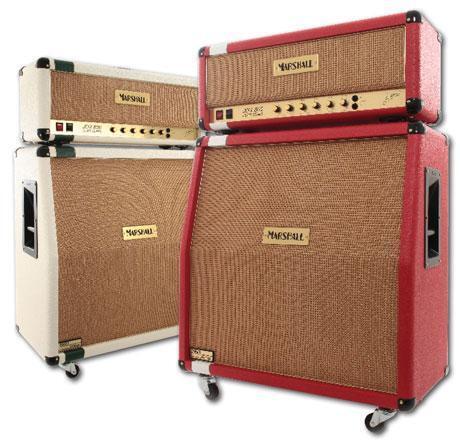 If you prefer to rock out in style, the Sweetwater-exclusive limited-edition Marshall Custom JCM800 Half Stack is for you. Handcrafted in England, this sensational Marshall Custom Shop rig combines one of the most popular Marshall guitar amp heads of all time, the JCM800, with the ultimate extension cabinet, the 1960AV – all decked out in your choice of two eye-popping limited-edition 2-tone color schemes. You get 100 watts of sheer in-your-face power and an avalanche of all-tube tone that's ready for anything from classic rock to metal to fusion – and styles that have yet to be invented.
One of the first Marshalls with master volume, the JCM800 has pummeled audiences worldwide since its 1981 introduction. It's little wonder everyone from Angus Young to Kerry King to Slash have made it their number-one go-to amp. This is the essence of legendary Marshall tone: one channel, 3-band EQ, a bypassable series effects loop, and 100 watts of pure tube power. This very special JCM800 fortifies your tone arsenal with definitive EL34-fired Marshall mojo: glassy cleans, bone-rattling crunch, and face-melting overdrive.
With its chunky low end, powerful midrange, and screaming highs, Marshall's angled 1960AV extension cabinet has made more tours of the world's biggest stages than just about any other cab out there. This beast comes loaded with four Celestion Vintage speakers, a critical ingredient of the Marshall sound. Run it in mono or stereo. Your 1960AV will pump out the most incredible tone you'll ever hear. It's the final piece of the puzzle you need to make your Marshall head sing, and it's part of this amazing Sweetwater-exclusive package from Marshall.
The Sweetwater-exclusive Marshall Custom JCM800 Half Stack is available in very limited numbers. Order yours today!