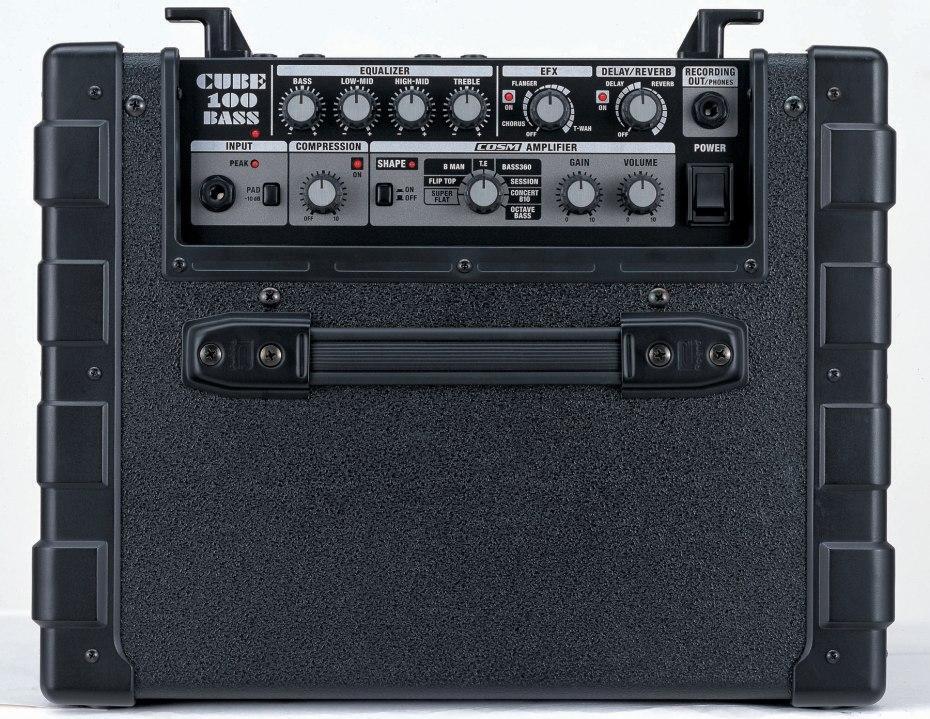 This portable combo is small enough to fit in your bedroom, but loud enough for your gig!
As a professional bass player for the last nine years, I have been on a continuous quest for the ultimate balance between power and portability in my bass rig. The first time I saw the CUBE-100 Bass, I thought to myself: "Aw, isn't that a cute little practice amp!" When I actually plugged into the CUBE-100 Bass, I knew my long, laborious search had come to an end!
Roland's CUBE-100 Bass really is the ultimate bass rig! This is the first portable combo that is small enough to fit in your bedroom, but loud enough for your gig! Take 100 (really loud) watts into a single, coaxial 12″ speaker, add tons of great amp models, and sprinkle with stereo effects, garnish with a dash of compression, and you've got the recipe for unbelievable bass tone! The CUBE-100 Bass has more than enough power for most average sized gigs. I've used this amp for concerts, rehearsals and recordings, and it fares quite well at everything I can throw at it.
I have an amp that fits in my back seat, and can be heard over drums! This is exciting! I've decided that since this amp is so loud and sounds so amazing, if the CUBE-100 Bass won't cover the gig, it's time to get a new gig! And the headphone/recording out automatically mutes the speaker, so when you don't have the option blow out the windows, you can play without disturbing anyone. This is a dream come true for me, and I urge any bass player from beginner to seasoned pro to give the CUBE-100 Bass a chance to change your life!