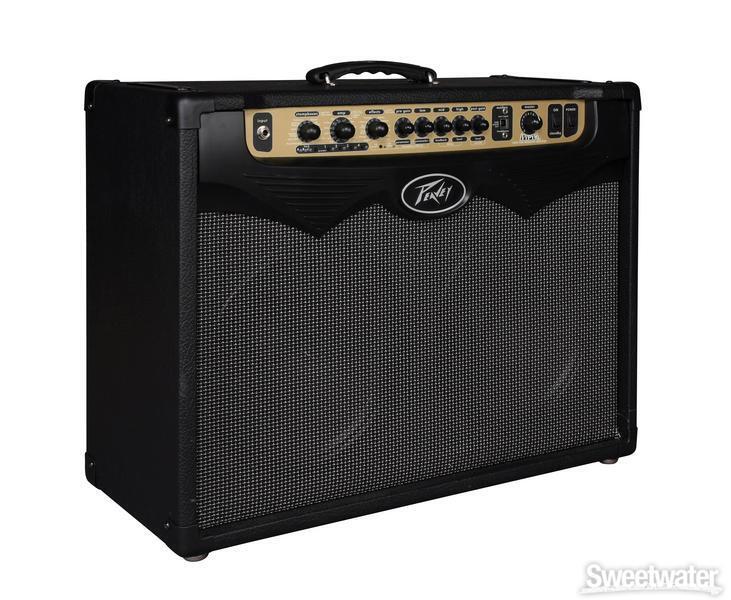 Having built both highly successful tube and solid-state guitar amps, Peavey is uniquely positioned to translate their years of experience into the modeled-amp world. How many years? Let's just say that my first "real" amp was an original Peavey Classic (long before the current line of all-tube Classics, this was a tube/solid-state hybrid with two 12″ speakers and the old-style white side panels on the speaker baffle), which I bought used in the late '70s. In other words, Hartley and company have been doing this for a long time!
Now, with the Vypyr series, the company has focused all that experience on creating a line of guitar amplifiers that comprises modeled amps and stompboxes and effects; tube or solid-state power amps; and extra features, such as stereo aux inputs for MP3 players and headphone/recording outs. Match the Vypyr up with the complementary Sanpera II footpedal, and you have a rig that can cover just about any tonal needs you might have, regardless of the style of music you play.
Peavey sent me the just-now-shipping Vypyr 120, the top-of-the-line 120-watt tube-powered version that comes equipped with a pair of 12" speakers. They also included the matching Sanpera II pedalboard. The Vypyr offers 12 amp models, each with "Green" and "Red" channels (which may be clean and dirty channels; crunch and high-gain channels; or some other combination, depending on how the original amp that's being modeled is configured), for a total of 24 amp "channels" to choose your sound from. The modeled amps range from small vintage tube combos, such as Deluxes, Twins, and AC30s, to high-gain monster heads, such as Plexis, Kranks, and Rectifiers, to boutique models, such as Bad Cats, to such Peavey classics as the, well, Classic (the modern all-tube version), the JSX, and the 6505. When you select an amp via a preset or the front-panel encoder, you get a faithful replication of the original, from the preamp to the power amp to the painstakingly modeled EQ, which responds differently for each model &mdash just like the originals. For example, the Peavey JSX model includes active EQ on the high-gain channel, just like the original.
There are 11 stompbox models, ranging from overdrive to fuzz, chorus to compression, and autowah to octave generator. Eleven "rack"-style effects are available, including phaser, rotary speaker, pitch shift, tremolo, and more. You can run up to five effects at once, and, with the Sanpera II, you can turn the stompboxes on and off individually, call up presets, and control volume and wah with the two built-in footpedals. An LCD display shows the preset name/number and what effects are active. (Note for spec hounds: you can access up to 400 presets when using the Sanpera II pedalboard; I don't know about you, but that would cover most of my gigs…) The Sanpera also allows you to control the built-in looper, which can record up to 30 seconds of audio. The looper is easy to operate, and you can record your loop with one sound, then switch presets to a different sound when playing over the loop.
The front panel of the amp includes three rotary encoders (I call them "knobs") for selecting the stompbox, effect, and amp model used for each preset. A delay and a reverb are always available in addition to the stompbox and "rack" effect. Other front-panel controls include Pre Gain; Low, Mid, and High EQ controls; Post Gain; and Master Volume (it goes to 13!). All the controls have accompanying lights to display their settings. The front-panel knobs do double duty, editing the stompbox, effects, delay, and reverb settings. If you're looking for bonuses, then there's a built-in tuner as well as tap tempo for the delay.
The Vypyr 120 model also has a USB recording output (all Vypyrs except the 15- and 30-watt solid-state amps have a USB out). A built-in "Power Sponge" volume attenuator is included on the 75- and 100-watt Vypyrs in the series, though it's not included on the Vypyr 120. Without the Power Sponge, you'd think 120 watts of tube power would push the limits of your family's, your neighbors', and your bandmates' patience. The nice thing, though, is that the Vypyr 120 maintains its clarity, punch, and tone at lower master volume levels. I comfortably used it in my living room without volume-level complaints from my wife or my dogs.
There's another area where Peavey nailed it: the amp is easy to program and use – I never once had to crack the manual – and it's capable of an incredible range of sounds. But just how good are those sounds? Very, very good. I used the Vypyr with a range of guitars, from Strat to Tele to Les Paul to PRS. The factory presets provide a good preview of what the amp is capable of: warm, bright, "analog"-sounding tones that aren't drenched in unnecessary effects – these are sounds you can actually plug into and use right out of the box. I reviewed the Vypyr 30 last year, and greatly enjoyed that amp, but the 6L6 tube power amp in the Vypyr 120 definitely adds nice degrees of coloration, touch sensitivity, and richness, which take this amp up a noticeable step. My favorite is the second factory preset, which features a nicely overdriven Deluxe, for a fat, round, singing tone that cleans up well when you drop the volume on the guitar or lighten your pick attack. There are also excellent sparkling clean tones, full-on shred lead screams, crunchy rhythms, scooped-mid metal chunks, country twang… name a tone, and it's in there.
The Vypyr by itself rocks, but, really, you have to add the Sanpera II footboard; the combination of the amp and the Sanpera creates a complete self-contained stage-worthy effects/amp system. The pedalboard is solid and sturdy, and the inclusion of built-in wah and volume pedals adds expressive capability.
As a final test, I plugged the USB output of the Vypyr into my Apple Macbook Pro laptop. No drivers or additional software are required, so all you need is a standard USB cable. I opened up Ableton Live recording software, selected the Vypyr as my input source, and was instantly laying down tracks. When you connect the USB cable to the amp and the computer, the amp's speaker is automatically muted for silent recording, though the headphone output remains active for monitoring. The USB output includes speaker compensation, so you don't get that awful "direct" fizzy amp sound on your tracks – it sounds as though you took a microphone and put it in front of the speaker.
I'm very impressed with the Vypyr 120. As a guy who loves tube amps and boutique pedals, I was prepared to be underwhelmed. But, in fact, I found myself enjoying just sitting and playing through the amp – and coming up with new ideas for licks and riffs. For me, that's always a good sign that a piece of gear is "speaking" to me. I'd have no problem stacking this amp up right alongside my non-modeling gear; I predict you'd never know which one you were hearing if you closed your eyes and just listened, or if you plugged in and played without knowing you were using models. It's that good!
If you're looking for a powerful, flexible, great-sounding rig for practice, rehearsal, or onstage – or for fast and easy recording – definitely check out the Vypyr 120. It's got the tones, the effects, and the flexibility needed for any style of music, in any venue!