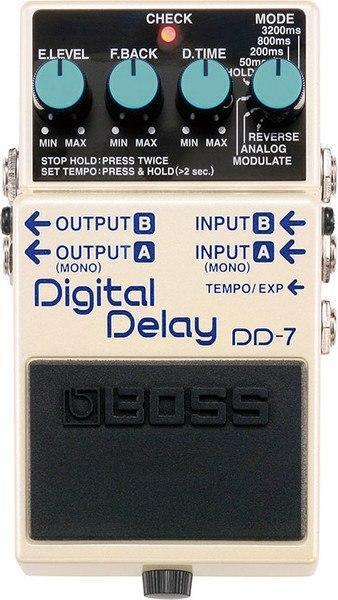 Boss DD-7 – This is the latest incarnation of what just may be the best-selling delay pedal of all time. It has the best features of its predecessors, plus a handful of creativity-boosting new tools, the DD-7 will make you rethink what to expect from compact delay pedals. Among the new features is a Modulation Delay mode, classic modeled Analog Delay mode, external pedal control options, longer delay time (up to a truly amazing 6.3 seconds), stereo outputs, and more. In addition, Hold mode allows up to 40 seconds of input to be recorded for creating "sound on sound" performances.
Genelec SE DSP System Triple Play – This 2.1 system includes two of Genelec's 8030A digital monitors, along with a 10-inch SE72610 subwoofer that's expressly designed to work with the included GLM.SE software for total system control. This is an excellent solution for small recording and mixing environments, as the SE DSP System Triple Play is both easy to use and affordable. You even get Genelec's AutoCal, an automated self-calibration system that analyzes your room and makes appropriate adjustments to maximize the quality of your sound. The end result is a monitoring system that's optimized for the room you're working in – no tweaking necessary.
ART Pro-VLA II – Here's a tube driven, Vactrol-based compressor/leveling amplifier designed for tracking, mixing, mastering, live sound, or broadcast applications. By using an opto-electronic design, (as opposed to a more typical VCA-driven level detection circuit) the Pro-VLA II allows more compression to be added to an audio source with a more natural, musical sounding output and virtually transparent dynamic leveling. This low-noise design, coupled with a real 12AT7 vacuum tube in the gain stage, makes the Pro-VLA II an ideal choice for stage or studio.