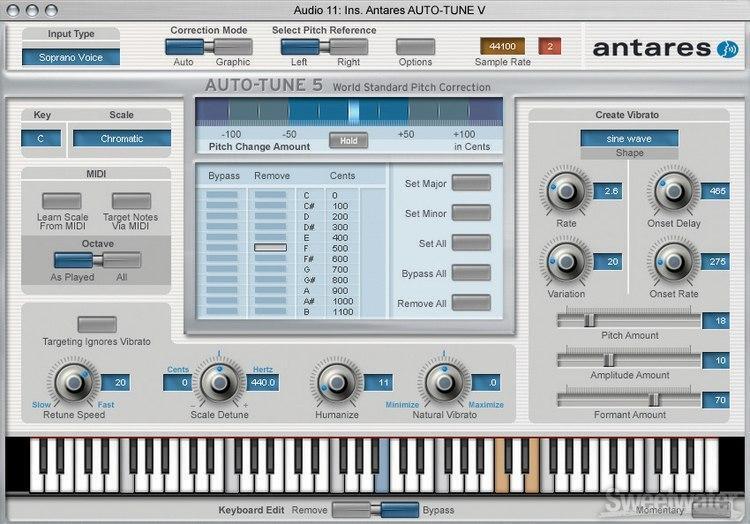 – Hailed from day one as a "holy grail of recording," Auto-Tune from Antares is a multi-platform plug-in that corrects intonation problems in vocals or solo instruments without adding noise or other digital artifacts. Auto-Tune 5 TDM for Pro Tools systems adds significant new features that include a sleek new user interface and an improved pitch detection algorithm that provides a marked improvement in performance with marginal-quality audio. What's more, Auto-Tune 5 now consolidates the previously separate Automatic and Graphical Mode Tracking controls.

Auralex SonoSuede Pro System – Here's a decorative do-it-yourself room treatment system that's ideal for pro and home project studios. The SonoSuede Pro System consists of four 16″x48″x2″ back-beveled panels predominantly used for corner trapping, and eight 16″x48″x1″ rectangular, back-beveled panels providing a total of 64 square feet of coverage. The synthetic suede fabric delivers the acoustical transparency and visual flair that's critical in today's studios. The system's unique mounting blocks also offer additional absorptive performance.

Fender Princeton Recording Amp – The legendary Princeton Reverb amp of the 1960s was small, light, and moderately powered, but capable of big tube tone. Countless guitarists made it the quintessential studio recording amp. Today, original Princeton Reverbs are prized (and often quite expensive) collectibles. Fender's new Princeton Recording Amp offers all of the great tone and dynamics of the original, plus all the modern studio-friendly features you need, like built-in effects and speaker-emulated XLR outputs. This robust 20-watt amp even provides enough output through the 10-inch Jensen C-10R speaker for small gigs and rehearsals.

M-Audio Conectiv with Control Vinyl and CDs – Developed by M-Audio's SynchroScience division, Connectiv is the world's first bus-powered 4 x 4 USB audio interface designed specifically for DJs who perform and produce tracks with a laptop. Together, Conectiv and the included Torq software form the ultimate DJ tool with high-fidelity audio, all the right I/O (including dual phono preamps) and the ability to mix, beat-match, and cue digital files with ease. You can even create a hybrid digital/vinyl DJ rig by using Conectiv and Torq with specially encoded control vinyl discs or CDs.