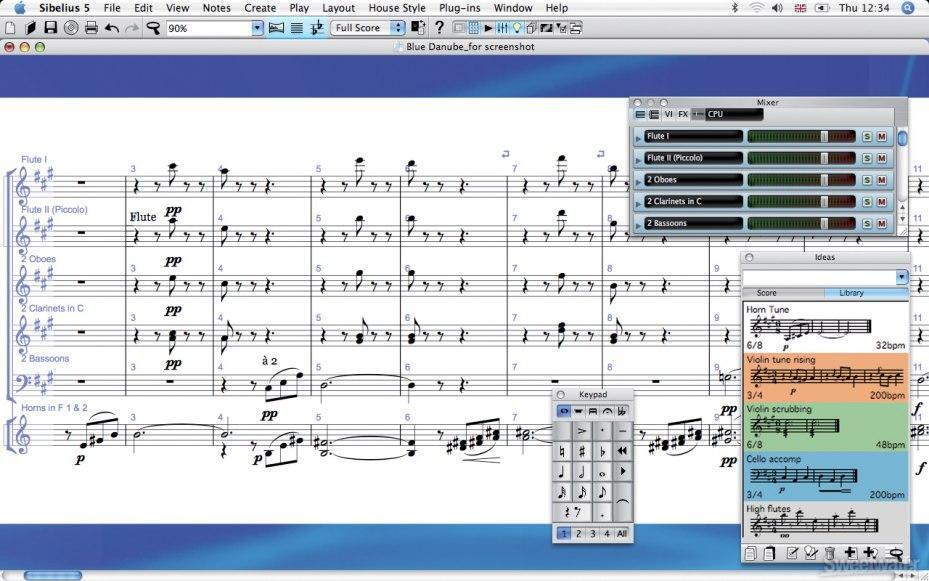 – Complete software for writing, playing, printing, and publishing music notation. Sibelius is specifically designed to save you time while producing outstanding results. Whether you're a professional composer, arranger, educator, or student, this application will make your musical life easier. The company listened to what Sibelius users have been asking for, and then went to work adding enhancements for writing music and completely new features like the Ideas Hub to make Sibelius 5 the most complete notation software available. Includes new built-in sounds plus VST and Audio Units support with a customizable layout control.

– Just one pedal gives you total control over your wah tone! Now you can easily adjust where the frequency will be centered, then decide how wide you want the frequency range sweep to be. It's pretty much like having your own custom Crybaby wah, adjusted to your tastes! There's also a switchable boost function onboard that makes sure you're heard when you need to be. You get six new guitar wah ranges, a whopping 16dB of boost, and a sturdy hardwired on/off switch. May be powered by a 9-volt battery or Dunlop's optional ECB003 adapter (not included).

– This stellar application provides composers with a totally intuitive way to create and manipulate scores, freeing them up to concentrate on their music. You get all the tools you need to quickly bring your music to life and they're all right at your fingertips. Instantly hear amazingly humanistic playback thanks to the built-in Kontakt 2 player and the critically software. Note entry can be handled in a variety of ways, from using a MIDI controller to the innovative MicNotator to scanning the score into the computer. Finale gives you the tools to fully realize your personal creative vision!

– Here's a comprehensive set of audio restoration plug-ins for cleaning up tape, vinyl and acoustic recordings. The tools deliver extremely high quality results with a minimum of tweaking, so they sound great, but are also easy to use. The Master Restoration Suite consists of five plug-ins: MR Noise, Click, Hum, Gate, and an all-in-one plug-in that merges the other four into a convenient single-interface solution. In any situation where you need precision tools to "clean up" unpleasant artifacts that detract from the overall sound quality, Master Restoration Suite is there. Functions as an AU, MAS, VST, RTAS and DX plug-in for Macs and PCs!

– This wildly popular compression pedal has found its way into the rigs of thousands of guitarists including Joe Perry and Tim Mahoney, as well as countless other discerning guitarists looking to add a touch of sustain to solos. The amazingly affordable dyna comp also provides an easy way to even out the volume or provide chunky clean guitar tones. Operation is simple, requiring only two knobs (Output and Sensitivity), thus allowing you to determine your overall output volume and at what volume the dyna comp kicks in.