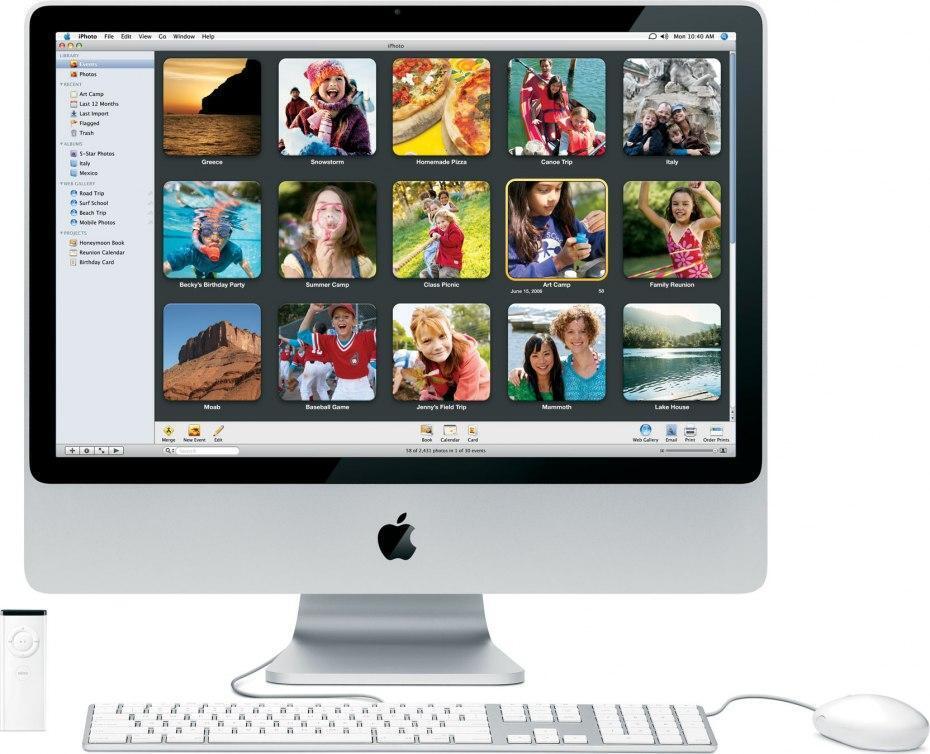 – The new iMac is more powerful than ever, with a faster processor, next-generation graphics, and even larger hard drives. And it's loaded with everything you need to make use of that power, including a built-in iSight camera, Wi-Fi and a SuperDrive. A wealth of connection options give you the ability to turn your iMac into a digital recording studio that can churn out professional quality tracks or perhaps you'd like to produce your own Hollywood-style movies and burn them to DVDs. The Apple iMac Core 2 Duo/2.4GHz/20″ all-in-one computer gives you an unbelievably low-profile CPU and screen design you just have to see to believe. It ships with 1GB of memory and a 320GB hard drive, plus an 8x double-layer SuperDrive and an ATI Radeon HD 2600 PRO with 256MB memory. Simply translated: you'll get the most out of your audio recording and video processing applications. A crystal-clear 20″ integrated screen, elegant low-profile keyboard, and software suite round out this brand new iMac.
– Here's a compact, high power suspendable subwoofer system containing a 2265G-1 neodymium magnet, patented Differential Drive and a wall-shaking 18″ woofer in a front-loaded, vented enclosure. The VRX918S was designed specifically for use in arrays with the VRX928LA Line Array speaker and VRX-SMAF Array Frame. The system offers compatibility with a variety of cabling schemes. Equally at home in ground stacked applications, the VRX918S is equipped with a top-mounted, threaded, 20 mm socket that can receive the optional SS4-BK pole. The enclosure is constructed of top quality birch plywood, coated in JBL's rugged DuraFlex finish and is heavily braced to maximize low frequency performance. A 16-gauge steel grille is internally lined with acoustically transparent foam to provide additional driver protection.
– Sony's Sound Forge software gives you all the tools you need to record, edit, and master great-sounding audio right on your home computer. You can capture vocals and instruments effectively; mix, edit, and even restore damaged audio; or import songs from CDs and MP3s. You can even make your own karaoke tracks with the onboard Vocal Eraser function! Even the most complex edits can be handled in most cases with drag and drop simplicity. Need to sync audio to video? Piece of cake. Once you're ready to output the audio, converting to any of several formats is incredibly easy. Think you'll be overwhelmed? Nope. See, you'll learn as you go with amazing tutorials that come as part of the package!