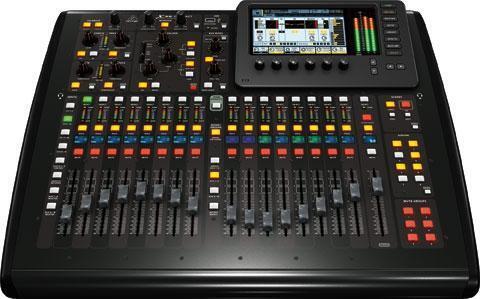 Behringer X32 Series
Behringer's X32 Series of digital mixers pack serious sound quality, top-of-the-line hardware, and powerful digital integration and features into compact, roadworthy packages. With amazing-sounding MIDAS-designed mic preamps, these digital mixers are as at home in the studio as they are onstage. Forty inputs and a robust mix bus count give you the flexibility you need, while a 32 x 32 USB/FireWire interface delivers instant compatibility with major DAWs. The larger X32 Series mixers sport up to 16 great-sounding, programmable mic preamps to capture the sound you want. Call your Sweetwater Sales Engineer to find out which Behringer X32 Series mixer is right for your needs.
Softube Console 1 Plug-in/Hardware Bundle
Softube's new Console 1 hardware/software bundle gives you a world-class analog mixer plug-in and a dedicated hardware controller. Modeled after the sound of a well-known British large-format console, the Console 1 plug-in delivers classic analog console sound. Simply insert the Console 1 channel strip plug-in on your DAW channels and use the hardware controller to select channels, adjust settings, and much more. It's a plug-in mixing board with an extremely flexible hardware controller. With the Softube Console 1 bundle, you'll be able to complete your mix from beginning to end without ever touching the mouse!
Gibson Memphis Luther Dickinson ES-335 with P-90 Pickups
The Gibson Memphis Luther Dickinson ES-335 takes the raw, fat tone of a 335 and couples it with the power and voice of P-90 pickups. This signature model guitar sports an extremely comfortable, slightly modified '59 neck shape; full center block to fight feedback; faded burst VOS finish, which is modeled after Jim Dickinson's (Luther's father) famous ES-175; Bigsby vibrato; and a pair of P-90s with a reverse-wound bridge pickup for hum-canceling operation when both pickups are selected. If you're looking for a hot-rod semi-hollowbody with a unique tone and amazing playability, you need to check out the Gibson Memphis Luther Dickinson ES-335!