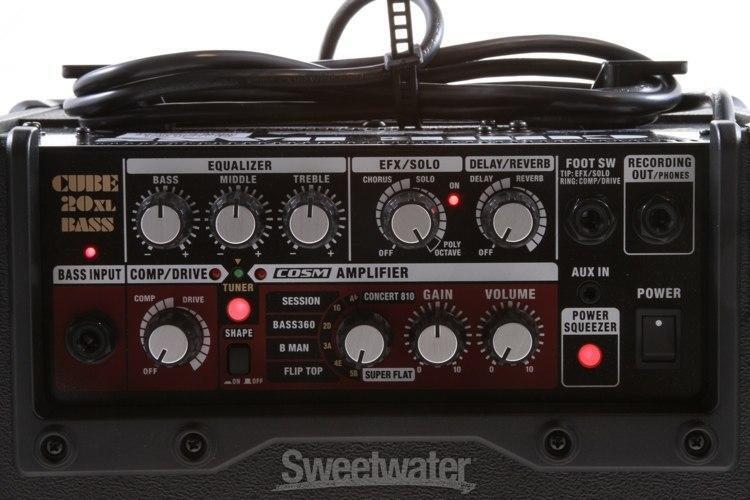 The most portable amp in the new Roland CUBE-XL BASS amp lineup, the CUBE-20XL BASS offers up 20 watts through a custom 1 x10″ speaker. Using its six COSM amp models and seven effects, bassists can dial in a wide range of tones to suit any playing style. What's more, the addition of the POWER SQUEEZER feature makes big, fat bass tone possible at bedroom-friendly volume levels. Roland also added other helpful features, including a built-in bass tuner and a 3-band EQ.
Offering a great blend of power and portability, the mid-size CUBE-60XL BASS offers 60 watts of power in a 1 x 10″ configuration. It's loaded with a SOLO function with memory for use as a second channel, as well as eight COSM amp models, a 3-band EQ, and the same seven effects as the CUBE-120XL BASS. A welcome addition for bedroom jammers, the POWER SQUEEZER offers fatter sound and lower volumes for anytime practicing.
Beefed up with more power and features, Roland's new flagship CUBE-XL BASS amp, the CUBE-120XL BASS, delivers the low-end goods, pumping a punchy 120 watts through a high-performance 1×12″ speaker. Offering the versatility you've come to expect from a Roland amp, the CUBE-120XL BASS sports eight COSM amp models, seven effects, a phrase looper with unlimited overdubs, a 4-band EQ, and even a chromatic tuner with drop-tuning support.