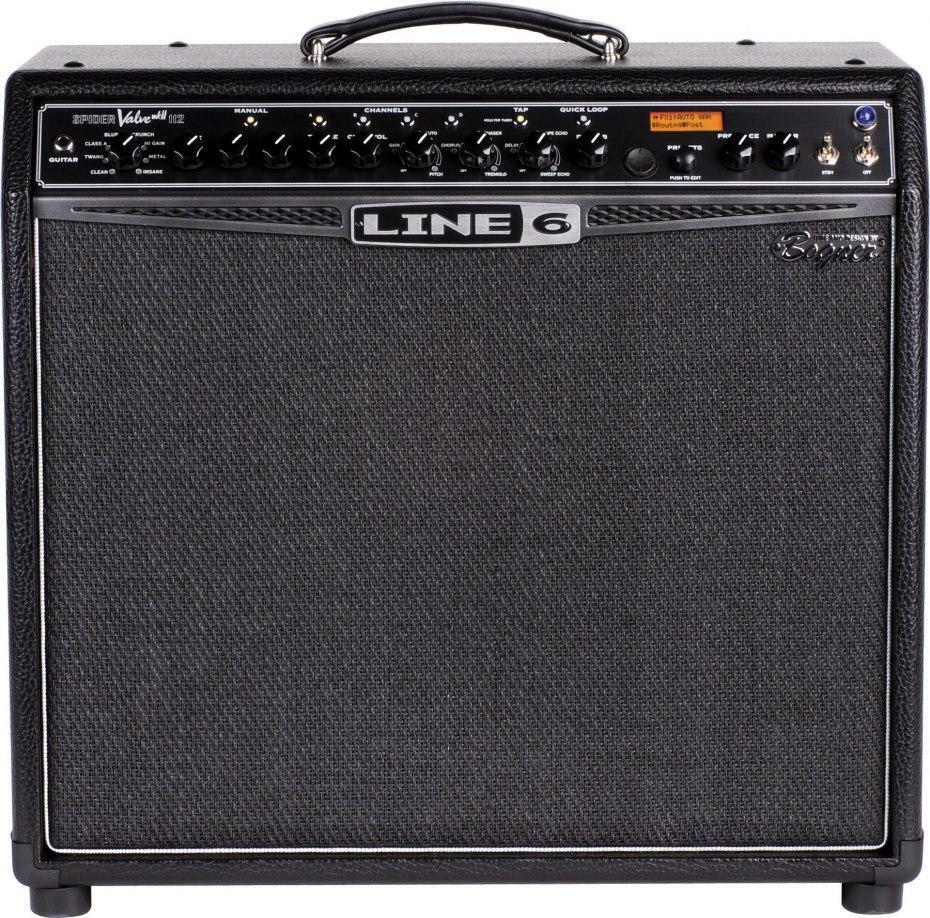 If you want tone versatility with rich, tube warmth, the Line 6 Spider Valve mkII 112 is for you!
I recently tried out the Line 6 Spider Valve mkII 112 40W modeling tube guitar combo amp. When I got it home, I imagined that, while amp modeling provides great versatility, getting quality tone that I could actually work with would be complicated. That couldn't have been farther from the truth. And with the legendary amp modeling of Line 6, I was instantly dialing in awesome modern and classic guitar tones without even a peak at the manual. I was playing everywhere from David Bowie to AC/DC to The White Stripes to The Deftones in minutes. The front panel knobs are easy to use and very intuitive so you can dial in tone fast!
But how good is great tone if you can't recall it? Not a problem for the Spider Valve mkII 112. It has 128 user-programmable presets ready for your tonal masterpieces! With 32 banks and four channels per bank, I was dialing in great tone and storing it fast. And then, of course, moving on to my next tone to play with quickly. I spent maybe 10 minutes and had six gig-ready tones stored. Hook up the Line 6 FBV Shortboard mkII with the amp, and you can easily switch between the 4 channels and your 32 banks for 128 tones on-stage! That's amazing versatility!
Versatility is in abundance on the Spider Valve mkII 112, but the real question is how does the amp sound? To put it simply, gorgeous. The Spider Valve mkII 112 is an all-tube amp, with 12AX7 preamp tubes and 6L6 power amp tubes. Not only is it an all-tube amp, but it was designed by the renowned Reinhold Bogner! I was floored that a modeling amp could still deliver boutique-style, rich, warm tube tone. No matter what style I was going for, the warmth of the amp made it sound fantastic. I couldn't go wrong even if I tried. The amp just gives great warm tone as soon as you plug in.
I also found that there are some nice peripheral features as well. The amp has a really simple built-in tuner for quick, accurate, and most importantly, silent tuning. It also has a really cool "sound on sound" looper. I found myself laying down some rhythm guitar then overdubbing some lead. A great tool for practicing solos or layering a riff at home or on-stage.
It's obvious to me that if you want tone versatility with rich, tube warmth, the Line 6 Spider Valve mkII 112 is for you! It's also a great amp for small venues, and absolutely essential if you are a studio engineer that needs to dial in great tone for any style of music. The Line 6 Spider Valve mkII 112 is a great 1×12″ amp for every application!