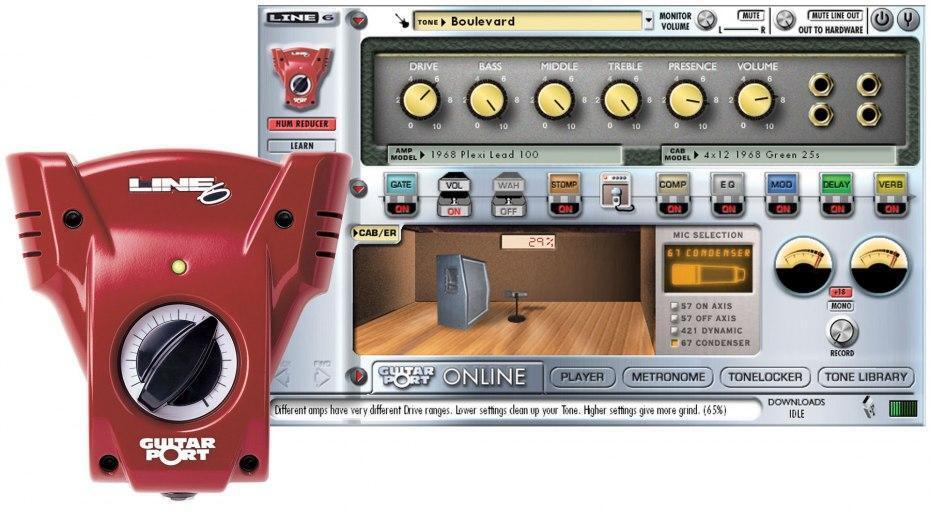 ...a great practice tool to help keep a regular performing musician's chops in check.
The Line 6 Guitar Port is the guitarist's answer to jamming at home, offering big studio quality on your PC computer. It's a combination of real-time mixer, amp modeler, effects modeler, and real time tracks to play along with.
Installation & Introductions!
Installation is a breeze and the documentation is good, walking you through every step of the process. Everything you need comes in the box; a USB Cable, an 1/8″ cable, and the Guitar Port itself. Once you've installed the software you plug in your guitar to the High Z input on the front, turn up the volume knob, tune your guitar using the software tuner and begin to dig into the sounds. The internal sounds are similar in quality to those found in the POD, but Guitar Port is a practice tool, not a replacement for the POD in the studio or on gigs. For instance, I doubt you'd call the promoter and ask if they had a PC that you could load your Guitar Port system on.
In The Studio
I plugged a set of headphones directly into the Guitar Port so as not to annoy my wife. I could have plugged my sound card output into the back of the Guitar Port and played some tracks back from my DAW software, but I decided to try the tracks that Line 6 put together – this was the fun part. I started the stock background track and was surpised at how up front the sound was, it made it easy to be confident in what you were playing.
The Line 6 Guitar Port online service is currently $7.99 per month, and gives you access to real-time play along with other people, as well as pre-recorded background tracks – from the original Jimi Hendrix tracks to modern studio musicians. If you're jamming online it would be best to have a cable modem, DSL or other broadband connection; while you can still jam online with a 56K modem, the process is going to be very slow, though you can still download the tracks to play along with from your computer.
In Conclusion
I think the Gutiar Port is great for at-home practice, guitar enthusiasts, music educators, and environments like school music labs. It's also a great practice tool to help keep a regular performing musician's chops in check.