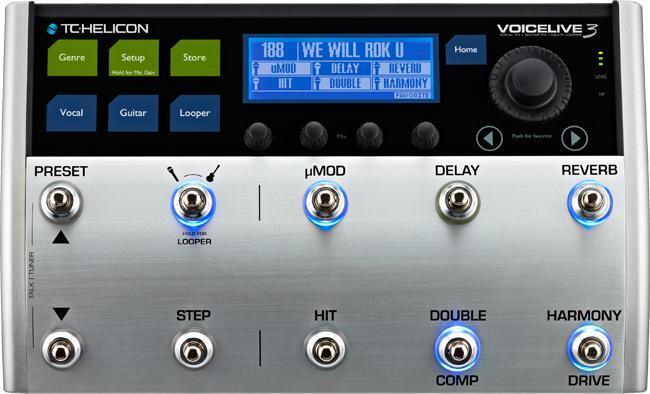 Think the VoiceLive vocal processors from TC•Helicon are only for vocal harmonies? Think again! With the new VoiceLive 3, TC•Helicon takes the VoiceLive up to an entirely new level. The VoiceLive 3 comprises three separate engines: vocal effects, vocal harmonies, and new to VoiceLive, guitar processing — including effects based on TC Electronic's popular TonePrint family — and amp and speaker modeling. But it doesn't stop there, the VoiceLive 3 also has a powerful looper built in.
Operating the VoiceLive 3 couldn't be simpler. The controls change colors depending on the mode you're in, so you always know whether you are switching effects on and off for the vocal or for the guitar. Navigating the parameters is easy and fast. Within just a couple of minutes, I had a sound totally dialed in for a performance.
Based on the TC Electronic pedals, the new guitar effects are stellar. You get a wide range of five simultaneous effects: delay, chorus, reverb, compressor, and overdrive. A "Hit" switch lets you instantly jump to a different effects combination, so you can switch from a rhythm tone to a lead tone with one button press. The amps sound authentic, and there are direct outs for feeding the guitar signal separately from the vocals, if you want to use an amp onstage for monitoring, or if you want to feed separate lines to front of house.
With the VoiceLive 3, the VoiceLive family moves beyond its singer/songwriter roots and becomes viable for bands, duos, solo performers, and those who create music based on loops. It's a tremendous all-in-one performance solution!