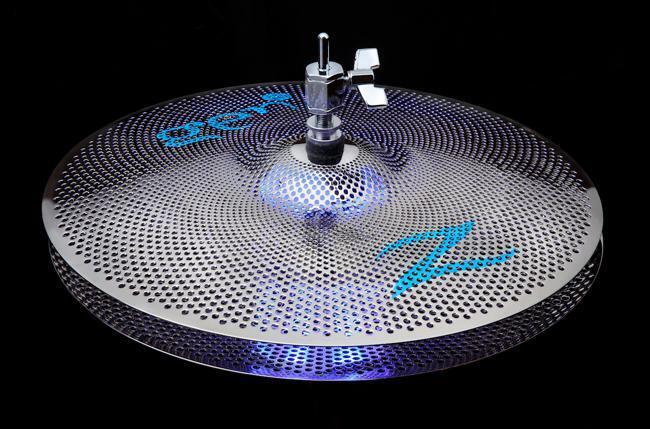 For many players, the cymbals in an electronic drum kit have been the weak spot. The cymbal sounds that e-drums produce can be stellar, but the feel of e-drum cymbals turns off some players. You could use real cymbals with your e-drums, but then you'd have to deal with volume issues — and you'd still have to mic them up in many situations.
What if you could play cymbals made from metal, ones that sounded great and felt exactly like "real" cymbals, but were still quiet enough to use with your e-drums? That's exactly what you get with the Gen16 Acoustic Electric Cymbals from Zildjian. The Gen16s are real cymbals that feature a unique perforated pattern. This pattern reduces their volume level by up to 75%! Yet the Gen16s feel and respond exactly as real cymbals do, because they are real cymbals.
The cymbals feature dual pickups underneath, in the cymbal mount. The signal from these pickups feeds into a controller module, which features DSP for processing the tone into full-blown cymbal goodness. You can either run the output of the module into your e-drum controller or run your e-drum module's output through the Gen16 module. Either way, you can create exactly the blend that you want.
There are several cymbals in the Gen16 family: 13″ or 14″ hi-hat, 16″ or 18″ crash, and 20″ ride. The controller can accept up to five cymbal inputs, so you can create exactly the cymbal array that you want for your kit. In use, you'd swear you were playing real cymbals — the feel and response is exactly right. There's flexibility for shaping the sound as you desire, so you can custom-tailor your cymbals exactly as you like. And, because these are real cymbals, you can even play with brushes or mallets.
I can't think of a better solution for e-drum users. Practice, gigs, worship, schools… anywhere you need cymbals but have to control the volume, the Gen16 Acoustic Electric Cymbals provide the solution!