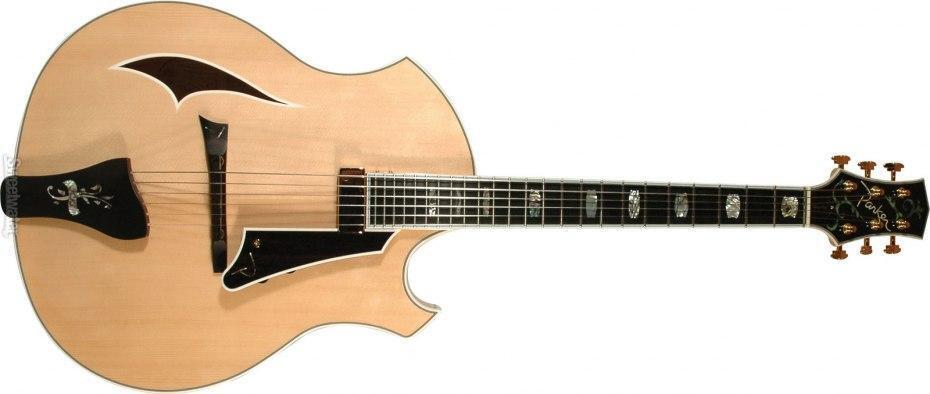 There are a lot of famous guitarists who have inspired famous guitar designs (Les Paul and Chet Atkins are just two), and then there are the players who inspired new versions of established instruments (think Eric Clapton and Jeff Beck). When Parker went looking for inspiration for a new jazz box, they turned to Philadelphia native Robert Conti. Well, Parker has always listened to the beat of their own drummer, and that can be very good if you are shopping for an instrument that will stand out in a room full of more, well, "ordinary" instruments. So if it's unconventional you want, it's unconventional you get with the Parker Guitars PJ24 Thinline. Only 24 of these instruments were made – 12 in Natural and 12 in Sunburst.
But wait! Who is Robert Conti? Just a world-class jazz guitarist and educator who began to play in 1958 at the age of 12. In his teens, he played nights in smoky clubs and spent summers on the road. After graduation, he toured extensively before moving in 1968 to Jacksonville, Florida, where he discovered he had a gift for the securities market. So his guitar playing was actually on-hold for six long years until 1979, when he recorded two critically acclaimed albums. By 1985, he decided to focus all his time on writing and performing music, as well as teaching.
The one traditional thing Parker kept when designing the PJ24 was the time-tested combination of a carved Sitka spruce top with carved maple back and sides (why redesign the wheel?). The comfortable 24-fret C-shaped neck is constructed of 5-ply rock maple with an ebony fingerboard sporting gorgeous abalone inlays. The headstock is equipped with gold Grover Titan tuners and finished off with a stunning abalone and pearl inlay. An ebony bridge and tailpiece (with another impressive abalone inlay) complete the picture. The entire body and neck are finished in polyurethane for the best combination of tone and long-term protection. When it comes to sound, the PJ24 Thinline comes standard with a gold Egnater floating mini-humbucker that produces a sweet and beautifully balanced jazz tone, whether you're playing chords or picking individual notes and arpeggios. Even without plugging the guitar into an amp, you can hear its superbly articulated tone, courtesy of a large soundhole in the upper bout. Finally, each PJ24 Thinline ships in a custom plush-lined hardshell case with (get this) a hygrometer included, so you'll never have to guess whether your guitar has too much or too little moisture content. Of course, your new PJ24 includes free shipping right to your doorstep via FedEx.