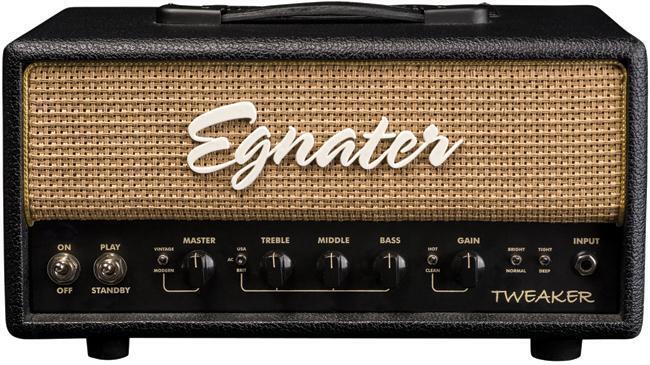 Great news: Sweetwater now carries a full line of Egnater guitar amplifiers! Tube-amp guru Bruce Egnater has been at the forefront of amp innovations for over three decades, and his latest lineup is living proof. From the studio-friendly Tweaker to the versatile Rebel to the stage-ready Renegade, this batch of tube amps has something for every player. Best of all, they're surprisingly affordable!
Thanks to Bruce's incredible amp designs, these heads and combos give you true tube-amp performance through and through — but they don't skimp on versatility. For example, the 30-watt Rebel-30 (see Hands On at right) gives you both Brit and American character, and is even capable of blending the two, as it's actually equipped with both 6V6 and EL84 power tubes. The Tweaker Head lives up to its name, with front-panel switches that let you take full advantage of its range of tonal flavors. You can go from clean sparkle to bluesy grind to thick sustain, in no time. This 15-watt, 6V6-powered tone machine makes an ideal studio or rehearsal amp that's also great for small live venues. It's also available in a 40-watt version. For stage-shaking 88-watt performance, check out the KT88-powered Tweaker 88 Head.
Egnater's Renegade Head (also available as a 1 x 12″, 2 x 12″, or 4 x 10″ combo) uses both 6L6 tubes and EL34 valves in its engine room, so you can fill the stage with awesome tones — without filling up the room with amps. The Renegade is switchable between 18 and 65 watts, so this amp is perfect for all kinds of playing scenarios. We also carry a full selection of Egnater extension cabinets. Your Sweetwater Sales Engineer is here to help you find the Egnater amp that's perfect for you. Call us today!