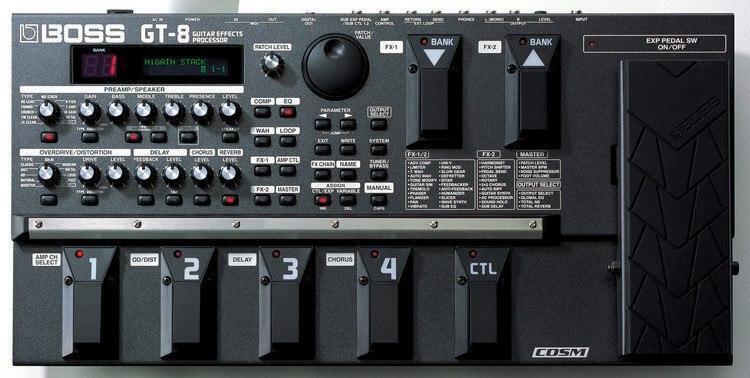 For the sheer volume of fantastic COSM sounds and flexibility with features, the Boss GT-8 is an amazing value.
As soon as I connected the S/PDIF out on this unit to my Digi002R, I knew I needed the GT-8. I had always been somewhat frustrated with how much tweaking and work it was to get a great sound out of other amp modelers, but with the GT-8 I was able to find the tone I had been lacking in my rig.
Roland really put the time into making the GT-8 incredibly easy to use, and if I'm running a Distortion pedal through the front end of a patch and decide I only need slightly less gain out of it, I don't have to scroll though a menu, and then adjust the Gain. There is a gain knob (and 2 other controls) specifically for that pedal! There are also knobs for Delay and face plate controls for Reverb and Chorus as well. The rest of the functions are controlled through the menus, but it's so convenient to have the most important ones right out front.
So, you get 2 Channels of an amp model per patch. You can switch via the control pedal, you can combine the sounds, or you can run them in stereo. But you can also use the brand new Dynamic Sensing technology, and let the GT-8 switch between the channels using only the volume of your guitar. Set your volume knob real low, and Channel A kicks in a smooth overdrive if you'd like. Crank that up and the GT-8 changes you to Channel B for that raging distortion, if you'd like. It's a very unique and practical idea.
There's too many other features for me to go into as great detail as I have above, but for the sake of completeness the GT-8 has a global EQ in addition to each patch's EQ, assignable foot-pedal, integrated FX loop for your own outboard gear, a Solo function to add some extra power to each patch, and a guitar simulator that will emulate the sound of various pickups. There isn't enough time in the day to list every feature of the GT-8, but hey, for the sheer volume of fantastic COSM sounds and flexibility, the Boss GT-8 is an amazing value for anyone looking to have one of the best amp modelers on the market.