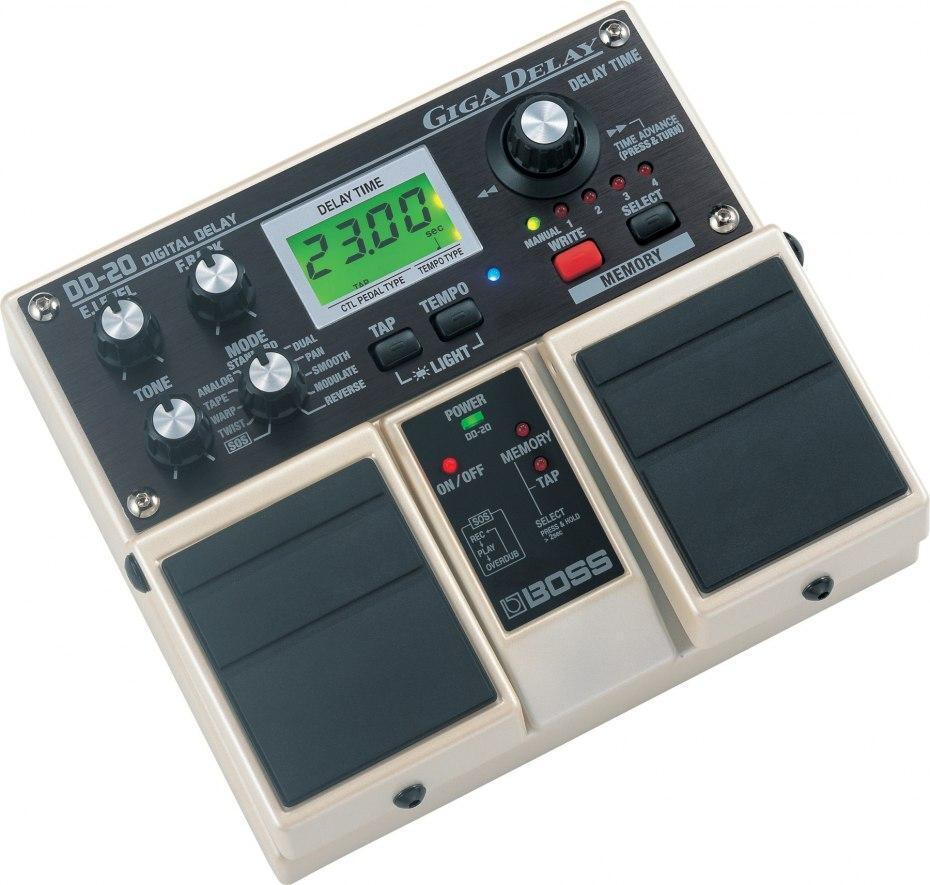 This is without a doubt my favorite pedal. The creative possibilities it opens up are endless.
I've owned the DD-20 for quite some time now. I have it hooked up in stereo as the last pedal in my signal chain, going to two separate amps. I love using delay as a way to fatten up leads, or to provide rhythm in a situation where I'm playing without a rhythm section.
One of the great things about this particular delay pedal is the sheer number of different sounds you can get. With 11 delay modes, there is quite a variety of sounds that can be achieved. It models analog and tape delay very convincingly. I usually use the pan mode – in this mode the repeats alternate between left and right – with two amps set up it sounds great. Reverse delay sounds awesome, and the warp and twist modes can be a lot of fun, creating some crazy effects that I've never heard on any effects box.
The sound-on-sound capability is a real blast too. I can't tell you how much this feature has improved my lead playing. The DD-20 has the ability to record up to 23 seconds of audio, which can then be looped back infinitely. You can also do unlimited overdubs that will loop as well. On top of this, you can use the delay effect while in loop mode! It's a great way to capture creative impulses that happen on a whim. It's also a great way to get looping capabilities without having to purchase a dedicated looper pedal. This is a Godsend to the guitar player on a budget.
The backlit display keeps you abreast of what's going on, even in the darkest of rooms. This is one of the only delay pedals in this price range that has a backlit display. The tap tempo function allows you to sync up your delay repeats so they are in time to the music – it even lets you pick the note value of the repeats!
This is without a doubt my favorite pedal on my pedalboard. I would be lost without it – the creative possibilities it opens up are endless.