There are many ways to record acoustic guitars — and all are correct. Some engineers like small-diaphragm condenser microphones on acoustics while others prefer to use large-diaphragm condensers — and in some applications, even ribbon microphones are just the thing. You can use cardioid, omnidirectional, and even figure-8 patterned microphones to get the sound that you're after. However, since small-diaphragm condensers are the most commonly used mics for recording acoustic guitars, we'll concentrate on them.
Personal preference also holds true when choosing microphone preamps; no specific preamp design fits every application or every engineer's preferences. You can get a great acoustic recording with solid-state and tube preamps, transformer or transformerless design, or at a more basic level, clean or colored preamps.
Because every recording situation is different (variables include the musician, the instrument, the song, the arrangement, and even the acoustic space), there's no one combination of microphone and preamp that is perfect for every occasion. Any combination of the following microphones and preamps can be just the thing for a given track.
Here are some of our favorite microphones and preamps for recording acoustic guitars.
Microphones

Many engineers consider Neumann's KM 184 to be unsurpassed when it comes to capturing clarity and detail. A transformerless microphone (like all of Neumann's FET 100 series mics), the KM 184 can handle extreme volume levels (up to 138dB), and with its extremely low self-noise (16dB A-weighted), it can be the perfect choice for subtlety as well.
Pro Tip: When a microphone is a bit bright on a given guitar, proximity effect can be your friend; move the mic closer to the guitar to add some lows.

Though the majority of engineers use cardioid microphones when recording acoustic guitars, situations can arise when an omnidirectional or even a hypercardioid mic would be a better choice. This is one of the reasons that the Avantone Pro CK-1 is a great tool for those of us who record acoustic music. Avantone included three capsules in the package — cardioid, hypercardioid, and omni — for extreme versatility.
Pro Tip: One way to minimize extraneous noise when recording in a less than ideal environment is to use an omnidirectional mic; there's no bass buildup from the proximity effect, so you can get much closer to the instrument and make the close sound of the guitar much louder than the ambient noise of the room.
The ADX51 is an electret condenser microphone with a sound that far outweighs its cost. With a 10dB pad and a 150Hz roll-off switch on the mic, the Audix ADX51 can be used not only for acoustic guitars and other acoustic instruments, but it also shines even in high decibel environments — for instance, when used for drum overheads.
Pro Tip: If you choose to use the roll-off switch when recording acoustic guitars, make sure you're not getting rid of low frequencies you'll need later. If you don't know what the highpass frequency on the mic is, then listen and make sure it's not getting rid of part of your sound.

The sE Electronics sE5 is a small-diaphragm microphone that, with the help of a 10/20dB pad, can take abusive levels — up to 170dB. While this attribute likely won't come into play when recording acoustic guitar, the 100Hz highpass filter can come in handy.
Pro Tip: Try recording in stereo with a pair of sE5s in an XY configuration for a focused center, or ORTF for a wider stereo image.

If you're not a fan of Schoeps microphones, it can only be because you haven't used one yet. The Schoeps CMC641, part of the Colette series, consists of a CMC 6 amplifier (the body), paired with an MK 41 supercardioid capsule. Other capsules in the Colette series include omnidirectional and figure-8 patterns in addition to a number of cardioid-patterned capsules.
Pro Tip: Quite simply, the CMC641 is one of the best small-diaphragm microphones in the world. It's great on acoustic guitars and truly excels in every application.
---
Preamps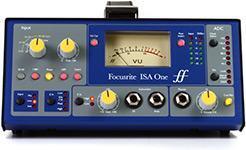 A number of our favorite preamps trace their lineage back to the designs of Rupert Neve. Focusrite's ISA One, for example, is based on Rupert's circuit for the ISA 110 module — a module commissioned for AIR studios and later incorporated into the Focusrite Forte console. The ISA One adds an instrument DI and switchable input impedance.
The ISA One gives you the musicality of the legendary 110 mic preamp in a convenient desktop package.
The 3124 offers four API preamps in one rack space, complete with input and output transformers along with legendary 2520 op-amps. A couple of variants of the 3124 are available — the 3124V offers variable-level outputs on each channel plus a transformer tap option, while the 3124MV gives you all the options of the 3124V plus a stereo mixer.
Choose which model you buy based on which options you need — at the end of the day, you'll have four channels of superb mic preamps. You can never have too many preamps.

Another preamp with a lineage that can be traced back to a Rupert Neve circuit, the Great River Electronics ME-1NV combines the sound of the classic 1073 preamp with a few additions that increase its versatility. These include a switchable input impedance and an output load switch, which allow subtle yet obvious changes to the sound.
For acoustic guitars, vocals, horns, drums — the Great River NV is superb.

There are preamps that are designed to add color to signals passing through them, and preamps that are designed for transparency — Grace Designs' m101 definitely falls into the second category. A transformerless signal path (with no electrolytics in the path) helps the m101 to achieve detail and headroom in a remarkably natural-sounding preamp.
Grace Designs' reputation is well earned. The m101 is clean and transparent and has the headroom to handle anything you throw at it.

The Shelford Channel, Rupert Neve's latest creation, starts with a Class A transformer-gain mic preamp and the EQ from Rupert's acclaimed Shelford 5052, with a compressor based on the classic Neve 2254, plus Rupert's Silk circuit that lets you tailor the harmonic content of the preamp's output stage.
The Shelford Channel is the culmination of Neve's decades of experience, and it shows — an amazing all-in-one solution for recording mono signals.
---
If you still can't decide which is the right mic or preamp for your acoustic guitar based on your musical style and instruments, call your Sweetwater Sales Engineer at (800) 222-4700. They can help you find the perfect gear to suit your tastes.