Synthogy Ivory

Issue #36
May 30, 2007
The Quest for the Perfect Piano, Part Two
I love writing this column, partly because the Web allows me the kind of space I need to fully cover a specific topic. I also love doing reviews, because I know from personal experience just how important it is for musicians on a budget to get accurate, unbiased information on a particular product. And that's exactly what we have here. So kick off your shoes, grab a beverage and snack if you wish, and let's get this Tech Notes Online started....
Party Like It's 1985!
Ah, the '80s! Who doesn't miss them? Guys wore loose pastel-colored jackets, ladies wore leg-warmers and torn sweatshirts, the "mullet" was coming into its own as a hairstyle, and for some silly reason, Flashdance didn't win an Oscar in '83 (nor did Fame, Footloose, or Dirty Dancing for that matter). The entertainment world gave us Madonna (the "material girl"), Arnold Swartzenegger (The Terminator), the "Rock and Wrestling Connection" (obviously too highbrow for mainstream America), Duran Duran, George Michael, and Whitesnake - man, you just don't hear music like that today! We could reminisce all day, but the one thing that really stuck with keyboard players right into the 1990s and beyond was sampling!
Now, who on earth wouldn't want to spend eight or more hours a day trying to fit the sound of an entire grand piano into just 256k of 8-bit sample memory? That's exactly what sound designers were doing in the mid-'80s on instruments like the E-MU Emulator, the Ensoniq Mirage, and the Sequential Circuits Prophet 2000, which broke the 8-bit barrier with the first 12-bit sampling engine.
At about the same time, readers of Keyboard magazine were drooling over the amazing Kurzweil 250, the brainchild of Raymond Kurzweil. According to Ray himself, the urban legend about Stevie Wonder being the inspiration for this landmark instrument is true: "'Wouldn't it be great,' Stevie mused, 'if we could use the extraordinarily flexible computer control methods on the beautiful sounds of acoustic instruments?' I thought about it and it sounded quite doable, so that meeting constituted the founding of Kurzweil Music Systems."
"It Costs How Much?"
A prototype was demonstrated in 1983, but production didn't really get under way until the next year. The "street price" for a fully tricked-out Kurzweil 250 was somewhere in the range of (are you sitting down?) $12,500, which included the sampling option and extra soundblocks. Back then, none of us really understood a thing about bits or bytes; all we knew was that this had to be the Holy Grail of keyboards - an instrument that actually delivered on the promise of real-sounding acoustic instruments, including that original mind-blowing grand piano. It's no wonder that the original prototype is in the Smithsonian Institute in Washington, D.C. How many other keyboards can make that claim? (That's a rhetorical question, so there's no need to actually do the research.)
In 1986, I took out a small business loan and bought a 250 - yes, for about $12 grand - and started building my own sample library. This was a very interesting time for me. Electronic Musician magazine did a big review of my sounds in 1987 and gave me high marks for both sound quality and programming. At the time, Joe Ierardi was the chief sound designer for Kurzweil and remained in that capacity for almost 20 years. It was his responsibility to make the magic actually happen and cram a whole lot of high quality sounds into a ridiculously small amount of space. But at the time, I didn't know him and it was a few more years before our paths finally crossed, and in a very big way. In fact, it ultimately led to us working together on the second-generation Kurzweil, the K2000. But all that's backstory, so let's fast forward to the year 2006 - 20 years after I got my K250.
The Grand Piano in Modern Digital Form
As we all know, by the turn of the century, the writing was on the wall: hardware samplers had grown to be too expensive. Compared to what could be accomplished using a Mac or PC, hardware boxes were simply too slow and carried price tags that were out of reach to the average musician. Those that failed to evolve with the times gradually disappeared. A few, like Korg's high-end OASYS and the Alesis Fusion models - just two examples - added new features and capabilities such as 24-bit hard disk recording and more types of synthesis, thus giving them an extended lifetime. Digital grands for the home are still selling, but that's an entirely different demographic.
So then, if you needed the sound of a really great piano, where would you turn? A number of dedicated plug-in or standalone virtual pianos have debuted over the last few years, and here's where the story gets interesting. In their October 2006 issue, one of the major industry magazines (I prefer not to be specific here) decided to do a "shoot-out" between all the virtual grand pianos. In the past, such shoot-outs were quite helpful. As a rule, musicians don't have a ton of money laying around (sound familiar?). What's more, they don't often have someplace convenient where they can go to do their own comparisons of all of the available products in a category.
Now, when that magazine issue came out, I read it with as much interest as anyone else, as I had not heard any of the material. I personally spent several months (and ridiculously long hours) creating the critically acclaimed grand piano that eventually made it into the Alesis QuadraSynth and several other Alesis products, so I was aware of the time, energy, and attention to detail involved in such an undertaking. The piano I sampled was a beautiful Bosendorfer 290 Imperial, which I recorded in the main performance hall at the University of California in Santa Cruz. I later created larger versions (up to 64MB) for the Kurzweil K2000/2500. Even given the extra RAM I had available, creating looped samples at multiple velocity levels took an awful lot of work. I bring this up only to present my own credentials for judging sampled pianos.
The Shoot-out and Its Aftermath
I won't get into specifics here, but essentially all three musicians who participated in the virtual grand shoot-out chose the same piano as the overall "best." That in itself was odd, because getting three musicians to agree about almost anything is close to impossible in my experience. So I did what any veteran sound designer would do: I spent weeks doing my own listening tests. Besides playing the pianos myself, I also loaded up some awesome MIDI files created by Eric Genuis, a truly gifted pianist and a man destined to be an "A-list" Hollywood composer.
After the listening tests were over, I just could not believe all three had chosen the piano they did, because to my ears, it was certainly not the best. That distinction belonged to the three grand pianos in the Synthogy Ivory package, though each of the products clearly had their strong points.
What was eventually the upside of this whole thing was that I learned that Synthogy's Ivory grand pianos had been created by Joe Ierardi, the man who played such a big role in creating those amazing Kurzweil 250 instruments, including the legendary grand! About six or seven years ago, when Young Chang began having problems with the Kurzweil line, he and I had lost touch and now, because of this shoot-out, we got to talking again. What's more, Joe told me that another great guy who had worked at Kurzweil, Chris Martirano, was now at Synthogy.
Honestly, this was sort of like destiny. Because I disagreed with some reviewers, I got to reconnect with two people whom I both admire and respect. So when you look at the whole picture, it couldn't have turned out any better!
The Ivory Story
The first thing I asked Joe was how he had come up with the idea to create the Ivory Virtual Grands. Here's what he had to say: "Being a pianist myself, and having been responsible for piano development at Kurzweil for many years, you could say I spent a fair amount of time studying the problem of recreating the acoustic instrument in digital form. Ivory was a natural first product for us because we were excited about the idea of removing the memory limitations we had dealt with for years in hardware products. It was also an opportunity to design a custom software and DSP engine with features and an interface designed around the specific needs of piano performance and production.
Synthogy Italian Concert Grand
Add-on Pack for Synthogy Ivory with Italian Concert Grand Piano Samples. Synthogy has expanded upon the phenomenal piano sounds of their landmark Ivory virtual instrument with the release of the Italian Concert Grand sample pack. This a new sample set installs directly into Ivory, adding a fourth world-class concert grand piano to Ivory's...
[ More Info... ]

Synthogy Ivory version 1.5
Concert Grand Pianos Plug-in for AU, VST and RTAS Mac/PC. Ivory has been very well received by Mac users, and now PC users will be able to join the large family of Ivory aficionados who are already using the largest and most authentic piano plug-in on their Macs. Ivory's superb piano samples were brought to life using no-compromise...
[ More Info... ]
"One of the primary goals in Ivory was to offer the user a selection of the world's great pianos. We recognized that no single piano, however great it might be, would always be the ideal choice for a given player or style of music. We felt the technology was [now] capable of delivering a selection of the world's greatest instruments in one package. Of equal importance was the goal that Ivory should play and respond like a real piano, [one] that would satisfy the needs of the virtuoso pianist and meet the challenges of the most demanding repertoire. There could be no compromise where this was concerned and it was our primary focus in the creation of the product."
The original Ivory software included three carefully selected grand pianos - the same three any professional would want access to in a perfect world: a Bosendorfer 290 Imperial, a Steinway Model D, and the studio-standard Yamaha C7. The goal was not to simply include all three, but to locate and record the finest examples of each, so the company got input from a number of top recording engineers - people who had literally recorded thousands of hours of music on grand pianos. Likewise the venues were also specifically chosen for their superior acoustics. This included the concert halls at Austin Peay University in Tennessee, Le Domaine Forget in Quebec, and the Performing Arts Center at SUNY (State University of New York) in Purchase, New York, each of which would rate among the best halls in the world.
The Yamaha C7 ended up requiring a different approach. Joe chose to capture the signature sound of this instrument in a world-class studio, since this is the space it's almost always recorded in. The C7 is arguably the most frequently recorded piano in the music industry and has been used on countless pop, jazz, rock, and gospel albums, so it was important that Ivory deliver the sound as it is almost always heard. In my opinion, that was the right call. Using convolution reverb, the piano can be placed in almost any concert environment, from intimate recital halls to giant auditoriums.
Ivory's Custom Features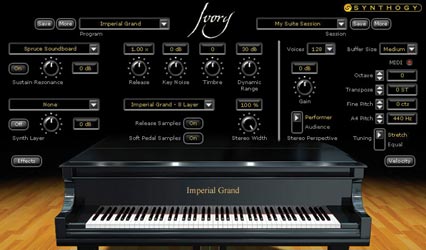 Offers a choice of three great pianos
Ivory brings out the resonance, response and character of three of the world's finest Concert Grands - the German Steinway D 9' Concert Grand, Bosendorfer 290 Imperial Grand, and Yamaha C7 Grand - on your audio workstation. Each piano in Ivory appeals to different tastes and musical applications. Ivory's custom playback engine was built from ground up with unique features for piano recreation. These unique features are what make Ivory an instrument that is playable, expressive, and adaptable to production needs.
[ More Info... ]
To reproduce the final recordings, Synthogy decided to design their own custom software and DSP engine. That way they could include only the features that are absolutely necessary for a great piano sound and omit those that are not. This approach efficiently maximizes CPU power to accomplish the most important tasks.
According to Joe, "Ivory includes numerous custom features for reproducing the various nuances of the concert grand piano. One key innovation is our use of release samples. These are triggered according to the velocity of the note, as well as according to the duration that each note is held." That meant that each note's key release had to be sampled at multiple duration points, then Ivory's software tracks the duration of every note played, triggering the proper release sample to produce the most natural "key up" sound possible.
Other custom features include real una corda or soft pedal samples, controls for the amount of mechanical key noise in the sound, sustain resonance, and soundboard emulation. Beyond these, Ivory allows the end user to tweak onboard EQ and ambience to taste, as well as decide which stereo perspective to use, either performer or audience. Even the width of the stereo image can be set by the user. It's these custom features and innovations that are critical components to the way Ivory renders a truly realistic and pianistic playing experience.
Ivory's custom ambience and room algorithms were designed by George Taylor, who designed many of the reverb algorithms used in Kurzweil's critically acclaimed KDFX and KSP8 effects processors. Ivory's virtual spaces range from small rooms, clubs, and studios to spectacular concert halls and even include some useful (and editable) special effects. Each virtual space was custom-designed and painstakingly tweaked specifically to enhance the sound of an acoustic grand piano and nothing else. There's a built-in chorus effect that's quite natural sounding and then my favorite, synth pads that work in perfect harmony with the piano sounds, so that no matter how many notes are playing, the pads never muddy up or acoustically smear the piano image. That's no small feat!
Auditioning Ivory
At this point you're wondering when I'm going to get down to the nitty-gritty regarding sound quality and playability. Or maybe not. Since I've already spent a lot of time telling you what makes Ivory so special, you might already have ferreted out the fact that Ivory blew me away. I think the best compliment I can come up with is to say that as a sound designer with over 20 years experience myself, I've finally found a piano - well, three pianos, actually - that I'd use in any live or recording situation that's better than anything of my own. For me, that's saying a lot!
When you get right down to it, Ivory is as close to playing a real grand piano as you are ever going to get with our current technology. In my opinion, you could easily substitute Ivory for any "real" grand piano track recorded live and nobody would for a second think "Oh, I'm hearing a sampled piano." That's how good it is. But what makes it even better is that you can own Ivory for $319.97 (that's your Sweetwater price, which includes free FedEx shipping anywhere in the contiguous United States). What's more, for an additional $129.97, you can add the Italian Grand expansion pack, which gives you access to a fourth world-class grand that has a distinct "flavor" all its own. Bottom line: This is a ridiculously inexpensive way to put four spectacular grands right in your own studio!
If you own, for example, Vienna Instruments' Symphonic Cube (which, like Ivory, is distributed here in the U.S. by Ilio) and need a piano that's going to deliver the same quality sonics, then Ivory is a no-brainer. The Vienna Instruments Bosendorfer 290 Imperial is in the same class, but for about the same money, you're only getting one piano, albeit a mighty fine one.
But don't just take my word for it. Have a listen to some stunning performances by master pianist Eric Genuis. Naturally, these are MP3s and so are compressed, which does compromise the sound quality. But even so, these files sound great.
BOSENDORFER MP3 FILES
Recently a major music industry magazine did a shoot-out between all the top virtual piano packages. Did they choose the right winner? You decide! We used the same MIDI file of a piano piece performed by Eric Genuis for these two examples. The author believes Ivory walks away with a clearcut victory for overall sound quality and playability. Each example was created using the first Bosendorfer sample set in the two packages and no tweaking was done in either instance. The only processing was the MP3 compression that was applied to create files small enough for easy downloads.
IVORY MP3 Files
These examples use the presets that come with Ivory, as well as presets from the optional Italian Grand.
The Final Pieces of the Puzzle
It's clear that Joe Ierardi and Synthogy put their heart and soul into these amazing pianos. Joe wraps things up nicely: "All feature specifications and comparison charts aside, what ultimately matters is sound quality. If a product doesn't sound great, not too many people will be interested. While this is admittedly a subjective matter for most people, we do feel we have a tremendous advantage in the area of sound quality simply due to our many years of sampling experience in general and acoustic grands in particular. Each new recording is a challenge for us and an opportunity to improve upon all that we have learned in the past."
In creating the Ivory package, Synthogy utilized some cutting edge, proprietary tools and technology. Foremost among these is a DSP routine called "spectral interpolation" which allowed the programmers to fine-tune any discrepancies in velocity or timbre so that Ivory responds like a real acoustic instrument, and the feedback the company got from end users pretty much confirmed the fact that they'd nailed it!
Based upon customer requests, the company's second expansion pack will be an upright piano with its own unique personality. Development of this product is well underway and it will hopefully be released soon. Apart from that, Synthogy does plan to expand their product offerings into other instrument classes in the future. They're not ready to divulge any details at the moment, but the minute I hear something "officially," I'll be sure to let you know. If Ivory is any indication, it's going to be something pretty special!
Questions? Comments? Discuss this article in Jim Miller's Forum
Questions, comments, rants, suggestions, unwanted '62 Stratocasters and any other form of correspondence can be addressed to jim_miller@mindspring.com.