Gretsch Guitars

Issue #35
April 19, 2007
The Final Word on Today's Gretsch Guitar Line ...Maybe
In 2005, I wrote a 2-part column on Gretsch guitars for Tech Notes Online, as well as a brief companion piece for my SweetNotes column. I knew some of you would be interested, but I never expected the tidal wave of e-mail that would follow. Nothing in my 15+ years of writing for Sweetwater even comes close. There were days when I'd fire up my Mac and find five or six messages waiting for a response. And while that has dwindled significantly, there are still one or two that show up most every week.
As it turns out, part of the continuing interest came because a few vintage guitar forums posted links to my Tech Notes Online feature, which is fine with me (and I'm betting Sweetwater doesn't have a problem with it, either). I love swapping stories and sharing anecdotes about guitars, including the ones we somehow let slip right through our fingers. In the 1970s and right through the '80s, the music industry in general saw Gretsches in a negative light. Why? Mainly because under Baldwin ownership (starting in 1967), quality slipped across the board - too many corners were cut and silly design changes made the "new" Gretsch guitars a lot less desirable.
However, over the last six or seven years, some of the high-profile Gretsch guitars - most particularly those in the Chet Atkins line - started to skyrocket in value. Instruments we almost couldn't give away 20 years ago were suddenly sporting price tags that put them out of our reach. The 1964 Tennessean I sold for about $125 in 1980 was now commanding prices at or above the $3,000 mark!
Knowing this, I wasn't surprised that a significant chunk of the e-mail came from people who wanted to know what their old Gretsches might be worth. Unfortunately, I had to tell them that I'm not set up to do appraisals, particularly since I can't even hold the instrument in my hands. For the most part, I referred them to a few vintage guitar dealers I know and trust. And I suppose that could be the end of our story right there, but there were also quite a few players who, like me, missed their original instruments and wanted to know if today's Gretsches were any good.
The short answer is: They're better than good - way better! The long answer is, well, the rest of this column. So for those of you who simply cannot get enough of these wonderfully quirky guitars, read on...
FOR A FEW DOLLARS MORE
The most interesting factoid about Gretsch guitars is that during the 1950s and, to a lesser extent, into the '60s, Gretsch retail prices were actually the highest out of the top four guitar builders, which included Gibson, Guild and Fender. I'm not including Epiphone because Gibson acquired the brand name in 1957 and for a while, built Epiphone models in the same facility as the Gibson line in Kalamazoo, Michigan.
In 1954, a Gibson Les Paul "Gold Top" retailed at $225 and the Les Paul Custom "Black Beauty" at $325, but you could go home with a Les Paul Junior for just $99.50. Meanwhile, over on the West Coast, the Fender Telecaster was selling for $189.50 and the "deluxe" Stratocaster for a whopping $249.50. That same year, the Gretsch Chet Atkins Model 6120 (which many might say is the "quintessential" Gretsch electric) carried a list price of $385.
If we're comparing "apples to apples," the Gretsch Duo-Jet, which in 1954 was the closest model the company had to the Gibson Les Paul, retailed for $230, while the Western-themed Model 6121 - in essence, a Duo-Jet, but with the Chet Atkins name on the pickguard and an Amber Red finish - came with a price tag of $360! That's $125 more than a Les Paul "Gold Top." But that's still nothing compared to the whopping $600 a Gretsch White Falcon would cost you by the beginning of 1955!
MONEY WELL SPENT?
Looking back, it's hard to imagine how guitar players could value Gretsches so highly when a few decades later, their value was virtually nil. According to Duke Kramer, who joined the company way back in 1935, the value was in the sound. Kramer is quoted in the official Gretsch history as saying, "That distinctive sound was our product, the sound that energized the market for decades."
Certainly, things were going well for Gretsch with endorsements from Chet Atkins, as well as Duane Eddy, whose signature "twang" came courtesy of the two DeArmond single-coil pickups (which Gretsch called "Dynasonics") installed in his Model 6120, which he is said to have acquired in 1958, though by late that year, most of the guitars in the Gretsch line were upgraded to humbucking pickups that the company dubbed Filter'Trons.
Still, as popular as Gretsch guitars already were with some musicians, the near-apocalyptic appearance of a young George Harrison playing a double-cutaway Chet Atkins Country Gentleman on The Ed Sullivan TV Show triggered a sales boom, the likes of which had never been seen before. It's hard to imagine now, and certainly nobody at the time would have predicted it, but that single appearance on a Sunday night, February 9, 1964, was to change the course of music history. Some would argue that it was also the catalyst for all the many social upheavals during the latter half of that decade - maybe even the rest of the century. I believe they'd be right on that point.

The Chet Atkins Hollowbody Model 6120 in 1955: The epitome of the "Cowboy Guitar." Notable features include engraved pearl position markers ("cows and cactus"), real f-holes, a "steer's head" inlay on the headstock, a big "G" branded right on the top of the instrument, and the Chet Atkins "signpost" art on the pickguard. Then add a pair of DeArmond single-coil pickups, a Bigsby vibrato, and the classic Amber Red finish. Who would have guessed this guitar was built in Brooklyn, New York?

By 1962, the Chet Atkins Model 6120 was thinner (two inches rather than the 2-3/4 inches on the '55 example), had a dual cutaway design, a horseshoe inlay in the headstock face, a pair of Filter'Tron humbucking pickups, a pop-up mute, a standby switch, and simulated f-holes. By that point, the color (which appears to have a bit more red pigment in this example) was more or less universally called Gretsch Orange. Although most of us now think of the 6120 as the "Chet Atkins Nashville," it didn't officially get that name until 1967.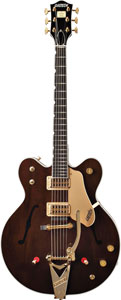 The 1962 Country Gentleman is often referred to as the "King George" model, because this was the first guitar most people ever saw George Harrison play. Oddly enough, this exact configuration was available only in '62 and '63. According to Gretsch records, the company built about 15,000 Country Gents a year at that time and was still failing to keep up with market demand. By 1964, a Super'Tron pickup replaced the original Filter'Tron in the neck position.
JUST ANOTHER QUIET SUNDAY NIGHT
A lot of Americans - about 73 million according to CBS - gathered around their (mostly) black and white TVs that night just to see what all the hype was about. Wasn't this the very stage that helped fuel the career of a young rock and roller named Elvis Presley almost a decade earlier? It's laughable now, but those of us who were around back then recall that the network gave strict instructions to only show Elvis from the waist up, for fear his wild gyrations might seriously offend older viewers, but more importantly, could trigger some sort of massive (and possibly violent) teen uprising of biblical proportions.
My grandparents possessed the best TV in our family in 1964, a massive RCA bristling with scorching hot vacuum tubes and set into a blonde maple cabinet. My father was a musician with his own country swing band at the time, and both my grandparents loved music of all kinds. In one of those weird cosmic juxtapositions (which was not at all obvious to me at the time), my grandmother's favorite song was "Via Con Dios" as performed by none other than Les Paul (yes, that Les Paul) and Mary Ford. It wasn't until a good 25 years later that I finally understood and appreciated that particular coincidence.
In any event, once the evening's show was over (it aired at 8 PM Eastern time), we all went about our lives more or less oblivious to what was about to happen. Sunday night and Monday morning, Beatlemania struck the U.S. like a bolt of lightning. All the kids at my school could talk about was this incredible performance they'd seen the night before. The guys? Well, they were all learning to play guitar, of course. Or so they said. Many of them did, and that image of "King George" was indelibly printed upon their psyches, leading the boldest to swear they'd someday own a Gretsch of their own. A few months later, like millions of other teens, I began taking guitar lessons.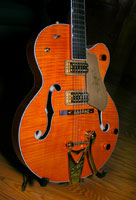 While this Model 6120 is not a true reissue, it's very close to the 1960 version, but with upgrades that include gold-plated hardware and
the tiger maple top, back and sides. Like the '60 model, the body is 2 1/2 inches deep at the edges and, of course, has the Bigsby. As to the color, which over the decades was called Amber Red and Western Orange, the best description is from the Gretsch promotional material
which describes it as "The Color of a Flagstaff Sunset."
A GRETSCH OF MY OWN
Well, not so fast! As I've already mentioned, Gretsch guitars were the Porches, BMWs, and Mercedes of their time (depending upon your own automotive perspective) and appropriately priced. In Miami, Fender guitars were hard to find, but our two local music stores sold Gibson, Gretsch, and Guild electrics, along with a few models from the relatively smaller builders like National (in particular, those wild fiberglass instruments which deserve their own feature), Burns, and Epiphone. In point of fact, Gibson mainly relegated Epiphone sales to dealers who did not already carry the Gibson line, while Guild guitars really were not a factor in the '60s "rock revolution."
Though my first "real" electric was a Gibson SG Special, the least expensive SG in the Gibson catalog, I eventually came to own a burgundy 1964 Chet Atkins Tennessean in late 1967. This is exactly the same guitar that George Harrison used during many concert appearances and most notably in the group's hit movie, Help! There's a wonderful 2-page spread on pages 106-107 of Andy Babiuk's Beatles Gear that shows what could very well be the twin to my own Tennessean. Of all the Gretsch models, there's probably more confusion regarding the Tennessean (and now the Tennessee Rose as it's come to be called) than any other guitar in the company's extensive line, and we'll get to that in just a bit.
GRETSCH GUITARS GOES THROUGH "THEM CHANGES"
When the first Gretsch Tennessean appeared in 1958 as the Model 6119, it was essentially a 1-pickup version of the Model 6120 Chet Atkins Hollowbody, or what we now think of as the Gretsch Nashville. However, it had a black Lucite pickguard rather than the gold or silver version found on the 6120 and the top-of-the-line Country Gentleman, which also made its first appearance in 1958. All three models had Bigsby vibrato tailpieces and real f-holes.
In 1962, for reasons that have never been clear, all Gretsch hollowbody electrics, which were collectively lumped into what the company called its Electrotone line, lost the real f-holes. In their place were painted on, simulated f-holes. Oddly enough, this was actually a change made in response to what Chet Atkins himself wanted. What's more, except for the Tennessean, all the Electrotone guitars now had double cutaways. When the hollowbody line initially made its debut, the bodies were uniformly 2.75 inches deep at the edges. By 1960, the company shaved a quarter-inch off that depth, and by late 1961, the Electrotone body had shrunk to just two inches.
I've heard it said that making the bodies shallower and giving them dual cutaways was a response to the success of Gibson's ES-335. Deeper bodies with real f-holes tended to feed back on-stage as volume levels gradually crept higher and higher. To control feedback, Gibson put a block of solid maple along the middle of the 335's body, so the pickups, bridge, and tailpiece were mounted into solid wood, rather than sitting on top of a freely resonating arched maple top. Gretsch chose not to follow suit. With no f-holes and a shallower body, the thinking was that feedback would certainly be less of a problem, particularly with the company's newer Filter'Tron pickups.
In any case, the 1962 Tennessean had a single-ply, bound maple top and neck (there was no binding on the back or the headstock) and newly designed HiLo'Tron pickups, which were sized more like humbucking pickups, but were actually single-coils. They also played a big part in the distinctive sound of the guitar. At some point, probably late in 1965, a small nickel nameplate began appearing on the face of the plain black headstock. "Chet Atkins Tennessean Model" was either stamped or engraved on this.
THE BALDWIN BUYOUT
Despite some questionable design decisions, Gretsch was still pretty much at the top of the heap in the mid-'60s. The company had been building instruments since 1883, and you couldn't possibly have had a higher profile player than George Harrison back then. In hindsight, it's easy to see that selling Gretsch to Baldwin (yes, the piano builder) was clearly a huge mistake. Much like the CBS acquisition of Fender, which led to a long but steady decline in quality, Baldwin clearly did not understand the complexities (or subtleties) of the guitar market, which was nothing at all like the piano market. Oddly enough, Baldwin had originally looked to purchase Fender. When that fell through, it acquired Gretsch, along with Burns, a much smaller London-based builder. While it took a long time for the Fender brand to nosedive, both the Baldwin-owned companies failed earlier and on a much grander scale.
Oddly enough, it was the Tennessean that survived into the "Baldwin Era" with the least changes. In fact, there are some fine examples of this model built after the 1967 sale. In 1972, real f-holes had reappeared, along with a new, more angular pickguard. Even the model number changed for no apparent reason. But by 1980, Baldwin shut down production of all their guitars. Two disastrous fires had gutted their manufacturing facilities and rising costs combined with player apathy put the final nails in the coffin.
RISING FROM THE ASHES
In 1989, something happened that few players paid much notice to: Gretsch guitars were being made again. Unable to find a good partner here in the states, Gretsch turned to a Japanese manufacturer, Terada. By the early 1990s, a handful of players who had fond memories of the original Gretsch guitars, purchased subtly renamed versions of the company's best sellers. Chet Atkins had moved on to sign a deal with Gibson, and he took a few of his product names with him, including the Country Gentleman and the Tennessean. This meant that the "new" Gretsch company had to find names for some of its most popular models. In fairly short order, the Tennessean became the Tennessee Rose, the Country Gentleman became the Country Classic and the Nashville....well, it was still called the Nashville. See, Chet Atkins held the rights to those original names, but since the Nashville was named after a city, Chet couldn't own it.
Through the 1990s, small numbers of Gretsch guitars began to be manufactured and circulated around the world. Actually, the best way to describe the company at that time was as a boutique line, with quality rather than quantity the priority. Still, Gretsch wasn't making a real impact when, during the early 1990s, guitars finally took back the sonic space that synths occupied in the 1980s.
In any case, by the early 1990s, the vintage guitar craze hit its peak. Soon all the early examples of the best Gibson and Fender guitars had been snatched up by both rock stars and deep-pocket collectors, many of which didn't even play guitar. Now those early Les Pauls, Strats, Teles, ES-335s, and so forth got to be way too expensive - even if you were lucky enough to find one. So the market turned to other vintage instruments and Gretsches, which were built at the same time as those other highly desirable guitars, started getting some attention. Even late in the 1990s, classic Gretsch guitars were still pretty affordable. But soon, sales of the company's vintage instruments started to climb, as did the prices. Suddenly, people began to realize exactly why these instruments were so pricey to start with, not to mention the fact that they had a unique sound all their own. The same 1964 Tennessean I sold for about $125 in 1981 is today priced at about $3,000 or even more if you can find one in mint condition. A 1950s model 6120 in excellent condition could cost you as much as $15,000 - yikes!
Ever since the company had left the family, Fred Gretsch III vowed it would someday return, which it did in the late 1980s. In 2002, however, the best thing that could possibly happen to Gretsch came to pass - a deal was struck for Fender Musical Instruments Corporation to handle both manufacturing and distribution. With FMIC in charge of building new Gretsch guitars, quality is flat-out the best it's ever been, period!
Here are shots of the three different Tennessee Rose models. Only the guitar that's dark burgundy with a pair of HiLo'Tron pickups is an actual reissue, as it is exactly like the original 1962-1964 models. In 1966, a small nameplate was added to the face of the headstock,
identifying the instrument as a Chet Atkins Tennessean Model. The second example is basically the same guitar, but with the addition of Filter'Tron pickups. Our final Rose is simply a new take on the model, with real f-holes, binding on front and back, plus a tone control in place of the 3-position toggle switch. This is also the only one of the three without the "zero fret."
A (TENNESSEE) ROSE BY ANY OTHER NAME
Okay, I promised to explain why the Tennessee Rose is confusing a lot of people, so let's get started. When Gretsch started building this model again in the late 1980s, the company decided to give it a few upgrades. The most notable of these being the return of real bound f-holes and an upgrade to Filter'Tron pickups. While that's all fine and good, this was actually more of a burgundy- or dark cherry-stained model 6120 (the Nashville). A very nice guitar, but totally missing all the things that made the '60s version so cool.
Fortunately, today's Tennessee Rose is once again available with the same specs found on the original mid-'60s Tennessean. These include reissue HiLo'Tron single-coil pickups, deep burgundy stain, simulated f-holes, and single-ply binding on the top and fingerboard. Like the original, it has a master volume, a volume for each pickup, a standby switch, a 3-way pickup selector switch, and a 3-position tone switch. The Gretsch code for this is the G6119-1962HT.
Also being built are two additional Tennessee Rose models. The first is essentially the same guitar, but with Filter'Tron pickups and in most cases, a rich walnut stain. It's dubbed the G6119FT, with the FT standing for Filter'Trons). The second is simply called the G6119 and it has Filter'Trons along with an adjust-o-matic bridge (the other two have the simpler "rocking bar" bridge, which rocks back and forth a little when the Bigsby vibrato is used). In place of the tone switches, this one has a 3-way pickup selector switch and what Gretsch calls "Tone Pot" circuitry. Unlike either of the other models, it has real f-holes, an ebony fingerboard, and body binding on both the top and back, as well as on the fingerboard.
There, did that clear it up for you? It sure helped me when I started looking at used Tennessee Roses and couldn't understand why some had certain features and others don't. And don't be surprised if you stumble onto an example that has some unusual combination of features from all three. But why the different versions of the same model? Well, like the Fender line, where you can get a Strat in about two dozen configurations, FMIC believes that players should not have to settle for just one version of any particular instrument. For those of us that grew up playing Gretsch guitars, it can be confusing, but today's players (at least the ones I know) have no problem sorting it all out.
LET'S WRAP UP!
Hopefully, between this article and the two from 2005, you should have a pretty good understanding of the differences between Tennessee Rose models, as well as several other models. I did not get into the whole issue of the different versions of the Nashville and Country Classic, but if you apply the same logic as I explained regarding the Tennessee Rose, you should be okay.
If you wonder why the Chet Atkins name appears on the new models, it's because his endorsement deal with Gibson ended and the Atkins estate decided that Gretsch was the right company to be building guitars with Chet's name on it. With the quality of the product getting better all the time, I honestly think Chet himself would have agreed to that. After all, he had a hand in designing these instruments!
As players are always looking for something different to set them apart, more and more are seriously looking at - or buying - the new Gretsch guitars. Of course, historically speaking, the company made many other hollowbodies (the Country Club, Streamliner, Viking, and Anniversary models) as well as solidbodies (the Astro-Jet, Corvette, Roundup, White Penguin, and for the ladies, the Princess). If there's enough interest, I'd be happy to devote another column or two to these.
One last thing: I enjoy all the e-mail I get and am almost always available to answer your questions, just please don't ask me what your vintage Gretsch is worth, okay? If there's some particular aspect of Gretsch guitars that I have missed between the two 2005 features and this one, just drop me a note. In the meantime, I'm now the very proud owner of a Gretsch Chet Atkins Hollowbody 6120 myself, thanks to a surprise 21st-anniversary gift from my wife and some exceptional expertise and advice she got from Sweetwater Sales Engineer (and dear friend) Kenny Bergle.
Twang, y'all!
Questions? Comments? Discuss this article in Jim Miller's Forum
Questions, comments, rants, suggestions, unwanted '62 Stratocasters and any other form of correspondence can be addressed to jim_miller@mindspring.com.