Vintage Values

Issue #30
December 13, 2005
A REAL WORLD LOOK AT THE VINTAGE GUITAR SCENE.
Q: Could you please tell me what a 1954 Fender Stratocaster would cost to purchase?
Q: Can you tell me the difference between a Gibson ES-335 Dot Neck and a ES-335 Reissue?
Q: What's the difference between a Vox AC30 and an AC30 Custom Classic? Are the old ones really worth the money?
Q: Is a '62 Epiphone Crestwood Deluxe a smart investment?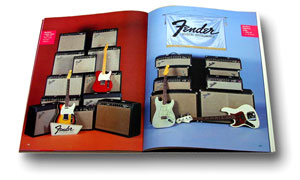 Here's a two-page spread from "Fender Amps: The First Fifty Years" by John Teague and John Sprung.
I get lots of e-mail on the topic of vintage gear, mostly as it concerns the guitar market, though I do get asked from time-to-time about other items, like analog synths (MiniMoog, anyone?), Rhodes and Wurlitzer pianos and such. I won't have the space (or the energy) to discuss keyboards in this column, so we'll save those for another day.
Back in the "old days," not long after the dinosaurs became extinct, we called anything pre-owned simply "used." Those guitars typically hung in the back of the store. It never occurred to us in the 1960s and '70s that any guitar we might own would ever become a collector's item, much less make the owner a wealthy man. Then again, who would have thought that an old Mickey Mouse lunchbox would one day command a small fortune? There wasn't even such a thing as "vintage" gear until the late 1980s, though certain instruments, like early Les Pauls and the 1950s Fender models certainly were always in demand, though prices didn't go through the roof until more recently.
When I started playing in my first band, which was in the mid-60s, the most in-demand guitars were not Les Pauls or Fender Strats, but rather Gibson SGs and ES-335s in cherry red, along with some Gretsches (mainly the Country Gentleman, since George Harrison played one, and to a lesser degree, the 6120 Nashville and the 6119 Tennessean). As far as amplifiers went, the smaller Vox amps were hot, with the most popular being the AC30 (which was renamed The Viscount once Vox amps were distributed and later built by the Thomas Organ company here in the U.S.). They were the hardest to get your hands on back then, at least in South Florida, though supply grew as demand increased. Fender amps, on the other hand, were much easier to find, and most bands bought the "black panel" Fender Bassman, Super Reverb and Twin Reverb models, which were actually surprisingly affordable back then. We'll talk about those a little later.
When most people think about the mid-1960s music scene - in particular, many of the younger musicians I talk to - they seem to think we all had flame-top Les Pauls, two-color sunburst Fender Strats, or maybe a custom color Jaguar. In fact, in all the years I played in bands, I never saw a Les Paul or Stratocaster on stage and I only saw one Telecaster during that time. I can honestly say that Les Pauls and Strats were few and far between. Our local dealer did get the Fender guitar line in about 1972, and I bought a Strat the following year, though I still used my Gretsch Tennessean on stage because I'd played it so long, I knew exactly how to get the best sounds out of it.
THE MERITS (AND MYTHS) OF VINTAGE GEAR

Fender Custom Shop Limited Release 1958 Stratocaster
Closet Classic '58 Stratocaster with Aged Finish and Parts, 3 Custom-wound Pickups, and 3-color Sunburst Finish Details
First off, let me say that the whole vintage market is driven by this simple axiom: Vintage is somehow better than new. It was just built better to begin with and had somehow acquired greater "mojo" over the years. You can choose to believe that or not, but the truth is that the industry as a whole is building the best instruments right now. Quality across the board has never been better. So why go looking for a '54 Strat?
There are two answers: As an investment or to be the coolest guitar player in (name your city here). While I'd love to own a '54 Strat (or a '56 or a '58 or a '62 and so on), I feel that the vintage market has peaked. It didn't even really catch fire until about 1990, when Tom Wheeler's book, American Guitars: An Illustrated History was first published, though the book does not address the issue of vintage guitars at all. Prices for early Strats and Les Pauls were skyrocketing about that time.
Today, you pretty much have to be the owner of a Fortune 500 company to afford a '54 Strat or a '58 Les Paul, which are still (and probably always will be) the holy grail of collectible vintage guitars. Naturally, there are plenty of other guitars and amps built in the '50s and '60s that will set you back a fair chunk of change. In the early 1980s, there was still the slim chance you'd stumble upon an early Gibson or Fender in a pawn shop or one of the dimly-lit mom and pop music stores. Today, it would be safe to say that all of those instruments are gone.
As far as amps are concerned, the biggest bucks still go for the original tweed Fenders, which made their debut in the mid-1950s, and the white, brown and black-covered Fenders built in the early to mid-1960s. The "silverface" Fenders, decked out in perky chrome and blue, made their debut in 1968 are not nearly as collectible, though many of these amps were actually identical to the "black-panel" versions. Vox amps, which were so hot in the Beatle-crazed '60s, have really only recently started to be appreciated again for their unique combination of looks, sound and features, like the now-famous "top boost" circuit. The "British Invasion" of the 1960s was in large part driven by Vox amps. They were a big part of that era's distinctive sound. At the time, Fender amps (and to a lesser degree, those made by other manufacturers like Gibson, Gretsch and Magnatone) were nearly impossible to get in the UK.
However, the truth is that very few of these early amps have survived into the 21st Century without a major overhaul, and without knowing the history of such an amplifier, I'd consider buying a '50s or '60s amp a pretty risky investment. Still, there is a certain mystique that will always surround vintage guitars and amps and so the market will likely exist for some time, though we're certainly seeing the market change.
VINTAGE GUITAR SHOWS HEAT UP, COOL DOWN
Through the '90s, vintage guitar shows grew from local events to become a nation-wide phenomenon. At the time, guitars from the 1960s and '70s were still available, still relatively affordable. As the vintage boom grew, so too did these shows, to the point that they had to be moved from the local bingo hall to large halls and auditoriums. I went to my first show in 1994 in Jacksonville, Florida. That show was impressive, but nothing compared to the Orlando or Atlanta Shows, which I attended the following year, where there were probably close to 50 dealers from across the country. The stock was mind boggling. But as the years rolled by, the true classic guitars and amps gradually dwindled in numbers.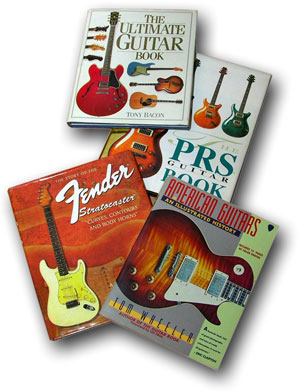 Here is just a small selection of the books currently available on the topic of guitars. Most don't really address the issue of the vintage market, but rather concentrate on the history of the instruments.
Today the vintage guitar shows are mostly selling later era Fender and Gibson guitars along with such "rare birds" as the Gretsch Nashville, Tennessean and Country Gentleman, which are only now being truly appreciated. If you're lucky, you still might be able to get a good deal on a Mosrite Ventures model (which I love, and which deserve a column all their own), a few of the less well-known (but still quite playable) Guild and Epiphone guitars from the '60s and some early Ibanez "copycats" - these are guitars built to look and play like the most popular '60s guitars, but in many cases, are superb instruments in their own right. If you didn't look at the headstock, in many cases you'd never realize you were playing an "import." These days, you also see more of the so-called "boutique" amplifiers and even clones of the most famous stomp boxes.
There's one other guitar that's certainly available today and appreciating in value, and that's the Paul Reed Smiths - mostly those built while the company was in their Annapolis, Maryland facility, basically pre-1995, when PRS moved to larger quarters in Stevensville. These include the first Customs, Signatures, Limited Editions, first year McCartys and Artist Limiteds, while the biggest bucks are reserved for the '85 and '86 instruments, the first three Dragons and the various "Private Stock" instruments, which are basically "one-offs" made to the customer's specifications. Will today's PRS models become tomorrow's collectibles? Hmm, hard to say for sure, but I'd guess yes. A Custom 22 with three soapbar pickups can still be found, but they were only built for a short time, so they're likely a good investment.
I haven't mentioned acoustic guitars at all yet. There are probably a lot more collectible acoustics available today than electrics. I recently saw a stunning selection of Gibson and Martin acoustics at the Orlando Guitar Show. Many were priced so reasonably that it was hard not to give in to the temptation. Like some of their electrics (the Starfire series for example), Guild acoustics are often overlooked by many players, as are the Epiphone acoustics made during the 1960s and '70s, which were actually built in the Gibson factory before ultimately being moved offshore. Beatles George and Paul played Gibson J-160s, though Paul recorded the timeless classic, "Yesterday" using an Epiphone.
WHAT ABOUT REISSUES?
Taken all-in-all, today's reissues are quite often significantly better than most of the original guitars they are built to duplicate. For example, there were actually relatively few Les Pauls built in 1958-1960 that actually had flame maple tops. More often than not, the tops were relatively plain or with just a modest amount of flame or figure. Today however, you can buy a Les Paul reissue with an outrageously beautiful flamed maple top at a price that's not totally out of reach of us "normal" players.
However, this "reissue" concept has led to some confusion. For example, Gibson builds standard "production line" versions of many of their most famous guitars. So you can buy a fine Les Paul Standard, LP Classic, ES-335 or one of the other '60s-era Gibson recreations at a price that's actually quite reasonable, particularly given the quality. There are also upscale versions of these, like the Les Paul Supreme, with its AAAA-grade carved maple top and back.
Then there are the true reissues, which are built by the company's Custom, Art and Historic division. These are meticulously crafted to the most exacting standards to duplicate the original models right down to the smallest detail. How can you tell the difference? Well, besides looking at the price, which is often a dead giveaway, the Gibson reissues are all specifically called reissues. So if it doesn't specifically say so, then it's a production line instrument that will likely be just fine for most players, delivering great sounds combined with classic designs.
Fender also has its own Custom Shop, which builds drop-dead gorgeous, highly accurate recreations of the company's most prized instruments. In fact, 2004 marked the 50th anniversary of the Stratocaster, which is arguably the most recognizable guitar of all time. Say "electric guitar" to most people and the image of a Stratocaster comes to mind, that's how pervasive this particular model has become in our culture. For those who cannot possibly afford a real 1954 Strat, a 50th Anniversary Custom Shop replica will do the job quite nicely. At the top of the company's line of Strats sits the Limited Release 1958 Stratocaster, a master-built version of Fender's most timeless classic with its three-color sunburst.
As mentioned earlier, Vox amps are getting another serious look today, but your modern AC30 is dubbed the AC30 Custom Classic. How does this differ from the original? Simple: They've added the features today's players want to the classic designs, like a master volume control, blendable channels and an effects loops. Sidenote: If you've never heard a Vox tremolo compared to a Fender trem circuit, they are really quite different animals, with the Vox producing a deeper, choppier effect, while the Fender classic tremolo (also called Vibrato on many amps) is smoother throughout its range. Trust me, tremolo added to reverb in 1965 was pretty cutting edge. Add a Maestro Fuzz Tone and you were an instant "guitar hero!"
LET'S WRAP THINGS UP
If you haven't picked up on my thread here, let me sum things up by saying that vintage gear is cool. There's certainly no denying that a well played, well built guitar from a bygone era has a certain magic about it. However, I always warn people that quality control back in the '50s, '60s and '70s was often less than perfect. By the 1980s, it was virtually non-existent. My '72 Strat (bought in 1973) was a terrific guitar, but I chose it from among three sunbursts that were hanging on the wall. Of the remaining two, one was okay and one was simply awful. Mine was a gem.
Honestly, I can say without hesitation that I have now played guitars from every decade that ranged from terrific to tragically flawed. Nothing that's shipping from any of the top manufacturers today varies like those old instruments. As I have already stated, quality is at an all-time high. While nobody can predict what instruments will eventually become collector's items, you simply cannot go wrong buying a midrange guitar or better from the top names. Even some so-called budget guitars are surprisingly playable and sound great. The same goes for today's amps. Finding the perfect tone today is literally a piece-of-cake.
To learn more about the world of vintage guitars, all you need to do is drop by your local book store or surf the Web to one of the many booksellers' sites. There are lots of excellent books available today, and (hint) they make a great holiday gift for your favorite guitar player. But be warned, you'll likely see guitars that most of us would love to own, but few you'll ever see in real life.
We'd all like a crystal ball that would clue us in on the best investments to make. Who wouldn't want to own a small piece of Microsoft today? But who could possibly have foreseen just how dominant the company would be in today's market? For a while, old cameras were a red hot commodity, but values for all but a select few have crashed as the digital revolution has advanced. I doubt anyone could have predicted just how radically today's megapixel marvels would change the way we take, print and display photos.
So be careful with your hard-earned dollars when it comes to guitars. Want to roll the dice and see if you come up a winner? By all means, do so. There's a heady satisfaction when you see a $500 investment start to quickly climb in value. Personally, I'm happy with a sure thing.
Questions? Comments? Discuss this article in Jim Miller's Forum
Questions, comments, rants, suggestions, unwanted '62 Stratocasters and any other form of correspondence can be addressed to jim_miller@mindspring.com.