The Lore and Legend of Gretsch Guitars (Part 1)

Issue #23
March 11, 2005
"For the guitarist who has everything except the ultimate guitar"
- 1965 advertising copy
In a million years, I would never have guessed just how much response I would get to my Tech Notes column on Gretsch guitars (Sweet Notes, Winter 2005). I've always believed that as far as guitar players are concerned, there is no middle ground; people either love Gretsch guitars or hate them, and the overwhelming amount of e-mail I received more than confirmed that fact.
I know a lot of you read my Gretsch feature, but for those who may have missed it or who might be new customers, or just want to read the expanded version, well hop on for the ride . . ..
When people ask me which guitar is my personal favorite, they typically assume I'll name a particular model built by Gibson, Paul Reed Smith or Fender. Yes, I own wonderful instruments from those three companies. I have worked hard to build a collection that any guitar player would consider "to die for." I've also written more than a few columns on these instruments over the years.
So when I answer the question by saying, "My old Gretsch Tennessean," many people are taken aback. A few look at me as if I'd just announced my intention to relocate my studio on Jupiter. Because, let's face it, how often does the name Gretsch come up when people are talking about great guitars?
Let's start at the beginning . . .
Remember a while back, when I had you drag the time machine out of the hall closet? Well, we're going to do it again. Go ahead and take your time, I'll wait here. And remember: Always lift with your legs, not your back. That thing is heavy.
Okay, got it? Great, then let's set our controls to June of 1967. Tweak it so we arrive on the Friday before the Senior Prom. The place? The North Miami Senior High auditorium. Hey, check it out! Up there on stage is my old band, The Shades. Wow, was I thin back then . . .
Oops, got diverted for a second. Now on that day, as a special treat for the graduating class, three of the top bands would perform on stage. And we were the headliners. I'll always remember how the audience reacted when our lead singer, Manny Quiroga, stepped up to the mic and asked, "Hey, can you believe my band is gonna play now?" The reception was huge as the rest of the band took their places and we launched into a rendition of The Rolling Stones' "Paint It Black."
David Arnold was on drums, wunderkind Craig Cherry was playing bass and my dear friend Pete Bartels handled rhythm guitar duties. What a great bunch of guys to make music with! But enough about the band. If you look closely, you'll see I was playing lead on a dark cherry red Gibson SG Special. This particular guitar was a mid-level Gibson, with two P-90 pickups. I was playing through my little Vox Cambridge Reverb amp and it sounded pretty good. So good, in fact, that we were hired on the spot to play at the prom.

Out in the audience, one student in particular was looking at my guitar and wishing he had one just like it. So not long after the prom, he called me to ask if I might be willing to do a trade. His parents had put a guitar on hold for him at our local music store, North Miami Music. But it wasn't the guitar he really wanted. To make a long story short, he ended up with my SG Special and $100. And I got the Gretsch Tennessean that was on hold at the music store. Why did I want the Gretsch? We'll get to that in a bit
Right now, since I am reminiscing, I want to tell you what it was like back in 1967. I know it's hard to believe, but nobody had a credit card! No MasterCard, no VISA, no nothing. So how on earth did we buy things? Well, there were two ways. Number one was cash. You know, the green paper we stuff away in our wallets, purses and pocketbooks. The other way - and I know this is going to sound crazy - was "store credit."
What's store credit? Well, let's say I walked into North Miami Music and saw a used brown Fender Concert amp for $125. I could tell the store owner (a wonderful man named Ben Davis) that I was buying it. He'd take out a little box and find the card with my name on it, collect whatever money I had at that moment, put my "purchase" on the card and I could walk out of the store with the amp. Payments were made as I could afford them and until the entire amount was paid for.
It would be impossible for any store today to stay in business with a system like that, but it's how we musicians mostly bought our gear back then. One local band bought three brand new Magnatone amps with a down payment of (and I'm not kidding here) one rubber chicken, which Ben cheerfully displayed in the store. When the band fell apart months later, they returned the amps immediately. That's how it worked for many years, though by the mid-1970s, banks were handing out VISAs and MasterCards by the truckload and everything changed.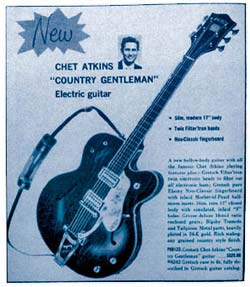 Gretsch guitars in retrospect (Part One)
In my Sweet Notes feature, I mentioned two guitarists that played a significant role in making Gretsch guitars popular in the late 1950s and early '60s. The first was Chet Atkins, who actually had a hand in the original design and creation of the four Gretsch guitars that carried his name. The most expensive was the Model 6122, also known as the Chet Atkins Country Gentleman. It carried a price tag of $525 - a huge amount in 1958, the year it was introduced, making it second only to the Gretsch White Falcon in price. Also in the Chet Atkins line were the Model 6121 (the "Solidbody"), the 6120 (the "Nashville") and the 6119 (the "Tennessean").
The second guitarist I mentioned in my Tech Notes column was George Harrison. You may have heard of his band, four young men who collectively called themselves The Beatles. While Gretsch guitars were selling well enough, the company's name brand recognition skyrocketed once George was seen on TV playing his Country Gentleman, now thought to be either a late 1962 model or an early 1963. Suddenly, thousands of aspiring young guitarists wanted a Country Gentleman of their own. If they couldn't afford one, they often settled for one of the other Chet Atkins models, like the Tennessean, which carried a list price of $350 in the mid-1960s. That was still a hefty sum for any guitar back then.
Harrison actually used a 1963 Tennessean himself on certain gigs, like the famed Shea Stadium concert (which was well-chronicled in the Beatles Anthology video and in the book Beatles Gear by Andy Babiuk), as well as in the studio during 1963 and '64. We'll probably never know the real reason George swapped out guitars during that time, but from experience I can tell you that aside from outward appearances - the Country Gentleman had a double cutaway design, while the Tennessean had a single cutaway - they were quite different. Apart from the appearance, the main difference was the sound: The Tennessean came equipped with HiLoTrons, which were single coil pickups, while the Country Gentleman had humbucking FilterTrons. Both had Bigby vibrato tailpieces and fake "f-holes" on the body. Yeah, fake, as in painted on.
While other guitarists before him chose Gretsch guitars, it's clear that the world-wide exposure the company got during the height of "Beatlemania" resulted in significant sales increases. In fact, though Gretsch produced about 15,000 guitars in the mid-1960s, they still couldn't keep up with the demand. In many ways, as we'll soon see, that success was ultimately the downfall of the company.
Other famous guitarists who chose Gretsch.
About half of the e-mail I received was from people who felt I had slighted several other players of Gretsch guitars. Truth is, with space always being at a premium in Sweet Notes, it's almost impossible to be as thorough as we'd like to be. But here on the Sweetwater Web site, we have the luxury of nearly unlimited space, so please allow me to rectify the omission!

"As illustrated in Jay Scott's The Guitars of the Fred Gretsch Company, here's a Chet Atkins Solidbody in Amber Red with big knots in the wood and the famous "G" brand!"
The very first guitar player I became aware of was Duane Eddy, though when I first heard the top ten instrumental hit, "Rebel Rouser" in 1958, I had no idea what guitar the man was playing, but I liked the "twang" of his instrument, particularly those low, fat treble notes. Today I know that most of his instrumentals were recorded with a Chet Atkins model 6120 - in the Amber Red finish, of course, which really was more of a vibrant orange, and later descriptions of that particular color were usually referred to as "Western Orange" as we'll see in a few minutes. The specific instrument Duane used actually had DeArmond pickups, as it was built before Gretsch unveiled their humbucking FilterTrons in 1958.
The second player I was chastised for passing over was Eddie Cochran, and I must admit that it wasn't until much later in life that I even became familiar with the man and his music. His 1955 Model 6120 was actually modified with a Gibson P-90 in the neck position, but all the other features of the '55 6120 were there: The Steer's Head logo on the headstock, the large sylized "G" branded right into the guitars top and pearl position markers with western motif engraving ("cows and cactus").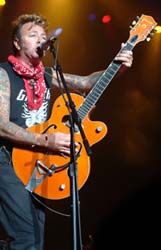 Other players who have chosen Gretsch guitars over the years include Stephen Stills and Neil Young, who both played top-of-the-line White Falcons (particularly evident in the 1970 Crosby, Still, Nash and Young album, "Deja Vu."). More recently, Jeff Beck strapped on a Gretsch Duo Jet for his album, "Crazy Legs" - a musical tribute to the music of Gene Vincet and his Gretsch-toting guitarist, Cliff Gallup. Randy Bachman of Bachman-Terner Overdrive favored (and collects) Gretsches. You might also (hesitantly) add The Monkees to that list, as Gretsch tried to capitalize on the TV band's short-lived popularity by issuing a number of signature "Monkees" guitars and basses, including at least one 12-string.
But the highest profile Gretsch-slinger these days is certainly Brian Setzer, who began his love affair with a '59 Model 6120 and now has his own signature model. Like me, Setzer thought how incongrous it was for a Brooklyn-based manufacturer to be producing so-called "cowboy guitars."
In the 1992 book, Guitars of the Fred Gretsch Company by Jay Scott, Setzer writes, "As I passed over the Williamsburg Bridge from Long Island into Manhatten, I spied the old Gretsch building over my shoulder. A funny thought suddenly struck me. How odd that these Country Western rockabilly twangers, probably Texas bound on some freight train, should be designed, assembled and born right in New York City. What a perfect paradox!"
Our list of guitarists who played and / or endorsed Gretsch guitars over the years will likely include a few who will be completely unknown to the vast majority of today's players, but they all deserve a mention. They include Jeff Lynne, Roy Orbison, Tom Petty, Bo Diddley, Roy Clark (yes, from TV's "Hee-Haw"), Chris Isaak, Rusty Draper, Whitney Carson, Freddie Green (Count Basie Orchestra), Billy Bean, Sal Salvador, George Van Eps, and Bucky Pizzarelli
"The Color of a Flagstaff Sunset"
No discussion of Gretsch guitars would possibly be complete without some discussion of the famous - or infamous - Amber Red color of the company's most popular instruments. In truth, Gretsch unveiled many unusual colors as early as 1955: Bamboo Yellow, Copper Mist, Jaguar Tan, Bordeaux Burgundy, Cadillac Green and Amber Red, which was described in the company's advertising as "The Color of a Flagstaff Sunset!" Never mind the fact that the workers in the Gretsch factory in Brooklynn almost certainly never saw a Flagstaff, Arizona sunset.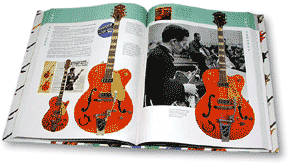 "Amber Red or Western Orange? Whatever you call them, here are three 1950s Chet Atkins models, all with DeArmand pickups, Bigsby tailpices and that "G" brand. That's a solidbody on the left. These are two pages from the excellent volume Electric Guitars: The Illustrated Encyclopedia."
While some of these guitars do appear to be a reddish color, most Amber Red instruments have come to be called Western Orange, and several other manufacturers now include models in that color. Other Gretsch guitars have lightened with age to a color that many call "pumpkin yellow." Whatever you call it, these Gretsches drew a lot of attention in a world full of guitars with more traditional colors and finishes. A few years later, Fender began introducing what eventually became a rather comprehensive palette of custom colors, though they never attempted a Western Orange finish.
George Harrison's Country Gentleman was finished in a dark brownish walnut stain, though some early "Gents" range from brown all the way to a dark amber. Most mid-'60s Tennesseans (mine included) were stained burgundy, though these instruments have also been seen in cherry red and even a cherry sunburst color. The White Falcon, as you may have guessed, came in white only, but with varying degrees of gold sparkle trim during its history.
A final "Gretsch Touch" came in the form of a snap-on, detachable leatherette pad on many of the company's upscale instruments like the Falcon, Country Gentleman, Nashville and the Viking (which we haven't touched on, as it was not part of the Chet Atkins line). This was purportedly for the player's comfort, though often they were used to mask minor flaws in either the wood, the stain or the final finish. By removing this pad, repairs were able to be made on certain models, as there was a plastic cover that could be unscrewed to afford access to the pickups or switches.
Questions? Comments? Discuss this article in Jim Miller's Forum
Questions, comments, rants, suggestions, unwanted '62 Stratocasters and any other form of correspondence can be addressed to jim_miller@mindspring.com.