Line 6 GuitarPort

Issue #21
October 26, 2004
Line 6

GuitarPort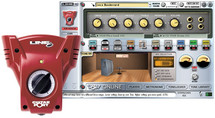 Have a blast while learning to play better guitar!
Despite the fact that I just spent an entire weekend recovering from a computer crash (caused by the gremlins that still inhabit ancient SCSI peripherals as it turns out),
I must say that I have one of the best jobs in the world. Really!
One reason is writing Tech Notes Online, which I've
wanted to do for years. And the feedback from you readers? Well, it's been phenomenal. Either a lot of you
are reading this column or the few who read it all write to me. In either case, I'm thrilled that you are enjoying the columns as much as I'm enjoying writing them.
As you might guess, one of the coolest things about what I do is discovering great products that I can help turn other musicians on to - you know, musicians like you! Today that product is GuitarPort from Line 6. I'm sure Line 6 is no stranger to any of you. After all, I've raved about their products (like the Variax and the POD modules) for a long time. And they have been great about getting me any product I ask for. They know how important it is to get the word out, even if their sales are already through the roof.
I'll admit that I originally had very little interest in GuitarPort until the Line 6 folks sent me one to try out. See, I had this mistaken idea that GuitarPort was somewhat of a low end introduction to the Line 6 products for PC owners who didn't want (or couldn't afford) to spring for the company's more pro-oriented gear. But I was wrong!
GuitarPort gives you the ability to learn and jam with hundreds of songs that you can download from the Internet. It also includes models of 15 classic guitar amplifiers and 18 stompbox and studio effects that work, sound and feel just like the company's high end products. Also online are tons of lessons that range from beginner to seasoned pro.

Before I get ahead of myself, I need to mention that GuitarPort (at least right now) is "PC only." But thanks to a friend of mine who loaned me his Toshiba laptop, I was finally able to take GuitarPort for a test spin. And here's what I found . . .
Easy to own with power to spare!
Just connect the shiny red GuitarPort hardware to any PC running Windows using the included USB cable and connect GuitarPort's stereo output to multimedia speakers, headphones, your stereo or your mixing console. Install the software, plug in your guitar and you're ready to jam! Even "PC-phobics" like me can do it. Honest!
There are 15 amp and cabinet models based on the PODxt (which I will also be reviewing shortly along with the hot new "Model Packs" and firmware upgrades) along with "must-have" stompbox and studio effects, so when you're playing along with a backing track from, say, Cream's "Sunshine of Your Love," you'll have an appropriate tone to use that's very much like the original recording - and it's user-tweakable, just in case you want to add a little bass or midrange or whatever!
The GuitarPort system allows for MP3, WAV and Audio CD playback, and supports looping and real-time half-speed playback without changing pitch. And just in case you're still not convinced that GuitarPort delivers a high quality sound, it's equipped with 24-bit converters and 32-bit processing!
I could go on and on, but here's the best part: Line 6 has lowered the price of GuitarPort to just $139.99 and you can buy it direct from Sweetwater for just $99.99 - yup, a penny short of a c-note! In a time when the cost of everything seems to be going up, it's a breath of fresh air to see a manufacturer actually lower a price, making their product available to thousands of additional musicians.
Play better. Get inspired.
Once you get your new GuitarPort software, it pretty much does everything for you. It tells you step-by-step how to install the program, then takes you to the GuitarPort Web site where you can, in mere minutes, begin accessing the online backing tracks and lessons.
All of us who play guitar know that you can never truly master the instrument in one lifetime. Just when you start to think you really "get it," you hear some other guitar player who makes you realize you don't know half as much as you think you do. This has happened to me over and over. I've even known guitar players who have given up the instrument because they become too frustrated.
GuitarPort can't, by itself, make you a better player, but it can help you learn and accelerate your understanding of things like scales, harmonies, rhythm techniques and more - having access to new concepts, styles and sounds from the best players in the world, all in one place, is just amazing.
With GuitarPort Online, you get instant setups of all the amps and effects so you can jam along with songs from musicians like Jimi Hendrix, Steve Vai, Eric Johnson, Robben Ford and many more. Choose a Marshall, for instance, and you see a Marshall control panel right on screen. Once you've warmed up with classic rhythm sections like Double Trouble and or the original member's of the Jimi Hendrix Experience, you can start making music of your own using the expansive online library of original grooves and loops. You won't lack for inspiration, that's for sure.
I'm not the only one who was knocked out by GuitarPort. Sweetwater's own Jeff Spencer reviews the unit in our inSync online news service. You can read it here.

Is there a down side? Well, sort of. Mac users are out of luck, at least for now, though Line 6 has said it is working with Apple to see if a few hurdles can be overcome. And one final caveat: Once you access the backing tracks and lessons online, you cannot save them separately to a hard drive. GuitarPort must be running and connected to the Web site, though the hardware has analog out jacks which would allow users to record audio to a separate digital or analog recorder.
Still, considering how many PCs are out there, Line 6 obviously made the right call in making GuitarPort available to the biggest possible audience. If you're like me and don't own a PC, hopefully a friend or band member has one he or she will let you use.
At $99.99, GuitarPort is unquestionably a bargain. You also get 30 days of GuitarPort Online access free (it's just $7.99 per month after that).
So what are you waiting for? Start playing better right now by ordering a GuitarPort of your own!
Questions? Comments? Discuss this article in Jim Miller's Forum
Questions, comments, rants, suggestions, unwanted '62 Stratocasters and any other form of correspondence can be addressed to jim_miller@mindspring.com.