Review: The Stratocaster Chronicles

Issue #18
August 16 , 2004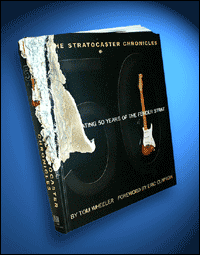 Here's my copy of Tom Wheeler's excellent book, The Stratocaster Chronicles. This is a custom "one-off" designed by my Lab mix, Barkley. Don't worry, yours will come with the standard binding.
Probably the most important guitar ever designed gets
a close look on its 50th birthday from Tom Wheeler.
Okay, so I wasn't the only person who noticed that the Fender Stratocater turned 50 this year. I devoted a Tech Notes Online column to this important milestone and it was a good feature that got a lot of interesting responses from readers, mostly along the lines of, "What's the deal with all the Stratocaster models?" Fear not, I will address the issue a bit later.
But barely a week after writing that column, I happened to be browsing at our local Barnes & Noble bookstore when I spotted a large format book called "The Stratocaster Chronicles" by Tom Wheeler (published by the Hal Leonard Corporation). Naturally, I grabbed a copy and headed for the cashier.
Now I'm sure many of you know Tom Wheeler. After all, the man was editor of Guitar Player for over a decade and has written several important books including American Guitars: An Illustrated History and co-authored (with Richard Smith) Fender: The Sound Heard 'Round the World. So clearly, this is a man who knows his guitars.
BETWEEN THE COVERS
The book begins, appropriately enough, with a Foreword by Eric Clapton, who has his own Signature Series Strat (and a cool instrument it is, as you'd expect). This is followed by, well, just about everything you ever wanted to know about the Stratocaster.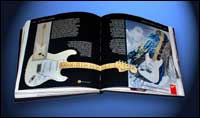 The book is filled with valuable information on just about every Strat ever made, including those played by legends like Jimi Hendrix, as shown in this two-page spread.
While the Strat was not the first solid body electric guitar (both the Fender Telecaster and Gibson Les Paul were released earlier), it's arguably the most successful. When "normal people" think of an electric guitar, it's the Stratocaster that typically comes to mind, and the reason is simple: It doesn't matter what kind of music you happen to prefer - from country to blues to speed metal - odds are good that there's a Strat involved somewhere in the recording process.
What's more, the Strat's exposure in the years since the inception of MTV has been phenomenal. You can hardly watch a music video today without seeing a Stratocaster. And the number of high profile Strat players is staggering: Eric Clapton, Jeff Beck, Bonnie Raitt, Buddy Guy, Mark Knopfler, Robert Cray, Ry Cooder, David Gilmour, Robin Trower, Ritchie Blackmore and the list goes on and on. You can also add legendary figures that are no longer with us, like Jimi Hendrix, Stevie Ray Vaughan and Buddy Holly.
Part of the reason that the Strat is such a success is its versatility. In the early 1960s, its clean, crisp tones defined early pop music by the likes of The Ventures and The Beach Boys. Surf's up! But by the end of the decade, the Strat was cranking out high decibel mayhem by the likes of Hendrix and Blackmore (with Deep Purple). That versatility is what put the instrument on the map, and it continues today with new Strat models with even more sophisticated pickup switching.
AUDIO CD INCLUDED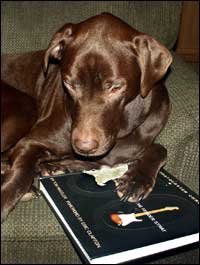 Barkley pauses, perhaps rethinking the whole "book chewing" business. "It just flew into my mouth!" he explained.
The Stratocaster Chronicles will be on every player's short
list of "must have" reading material. Sadly, my own shiny new copy was left out on the coffee table while I ran a few errands. While I was away, my two-year-old chocolate Lab mix decided he wanted to have an "up close and personal" encounter with my $50 book, as well. Luckily for him, he's just so sweet that I quickly forgave him. Fortunately, the bonus CD that comes with the book was unharmed.
I was a bit disappointed in the CD, though from a historical standpoint, Wheeler's original interviews with Leo Fender and George Fullerton are priceless. These were recorded on a funky tape recorder in the 1970s and '80s and rather than clean everything up, Tom made the wise decision to present them on the CD in their original condition, with all the hum, buzz and hiss you'd expect.
The second part of the disc is dubbed the "50 Sounds of the Strat." The concept is valid and the musicianship of Greg Koch, who plays some pretty awesome licks, cannot be denied. But often the sounds are all too brief and in several places, four or five sounds are clumped together. I would have preferred to hear the Strat presented in context, with appropriate backing tracks, but that's just me. Greg's chops are killer, and anyone hearing the disc will agree that it's a good listen, even if it could have been done better.
THE STRATOCASTER IN THE 21ST CENTURY
As mentioned earlier, I received a number of inquiries regarding the various incarnations of the modern Strat after my original column was posted. And I must admit, the Fender catalog is pretty overwhelming when it comes to the sheer number of Stratocasters available today.
In the beginning, there was but one Stratocaster. You could get it in different colors or sunburst finishes, but that's about as far as it went back in the 1950s and all the way into the 1980s. However, because of the popularity of the instrument, and the demand for Strats in all price ranges, Fender decided that there should be a Strat for everyone. And though it can get a bit confusing, it's really a smart move. After all, wouldn't it make more sense for Fender to build affordable versions of its flagship model rather than have people turning to the so-called "pseudo-Strats" produced by a number of companies overseas?
Unfortunately, when you are building guitars to fill every niche and delivering specific feature sets on many different models, it can get confusing. I wish I could give you a two-paragraph simplification that explains exactly what is what, but by the time I got finished with that, there'd most likely be more changes. Fender is committed to responding to an evolving marketplace in a minimal amount of time. That's smart business.
The simplest way to look at it is to realize that there will always be top-of-the-line Strats from Fender's Custom Shop, along with various historically important reissues or special editions like the 50th Anniversery Stratocaster. These will carry the highest list prices. On the opposite side of this Strat lexicon are the imports, which are shockingly well-made, highly playable Squier Strats and Fender Standard Strats produced in other countries, such as Mexico (and I can tell you from my trip to Fort Wayne in April that some of these "Made in Mexico" Strats are killer instruments with unbelievable vintage vibe).
In between there are lots of models to choose from, which include the American Series, which is sort of an amalgam of all the right things you'd expect from a modern instrument, including the new S1 switching but still maintaining the classic Strat design.
If you're confused, don't be! You only have to ask yourself one question: How much do you want to spend? The Sweetwater Sales Engineers will take it from there and guide you through the maze, making sure that in the end, you get exactly the guitar you're after at a great Sweetwater price.
Questions? Comments? Discuss this article in Jim Miller's Forum
Questions, comments, rants, suggestions, unwanted '62 Stratocasters and any other form of correspondence can be addressed to jim_miller@mindspring.com.