The Quest for the Perfect (Sampled) Piano

Issue #12
March 12, 2004
Sweetwater Grand Piano CD
Seems like there's a million sampled grands out there, so how do you choose the best one?
Naturally, since I have been sampling acoustic grand pianos since about 1985, I have as much - or more - experience with this than pretty much anyone in the business. So having said that right up front, I'd like to recommend the "Grand Pianos Version 3.0" CD ROM, part of the comprehensive soundware library available only from Sweetwater.
Before I tell you why this is the best darned collection of sampled pianos, I'd like to share with you a bit of history.
A JOURNEY BACK TO 1985
It's pretty hard to believe that sampling technology has been around almost as long as some of our customers have been alive - close to two decades now! Back then, the only sampled piano that was truly useable was the one on the Kurzweil K250. Some of you will remember just how shocking it was to play a synth keyboard (albeit a very nice, weighted one) and hear the sound of a real acoustic piano flowing out of the monitors.
Up until that point, we were making do with dozens of synthesized pianos, mainly the ones available on the Yamaha DX7. I remember spending days tweaking those algorithms, then optimistically calling the finished sounds "Steinway One" or "Baldwin Two." Yeah, we can laugh about it now, but these digital approximations were still light years beyond anything we had heard up until that point in time.
I still remember reading Keyboard magazine back then and wondering just how real that new Kurzweil K250 might sound. From the way the editors raved about it, I felt sure it would be a revelation. And, as it turned out, when I chanced upon an actual Kurzweil K250 down in Orlando, it was.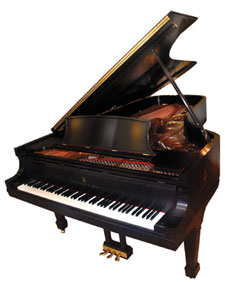 At the time, I was actually on my way to Disney World and spotted a large music store out of the corner of my eye, and on a whim, pulled into their parking lot, never dreaming how much that stop would change my life. I wasn't going in there to look for a K250 - or really anything in particular - but as I walked in the front door, I heard what sounded for all the world like a grand piano. Yet all I saw was someone sitting at what appeared to be a synth on steroids.
On closer inspection, it was a Kurzweil K250! I couldn't believe it! Everything Keyboard had said about it was true. Already in my mind I was tossing away all those silly piano patches. But then I got a look at the price tag . . . Oops! I'd have to live with those crude approximations a while longer.
But as I started talking to the sales person who was playing the K250, he mentioned a brand new, more affordable sampler that had just arrived that day, but they had yet to even take it out of the box. That keyboard was the 12-bit Sequential Circuits Prophet 2000. Within seconds I had dug out my credit card, negotiated the best price I could, and left with the Prophet 2000 still unopened.
You don't need to read all the details. Suffice it to say that I returned home and immediately started sampling every acoustic instrument I could get my hands on. By 1987, I had over a hundred discs in my library and the full support of the people at Sequential Circuits. In fact, right around then, they were just getting ready to unveil their 16-bit Prophet 3000 and wanted me to create the sample library for it.
THINGS DON'T ALWAYS GO AS PLANNED
At about the same time that I was negotiating the contract to do the sample library, Sequential was purchased by Yamaha. So the Prophet 3000 never went into production, though about a dozen hand built instruments were sold. Most of the Sequential engineers ended up being moved over to the Korg R&D facility, which back then was in the Silicon Valley area and eventually, they released the Korg WaveStation, a pretty nifty instrument in its own right which had actually started out as the Prophet VS.
So now what? Throwing caution to the wind, I took out a small business loan and bought a Kurzweil K250, created a library and received a glowing review of my samples in Electronic Musician magazine. And here's where I became a Sweetwater customer and eventually, a collaborator. At the time, Sweetwater was really the only dealer that actually understood the significance of the K250 and how it would change the entire music business.
I still treasure my memory of the very first phone conversation I had with Chuck Surack. Not one to beat around the bush, he asked me a simple question: "Do you want to spend your time selling sounds or would you rather spend your time making more sounds?" You can guess my answer, and Sweetwater went on to be the only place K250 owners could purchase my library.
ENTER THE KURZWEIL K2000
The people at Kurzweil were pretty impressed with my library, and were kind enough to invite me to the Winter NAMM Show in Anaheim. I'm thinking that was in 1991. I do recall that there was not yet a working prototype of their new K2000, with the instrument only available for viewing in a glass case. I also remember that they asked me what particular instrument I had the most samples available for (aside from the K250), which at the time happened to be the Akai S1000. And that led directly to Kurzweil developing an operating system for the K2000 that could actually read Akai S1000 discs! Sure, that's pretty common now, but back then, the whole concept of one instrument reading discs created for another instrument was nothing short of radical.
Most of you know the story from this point on. I ported all my Akai samples over to the K2000 and Sweetwater marketed the library, first on individual 3.5-inch diskettes, and later on CD-ROM. In late 1994, we released several sample collections on CD-ROM and one of these was the Grand Piano disc. For its day, the sounds were pretty mind-boggling. We had great sampled pianos, made even better by the talents of Sweetwater Soundware whiz, Daniel Fisher.
The following year, we added a few extra pianos, and Daniel literally reprogrammed everything from the ground up and the resulting disc was marketed as the Series Two Sweetwater Grand Piano Collection.
THE ALESIS CONNECTION
At about the same time that we were upgrading our Grand Piano CD ROM, Alesis was ready to introduce their brand new QuadraSynth, the very first 64-voice synth with 76-keys, but they hit a snag. I had already created a few sample sets for the instrument, most notably the string section, but now they needed what they called "the piano from heaven."
Eventually, after sampling several studio grands, we got a lead on an extraordinary piano at UC Santa Cruz. It turned out to be a meticulously-maintained nine and a half foot Bosendorfer Imperial Grand. I booked three sessions that started after midnight to minimize extraneous noise. The first two sessions were used to create the Alesis sampled grand. The third session was used to produce the 12-megabyte Bosendorfer Grand on the Sweetwater Series Two Piano disc.
With RAM being limited back then, I carefully stashed the master DAT recordings away, just waiting for the day that I could actually take them out and create a 64 megabyte stereo Bosendorfer sample set. And that's exactly what I did early in 2003. I also located recordings I had done of a custom-made, nine-foot solid rosewood Seiler Grand and then my neighbor (who was teaching at Florida State University at the time) turned me on to a beautifully restored 1911 Steinway A3 in the main recital hall.
INTRODUCING (TA-DAHH) GRAND PIANOS VERSION 3.0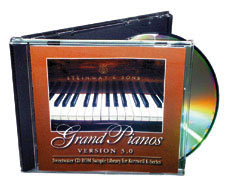 If I do say so myself, the pianos on this disc are pretty awesome. In some cases, notes stretch only one or two semitones in any direction, and the samples are nice and long. What's more, Kurzweil programming wunderkind, Daniel Fisher, took all the new samples and carefully constructed brand new programs that really make these pianos a joy to play (and hear).

I've posted some audio files so you can get a feel for the overall "musicality" of these sampled grands. Keep in mind that you're listening to MP3s, a "lossy" compression scheme (I still cannot believe people cannot hear the difference! A 33 meg AIFF file becomes a 6 meg MP3 - what happens to that other 27 megs? Well, that's a topic for another column). The real sampled pianos will sound much more stunning when you hear them through your own studio monitors or sound system.

Another last minute addition was a 4 meg sample set of a Guild Cabinet Grand. This is what used to be called an upright grand (or sometimes parlor grand, as it didn't take up as much room space). The piano, which was built in 1923, was pretty funky, so at some point it was moved into the music department at San Jose State University. Nobody is quite sure just when it was done, but someone lacquered the hammers and added tacks, turning this piano into the world's largest "Honky Tonk" piano (also known as a tack piano).

Even though the samples here were summed to mono from the original stereo recordings (which we will release at some point as a full stereo sample set), there is still plenty of ambience to each note. The lowest octave is really buzzy and many notes rattle a lot, but that really adds tremendously to the character.

Naturally, owners of all Kurzweil K-Series keyboards and rackmounts with adequate RAM will want to own this disc (you'll need 64 megs installed), and those of you who already purchased the original Grand Pianos disc from Sweetwater should talk to your Sales Engineer for special upgrade pricing.

But what's really sweet is that with the release of such versatile software samplers as the MOTU Mach Five 2, thousands more of you can have access to these great pianos. So grab the phone and call your personal Sales Engineer for your special low Sweetwater pricing.

ABOUT THE AUDIO FILES


Over a decade ago, while still living in Sacramento, I met Jim Martinez, an immensly talented young man who is a terrific pianist and arranger. He was cutting an album and needed access to some exceptional samples. He ended up borrowing my Kurzweil K2000 and was thrilled at the piano sound, as well as the rest of the Stratus Sounds library. Naturally, the CD he completed sounded great.

Now, a decade later, through an unusual series of events, we ended up reconnecting. Though Jim is currently a touring pianist, he has also produced a series of wonderful MIDI files for his own small company, Invisible Touch (www.itmsoft.com). Jim was kind enough to make these files available to me for demo purposes. I think you'll agree that this man is an awesome pianist and that his performances using the Grand Pianos Version 3.0 CD-ROM will fool all but the most sophisticated ears.

Here's the breakdown of which specific pianos were used on which audio files:

BOSENDORFER IMPERIAL GRAND: "Noreen's Nocturne" (composed by Oscar Peterson), "Linus and Lucy" (composed by Vince Guaraldi) and "He Who Began a Good Work" (composed by Jon Mohr and arranged by Andy Selby). These three files are great, as they not only showcase the Bosendorfer, but also lots of other Stratus Sounds samples, like the sweet upright bass on "Noreen's Nocturne" and the smooth fretless bass on "He Who Began a Good Work". Other samples include drum kits, analog strings and our solo oboe, among others. These cuts appeared on Jim's 1994 release of "Good Grief! It's Jim Martinez" (©1994 Stardust Music/Invisible Touch). I've also placed a copy of Jim's solo piano piece, "A Quiet Place" among the Bosendorfer files. It makes a good contrast to the brighter tone of the other three recordings.

STEINWAY A3: "Claire de Lune Medley" and "A Quiet Place" (Interesting to contrast with the Bosendorfer version). SEILER GRAND: "Jesus Paid It All" and "This is My Father's World". All four are solo piano pieces. No processing of any kind was used. The outputs on the K2500 were routed directly into a MOTU 828 interface and then into BIAS Peak 4.0, which was used to create the MP3 files.

Questions? Comments? Discuss this article in Jim Miller's Forum

Questions, comments, rants, suggestions, unwanted '62 Stratocasters and any other form of correspondence can be addressed to jim_miller@mindspring.com.