There's a place where guitar players might actually find enough guitars to make them happy.
Issue #1
October 6, 2003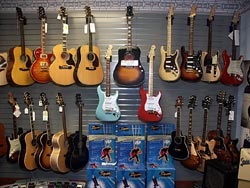 Longtime Sweetwater customers know that I've been writing "Tech Notes" since Sweet Notes was just a little 8-page, black and white newsletter. For over a decade now, I've been right there on the inside back page of virtually every issue, sharing my insights, viewpoints and personal opinions, and I have loved every minute of it.
The only problem is that there is so much happening in the world of music technology, that writing one column every eight weeks or so just isn't enough space to cover all the cool gear, great people and wonderful experiences I've been fortunate enough to have since signing on with Sweetwater - first as a customer and later as a staff writer. With that in mind, I suggested to Adam Cohen, our Director of Marketing (and an all-around great guy), that I write a weekly (more or less) column for Sweetwater's Web site.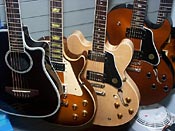 Fortunately, I didn't have to twist Adam's arm all that much . . . okay, not at all. So here we are with the very first in what I hope will be a long running forum that will cover every aspect of music, from stage to studio.
Actually, what started the ball rolling on this idea was my recent visit to Fort Wayne. It was great to see my old friends and finally meet a few people I've talked to a number of times on the phone, but had never met face-to-face. However, what really lit my fire was being surrounded by all this incredible new technology as I walked around the Sweetwater complex, trying not to get lost. The guitar room alone was enough to make me more than a bit dizzy with gear lust. Just take a look at the photos I shot in there.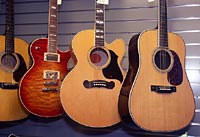 Of course, what's hanging in the guitar room is just a tiny percent of the guitars Sweetwater has in stock back in the gigantic warehouse, where acoustic and electric guitars and basses are stacked from the floor to the ceiling high overhead. From entry level instruments that sound great but don't cost a lot of money, up to the astronomically-priced, one-of-a-kind handmade $10,000 Benedetto Signature jazz archtops or the $30,000 Paul Reed Smith Dragons, there truly is a guitar for every budget.
What's particularly great is that you really don't have to go broke to own a terrific instrument these days. When I first began learning to play guitar, budget models were - well, there's just no other way to say this - just plain awful. They sounded bad, went out-of-tune continuously and tore up your fingers with their "mile high" action. But today, thanks to the wonders of modern technology, your first guitar might be a guitar you'll actually keep for years to come. Check out my in-depth review of the Line 6 Variax in an upcoming column for one example.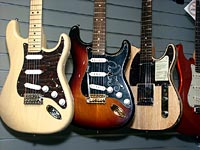 While there are those who abhor the thought of a machine building a guitar, the truth is that machines can produce hundreds of instruments of consistently high quality. Back in the "old days," if you got a guitar that was assembled by a line worker who just happened to stay up way too late the night before, you stood a pretty good chance of getting an instrument that wasn't all that great. Meanwhile, your buddy got the same model guitar, except it was put together by a person that was having a terrific day, and the thing played like a dream. I'm not exaggerating when I say quality sometimes swung from one end of the scale to the other, even in the more expensive lines.
When I first started playing gigs back in the 1960s, getting a great sound was tough. If you happened to stumble onto just the right combination of guitar, amp and a pedal or two, you were lucky. I went through several different guitars and close to a dozen amps before I ultimately found just the right sound for the music I was playing.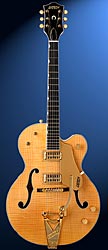 Today, getting a monster tone is almost as easy as dialing up a preset, thanks to all the amazing technology we have. Even so, you still have to have the passion and dedication to turn that perfect tone into extraordinary music. But when it all comes together, whether up on a stage or locked away in a studio, there's no other high in the world quite like it.
Whether you're a fan of Fender's classic guitars or prefer the sound and feel of a Gibson or anything in between, you'll find it in Sweetwater's inventory. Not long before wrapping up this first column, word got to me that Sweetwater will be stocking Gretsch guitars, a longtime personal favorite of mine. I just saw a photo of their new G6120 Nashville in a gorgeous amber-stained flame maple top with Bigsby vibrato: Wow!
Well, I'll wrap up my first online column here. I already have a lot of ideas for future columns. What's more, since we have virtually no space limitations, I'll be getting a lot deeper with some very cool "hands on" gear reviews that you won't want to miss. If there is a particular topic you'd like to throw open for discussion, I'd love to hear from you. Meanwhile, I'll see you here again in about a week.
Questions, comments, rants, suggestions, unwanted '59 Les Pauls and any other form of correspondence can be addressed to jim_miller@mindspring.com.