Tech Notes Online goes lost, not found
Issue #4.5
December 8, 2003
Where did we go and why did we leave without a goodbye?
And what's the deal about . . . spoons?
From the amount of e-mail I got, it seems that more than a few of you were wondering about the disappearance of my weekly column. We got off to a rip-roaring start and then sort of vanished. What's the deal?
The plain and simple fact is that, just like a lot of companies, we sometimes come up a bit short in the personnel department during the holidays. With deadlines pressing and publications needing to get finished, we had to shift our roster of key players to fill in the gaps. Gratuitous football analogy: Everyone has to kick it up a notch to win the SuperBowl.
One of the cool things about working for Sweetwater is that we are all willing to pitch in and go that extra mile during crunch time. But that often means that we are going to fall a bit behind in the less essential places, and that happened to be "Tech Notes Online."
But all that is behind us now, and we are ramping up to hit you with a great big heap of reviews on products like the Alesis Andromeda analog synth, Earthworks Sigma 6.2 monitors and Rode NT2000 mics, to name just a few. Plus some pretty cool audio files that I think you'll find interesting. Note: Be sure and go back to hear the newly-posted audio files on the Alesis ModFX.
And since you've asked for it, we'll also be kicking off a special Tech Notes forum on our Web site to discuss everything audio. If it makes music, it'll be open for discussion, so be sure and check it out.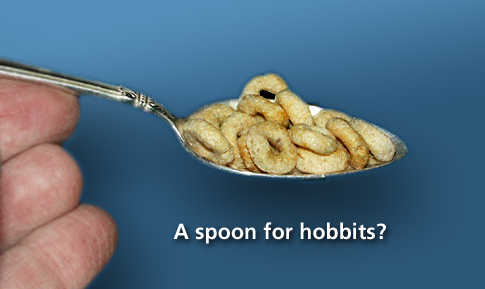 Meanwhile, though this is just a quick column that explains our mysterious disappearance, I want to share an experience with you. As all the bachelor guys out there know, kitchen utensils are not often at the top of our "need" list. Still, we've all got to eat, right? Well, at least until someone finds a way for us to survive by converting sound waves into protein and carbohydrates.
But just like audio, you need the right tool for the job. A few weeks ago, in between auditioning gear (yeah, I have a tough life), I sat down to have a quick lunch, which just happened to be a bowl of corn flakes. Now, have you ever tried eating a bowl of cereal in a hurry with one of those little itsy-bitsy teaspoons? I mean, why on earth would anyone invent a spoon that small? And the bigger question is, how did I end up with one?
I can't answer the first question, but the second one is easy: That was the only clean silverware I could find in the house. The next day, I ventured over to my nearby Wal-Mart and throwing caution to the wind, purchased a full set of appropriately sized spoons. The next time I sat down to my hasty cereal lunch, it was wonderful to reach into the drawer and come out with a real spoon that can hold more than a few milligrams of food at one time.
Now you wouldn't normally think of such things as particularly meaningful, yet it was. Having the right spoon was, in fact, a pretty important detail lunch-wise. Who knows? Next week I might find myself in need of other cutlery, like a knife or a fork.
Yeah, here comes the music analogy you were all expecting: You cannot get a job done without the correct tools. If you need to record an hour of audio, but only have 30 minutes of hard disk space remaining, you're going to end up beating yourself up needlessly because you didn't plan ahead.
So then, spoon equals hard disk recording time, okay? And a small spoon is (fill in the blank here). Hey, these are simple. We're not talking SAT scores here.
Every year, I promise myself that I will actually set aside an ample amount of time to take stock of everything in my studio and see what I'm lacking. There always seems to be one less of something you happen to need, whether it's patch cords or tracks to record on. You could have a 48-track setup, and I can almost guarantee that you will someday soon find yourself wishing you had just one more.
That set of spoons cost almost nothing (hey, I'm not investing in high end silverware when there's still a PRS guitar I don't own). In fact, most of the little things we always seem to fall short on in our studios are usually the least expensive. What are you getting by without? Cables? Compact Flash cards? Mic stands? Headphones? Aha! Let's talk about headphones for a minute. While I do have a couple of nice, pro quality AKG headphones in my studio, a while back I decided to live dangerously and buy five relatively inexpensive headphones, just to have them available, so I didn't need to raid the studio when I want to crank up some music in the living room without waking family members or the neighbors. I was actually shocked at just how good your average "budget" headphones can sound today. And by budget, I'm talking about the $29.95 range.
And after I purchased a TASCAM Pocketstudio 5 (see a future Tech Notes Online for a full review), it was great to have some really comfortable headphones with decent bass permanently attached so I can sit down when inspiration strikes and just start recording.
So whether it's spoons, headphones, power cables, mic stands, USB ports or whatever, take the time to see where a relatively small investment will pay off in the future. Inspiration doesn't always wait for us to rummage around until we find the appropriate spoon slash mic cable. If you can't get your hands on the right tool, your one red-hot creative spark may end up much like my bowl of soggy corn flakes. And that's my last analogy. I'm outta here

Questions, comments, rants, suggestions, unwanted '59 Les Pauls and any other form of correspondence can be addressed to jim_miller@mindspring.com.