About Roger Linn
Roger Linn is a visionary, designer, businessman, and musician. Perhaps best known for his invention of the first programmable, sampled-sound drum machine, the LM-1 Drum Computer (1979), Roger Linn is also a noteworthy songwriter having co-written hits for Eric Clapton and Mary Chapin Carpenter. The LM-1 and its successors, the LinnDrum and Linn9000, were used on countless hit records during the 1980s.
Roger is also responsible for a whole genre of music by creating the MPC60 and MPC3000 MIDI Production Centers for Akai in the late '80s. These products became industry standards in the production of hip-hop, rap, dance and related music styles throughout the 1990s.
In 2002, he founded Roger Linn Design. Turning his attention to his first love, Roger designed the innovative AdrenaLinn and AdrenaLinn II for guitarists. Recently, he turned his efforts toward applying technology from the AdrenaLinn series to a new product from M-Audio, the Black Box.
On a recent visit to Sweetwater, we had the opportunity to sit down with Roger Linn and ask him a few questions. While the Black Box was the focus of our interview, there are many insights to be discovered here, from his humble beginnings to his view of the future of professional audio. We hope you enjoy gaining the perspective of a living legend, Roger Linn.
The following Quicktime videos are approximately 10Mb each and recommended for users with a broadband connection. If you do not have the free Quicktime player, you can download it here.

PLAY
Part 1 - What was your involvement with the Black Box?

PLAY
Part 2 - Is the Black Box different from the AdrenaLinn II?

PLAY
Part 3 - Is there any latency with the Black Box?

PLAY
Part 4 - Why are you now focusing on guitar related products?

PLAY
Part 5 - Do you still play guitar professionally?

PLAY
Part 6 - Why do you picture using the Black Box?

PLAY
Part 7 - What made the LinnDrum so successful & popular?

PLAY
Part 8 - Where did the idea for the Akai MPC60 come from?

PLAY
Part 9 - What does the future hold for Roger Linn?

PLAY
Part 10 - What's missing in the process of making music today?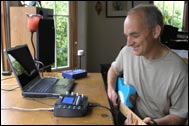 Roger Linn - Playing his guitar at home with the Black Box.

M-Audio The Black Box
The Black Box is the first creative tool for guitarists that combines amp modeling, powerful beat-synced effects and drum tracks with an audio interface for computer-based recording.

Roger Linn Design AdrenaLinn II
AdrenaLinn II gives you everything the original AdrenaLinn does-beat synched filter effects, amp modeling and drum machine-plus lots more, using a more powerful internal computer and expanded memory.