Sort By Date
Sort By Rating
Customer Reviews
Godin xtSA (Trans Black)
I've owned this guitar for five years now so I think I can comment without bias. This is my first choice ax for live or midi recording. I can't express the reactions I get when I start in acoustic piezo for first verse, add organ or string swells to the second, then distorted guitar onto everything else with a little wawa added in just for good measure. Add a looping pedal as I've done and rock out Rick Wakeman style. I have a Roland Gr 1 and a boss GT 5, and have never thought about gear again. That is... I keep buying it but my rig or confidence never wanes. If I need to gig out, its this combo every time, if I'm jamming with the buds its this rig, if I'm adding horn stabs in 9ths to a song its this rig . I'm super picky about sound and articulation and this setup has everything and can be sculpted to nail every sound. I have 22 electric guitars and some are just fantastic, but none can get an acoustic, and electric and sitarr at the same time. I'd love to tell you about all the things wrong but out of all my guitars this one is the best. I never even had a neck adjustment, can't say that about any of my other ones. I change the battery every 6 months whether it needs it or not. Thanks for your time. I hope I didn't come off too glowing, just want to share my opinion.
This is an incredibly versatile, quality instrument.
I just got this guitar today from Sweetwater, and am blow away by the craftmanship, sounds, options - pretty much everything about this guitar. I have to admit, I was a bit hesitant about purchasing a guitar online without ever playing it, but I own and have owned other Godins before and I know they are quality instruments. Every Godin I've ever played had a great neck, which was my main concern. The neck on this beaut feels like butter in my hand. The finish is beautiful, yet understated and not too flashy. The pickups sound excellent, I had planned on replacing at least one humbucker but now I think I'm gonna stick with these. I can make this guitar sound like my SG, or get that Fender twang, really perfect for every situation.
And then of course, there's the piezo pickup; again, the sound is STELLAR! Just shocking how good the acoustic sounds coming out of this thing are.
Last but not least, there's the synth output, which I immediately hooked up to my Juno 106, blending a warm string-esque synth sound with the electric pickups and just a slight hint of the piezo-everyone in the room was blow away by that, it sounded like there were two guitarists and a synth player in the room.
This guitar has immediately become my main axe, everything about it is just perfect, you can tell a lot of thought went into the design and "amenities", from the schaller strap-locks to the locking tuners-this is an amazing instrument especially given the great price.
Buy it!
Review The Godin xtSA (Trans Black)
The guitar is well made and the sound and playing are great, but there are no instructions for all the knobs and switches.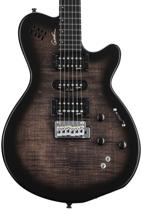 Solidbody Electric Guitar with Silver Leaf Maple Body and Poplar Wings, Flame Maple Leaftop, Mahogany Neck, Ebony Fingerboard, 2 Humbucking Pickups, 1 Single-coil Pickup, 1 Transducer Pickup, and 1 Split Synth Pickup - Trans Black