Sort By Date
Sort By Rating
Customer Reviews
Your Grandkids will love this stand
and their grandkids as well.. This stand is built for the long haul -and then some... In recent years I started investing in expensive quality mics. When I walked into the isolation booth and saw my P12 resting inches from the floor I knew something had to change... About two weeks before this, I was working in a studio that had the 2200's -I was blown away! Set them & forget them -nothing will move, unless you want them to. The ingenious base allows one to easily to move them around the studio, position the stand and boom, flip the levers and you're done. No more twisting & tightening -only to have the stand or boom not quite tight enough. Guaranteed these won't let your mics kiss the floor...
Ease & stability come to mind when describing these awesome stands.
Yes, they cost $$'s, but you'll realize the true value of these long after you forget the cost...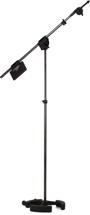 Studio Boom Mic Stand with Lever Locks, Heavy-duty Boom Clutch, Stable Base - Black