Sort By Date
Sort By Rating
Customer Reviews
For the recorder on the go
Recently purchased one of these and i must say, i was deeply impressed! Everything is simple and straight-forward! The quality is very nice for bieng mostly plastic, the electronics work fantastic, everything sounds wonderful. couldnt ask for more in a $50.00 interface.
Nifty, affordable, and easy!
This is a nifty little device!

I am using it with the GarageBand app on my iPad2, and am very pleased with the results. Since I began recording my music and seriously pursuing my musical career, I have been less than satisfied with my recording equipment. However, being on a limited budget, I was relegated to merely drooling and fantasizing about the innovative equipment I wanted, i.e. I "made do" with what I had available to me.

This little piece of equipment changed all that.

It is simple and easy to use, with a switch for changing between a 1/43 instrument cable connection and a 3-pin mic connection, which includes an option (another switch) for phantom power if you like using a condenser mic (I believe that runs off the two AA batteries it takes). You can also adjust the input volume on the device, which is nice if your instrument electronics don't have volume controls or are just a weak preamp. The iXZ is also a simple plug-n-play type device: it merely connects to your headphone jack on your iPad, without having to purchase any other types of connection methods. And no worries for those of you who like to use headphones for monitoring: the iXZ has a standard 3.5mm audio jack on the back so you don't have to unplug anything to listen in.

I am pleasantly surprised at the quality of sound it (working with the GarageBand app) can pump out. Very clear, very clean with minimal "ambient noise" (an irritating peeve I had with my previous system). Another bonus I've found is the portability. I can take the iXZ (and the associated necessities) and record anywhere — no small thing since acoustically appropriate spaces within the cord range of my old system were minimal at best.

My only peeve is that the input connection for the 1/43 cable jack is really snug. It was quite worrisome the first time I went to use it; I had to exert considerable force to get it to snap in, and again when I wanted to unplug it. It is slowly loosening up a little, but it is still quite a grippy little connection. (There is no such issue with the 3-pin mic connection. It slides in smoothly and firmly.)

So far I've used the little iXZ to record some audition pieces as well as my "singles" for my webstore. I am much happier with the results of these than I ever was with my previous recordings. Now that I am not fighting so much in terms of recording environment, I can focus better on getting a better sound. Setup time is a snap since there's just a few things to connect. Recording has almost become easy! :)

I will definitely recommend this piece of equipment to anyone (with an iPad) looking for an affordable recording solution that will deliver a clean sound right out of the box.
Guitar & mic interface for the iPad2
Works like a champ. Perfect way to get started recording with your new iPad without dropping a 'c' note or more to find out if it'll work. Haven't tried with a mic yet but I'm confident it'll perform as well as the instrument setting has with guitar & bass. Just plug your pre-amp equipped instrument or pre-amp output into iPad port & the rest is up to you.
My only issue so far is that it doesn't fit on my music stand too well but it's small & light & easily dealt with.
/dmg
Great Deal!
I ordered quite a few parts from Sweetwater because I had heard about their great service and I am not disappointed. One of the items was this Tascam unit. I give it 4 stars because I have only used it a few days, but so far, it works as advertised and I am pleasantly surprised because it is so simple and yet versatile. I wanted something that was more than just a guitar input and for the money I am happy with this unit.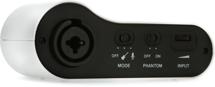 Audio Interface for iPhone, iPad, and iPod Touch, with Mic/Instrument Combo Input, Gain Control, Phantom Power, and 1/8" Headphone Output