Sort By Date
Sort By Rating
Customer Reviews
Better than expected
Fast service- great price- sweetwater follow-up . Just what I've come to expect from these guys.
Great Stand!
Really happy with this stand. Easy to assemble - and extremely sturdy. What's more, it can be adjusted to a wide range of heights, widths and angles - making it perfect for our studio. Looks great too.
I Own Three of These!
Best stand for the money.
Great Keyboard Stand
Really heavy duty and solid. I love the way it breaks down and it stacks into travel form. It's small enough to lay in my floorboard.
Just what I was looking for!
This stand is awesome! I needed a nice study stand for my Digital recorder that I use for backing tracks and this is the one. Hard disk recorders are very reliable but must be supported on a flat surface that won't jump around or it may skip and U don't want that so when this arrived it only took about 5-7 mins to put it together and I knew it would be the one!! Awesome build quality and very durable when touring. Don't be fooled by imitations, buy an On-Stage Stand!!
Hard core!
This key board stand is hard core with how sturdy it is! I'm pretty positive it could hold an elephant.. maybe not an elephant, but it is very sturdy. Would highly recommended this stand.
Z Stand
This is the best, sturdiest stand I've ever owned. Actually, I have two of them. Looks great on stage as well.
The last stand you'll ever need!
You know how every now and then you run into a piece of gear that's really inexpensive but you end up having and using forever because it's so darn good? Well this stand is it!
I have to tell you, this thing is like a rock. I use it for my Little Phatty and MPK61 (both have a bit of weight to them) and I know they will be perfectly safe there.
When you first get the thing it's all folded up into this weird little mass of steel that you can't quite figure out, but just follow the instructions and you'll be good.
It's also worth noting that the higher you have everything adjusted the more stable it is. I actually have mine as low as it'll go because I work in the box, and when it's at it's lowest setting the stand is a little rear heavy, but as long as you don't actually TRY to push it over it's not going anywhere.
All I know is this is my go-to stand for now on.
A1 Abrams of stands!
This thing is built! Very sturdy, no shaking or anything, even on carpet. I use a Roland 700GX on the bottom and a Kurzweil PC3 on top - it's not challenged at all by that combo. One caveat...watch your knees if its set low and pick your feet up when moving around it lest you stub your toes. It's steel so it wins. For a heavy keyboard setup you can't go wrong.
Best stand I've ever used
I use this stand with the 88-key 55 lb RD-700NX. Even when I'm hammering the keys, there is no wobble in the stand. Set-up/tear-down time is less than 5 minutes. (A little more than an X-stand, but the steadyness of the stand is completely worth it.) I never want to use an X-stand again. **I highly recommend the bag for the Z-stand.** It makes transportation incredibly easy. Without the bag, it's slightly unwieldy to carry the collapsed parts.
Simply the best stand I have ever used!
I have been buying keyboard stands for 30 years (since I blewup my Hammond A100). I was using a total of three X-style stands for the last 20 years and was never satisfied. Although the initial setup is pretty intense, after a couple of trial setups and takedowns, it's really a piece of cake. Absoluely stable! Kurzweil SP88 on the bottom, Studiologic VK61 on 2nd tier, and Roland JunoD on a 3rd tier pose NO Problem whatsoever. You could set a truck on it! And the icing on the cake is that it all fits neatly into its own bag. Thanks to Michael for his help on putting it all together for me.
this thing is a tank
i just bought one of these to put my roland fantom x6 and sh-201 keyboards on and this thing is a lifetime investment. solid stand. does not wobble and is very adjustable. i am so glad i spent the extra money.
Strong, substantial and looks good doing it.
Bought two, one for a Yamaha CP33 stage piano and one for my Presonus Studiolive 16.4.2 mixer and MacBook Pro setup. The setup is a little time consuming but after you assemble and dis-assemble a couple of times it is not bad. I do feel very comfortable with the stability and strength of this stand putting my expensive equipment on it. The mixer / computer setup requires an add on board (x2) creating a shelf as I can not adjust it narrow enough to hold this equipment. Took a half a star off due to some minor hardware quality issues. I had to grind a couple of the assembly bolts to correct some defective threads but once done all is well.
It's like a tank !
Best double tier stand I ever bought. Keyboards are secure and in comfortable positions. Plenty of foot room for pedals. It's like a tank !
Heavy Duty Sums it Up
I will never worry about the stand my keyboard(s) set on. This stand is solid. It was an interesting experiment putting it together for the first time. So assembly time will be longer, but I have peace of mind. I highly recommend this stand.
KS7365-EJ folding Z stand
I've owned many different stands from inexpensive to very expensive. This is by far the best, simplest, less hassle for two keyboards total weight of over 120 pounds. I highly recommend this stand to anyone.
Heavy Duty Value
This is a great stand for the money. It's extremely stable, even with my heavy old Wurlitzer EP on the bottom and a medium-weight MIDI rig on the top. You have to negotiate poorly translated assembly instructions, but what is new? I got mine together in a jiffy and was using it within minutes. I haven't tried breaking it down for gigs, so I'm not sure how well that works. But i was happily surprised at the quality.
Solid stand for those who don't want an A-Frame
Wanted a three-tier keyboard stand solution that wasn't an A-Frame, which I had for a few years before I sold a bunch of older keyboards, hardware sequencer and drum machine.
A-frames take up MUCH too much wall-space, unless you've got wallspace to spare. I don't...
After calling On-Stage, I also bought the third tier extension with four arms, the On-Stage "Deluxe 2nd Tier" and "jimmy'd" it to fit on THIS stand's 2nd tier, as per the tech's "unrecommended" directions to do so, by snapping out the plastic caps and expanding the connecting parts tightly with the tubing. HUH?....yup....

It worked great!....I put lighter, more plastic keyboard(s) on that highest third tier. Would not put a "heavy" keyboard up there but, still....it feels very very solid, just the same.

What's also great about this stand is (and why I bought it) you can adjust the height of the lowest and strongest tier, so that you can sit and play. Try THAT with your 3 tier X-stand....fuhgedddabouddittt....
Solid
Will take some getting used to. I have used X-stands all my life.
It does take a little time to fully understand how all the pieces fit, but when you do, you have an impressive piece of hardware that will last for years to come.

It has a lot of strengths
-- all metal parts (MUST HAVE) nothing plasticky to fail on you.
-- easy to fold and not too heavy (must remove second tier)
-- wide range of adaptability
-- very gig-able and durable
-- lots of foot room if you are a pedal junkie like i am


Stop reading and buy one!
Rack 'em Up!
I always appreciate On-Stage stands for their value, ease of setup, and overall usefulness, and this Keyboard, two-tier stand did not disappoint. I use it to hold a Yamaha keyboard (lower tier) and a custom built effects board (mixer and guitar effects) on the second tier. It worked out perfectly.

With so many stands to choose from it is often difficult to know from online catalogs which unit will best fit one's needs. I am happy to say that I made the right choice with this stand.

The setup instructions were clear, and I was able to install it in 10-15 minutes. It is very solid & sturdy with no flex whatsoever.

My only "con" is that I wish that the second tier would adjust another two inches higher. However, it is meant for keyboards, and the second tier is perfectly sized for that use.

And always, appreciate the Sweetwater service, price, and free shipping.
Perfect for either 1 or 2 boards
I purchased this rig to gig with. I have used it with 2 60+ pound keyboards and I tend to play heavy. The stand is very sturdy and there is minimal movement during play. My only complaint is that the top tier hang out just a little too far over the lower board. It would be nice if the beams were adjustable front to back on the top tier to fix this. Overall I am very happy with this purchase.
Solid STand
The 1st level is deep enough to hold my Minimoog Voyager, and the 2nd teir (though low for a Voyager) still has enough clearance for me to see, and comfortably control the voyager's front panel. The stand is very solid, fits nicely into my studio space, and looks attractive as well.
Worthwhile purchase
I have an 88 key controller that weighs a ton. I needed a stand that could handle the weight AND would take a second keyboard on top that I use for the sounds. This stand is great! It adjusts for those gigs where I may wanna stand as well as the perfect height for seated performing. The top tier allows for positioning the second keyboard at almost any height and angle in relation to the lower keyboard. I like to have the top tier keyboard almost laying on top of the lower keyboard, and this stand lets me do that. The best part is its so steady and strong. I NEVER feel like this thing is going to fold or topple over. It is very well made and a worthwhile purchase! The only down side, and I must stress it is an extremely small downside, is taking it apart. There are two support bars that disconnect and I'm always afraid I'm gonna forget them at a show. However, the sturdiness far outweighs the tear down and set up. This stand is GREAT
Flexible, solid, and inexpensive - A triple crown!
I got this as a less expensive alternative to a similar QuikLok stand that lives in my home studio. I was pleasantly surprised to find this is every bit as rigid and ergonomically correct, but more practical to break down, and even more flexible for size and height. Just a single caveat, and the only reason I only gave it a 4 instead of 5 - Don't put a fairly heavy keyboard on the top tier without having a keyboard of equal or heavier weight on the bottom tier - It could actually tip backwards! Normally you wouldn't do this anyway, but the design seems to depend on having the heavier keyboard on the bottom to give it stability. I actually own a couple of them now, and they're as solid as a desktop. Two thumbs up!
A Beast of a Stand
"Heavy Duty" doesn't begin to describe this stand - It's rock steady and collapses to a good size (I can get it to just fit in an old GKB-49). I rated this a 3.5 for two reasons: Setup and teardown take longer than with other stands, and the horizontal depth of the upper tier is not adjustable - the upper board ends up hanging way over the lower board, so it's hard to see the lower controls. Once I got used to those two idiosyncrasies, the stand worked out great!
Solid!
This is a solid piece of gear and will support two keyboards really well. It's a little involved to set up the first time because you need to become familiar with the parts, put things together in a certain order, and make sure you have the adjustable swivels set to the same angle. Once set up, however, it's easy to work with and does what it's supposed to do. I think one would want to by a cheap Gator bag to carry all the pieces in for gigging, as it breaks down into 6 separate pieces.
If I had any qualms about this item, I would say that the lack of adjustability on the top tier was its only drawback. With more ability to move the top tier forward or backward, even slightly, I could have more control over the visibility of, and access to, the controls on the lower keyboard. Since sliding the top tier AWAY from the playing position might make the unit too top-heavy and unstable over the legs, this is probably why this is not an adjustment option
Good Stand
Well made and heavy duty for sure. Overall adjustability is ok; I was unable to get the stand at the exact height I needed and nor could I get the second tier to angle the way I wanted but nothing to cry over. It's easy to smash your foot into the bottom part of the Z-leg; I've never done that with any of my X-stands but that's just me. It's a nice stand. Worth the money.
On stage stand
Plus: The stand is functional. Easy to assemble.
Minus: Stand tilts and doesn't stand straight. Looks awkward when loaded with keys. Doesn't have a strong look as some other heavy duty stands.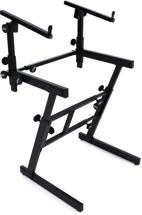 Heavy-duty Z Stand for Keyboards with Two Tiers and 400-lb. Capacity