Sort By Date
Sort By Rating
Customer Reviews
Thrilled!
I had heard Allen & Heath produced high quality mixers at good prices, but wasn't a true believer until I got my ZED-12FX connected to my Mackie HR824's using XLR cables. The zero noise, high quality FX, and easy interface immediately made this purchase a winner.

If Allen & Heath keep up this quality at these prices I'll recommend them to others and be buying from them again.
A True Believer
Only the second mixer I bought ever. First was a Samson 9-mixpad purchased over 10yrs ago. After my bandmates and I got together to do a sound check with my ZED-12FX...I was stunned at both how much technology had changed, that the internal effects on this mixer were SO impressive, and the clarity and zero-noise or hum on this thing! Blew me away to say the least...after tweeking the gain levels for the XLRs, adjusting the input on the stereo channels and the EQs, and adding just the right amount of effect to each of the channels, I couldn't believe the sound being pushed out this mixer! I sent the signal through the 2-channel power amp and to a pair of JBL JRXs and the place was rocking. When you set this mixer correctly and let each component in your system perform like they should, it feels like there isn't anything this mixer couldn't tackle. And the flexiblility of being able to add as much of the effect, as well as individual channel levels to the headphone jack for monitoring your overall sound is exactly what I was looking for. I was able to hear everything that the rest of the guys were playing as well as my instruments and vocals as if we were locked in a studio. Glad I listened to my Sales Rep - Bart Good on buying this one instead of a Mackie that I was looking at! Now for the next purchase...wireless in-ear monitoring systems for me and the guys. Sweetwater, you guys are the best!
Nicest yet
This is my fifth mixer for small to medium setups. The others are good (no complaints) but this one edges them out a bit (if the effects last and don't poop out as on some of the others). I think the layout is clearer and the long throw faders are real nice. Ultra quiet and solid as a tank. Owner's manual not quite as good as Mackie sends with theirs but still very clear. No reservations and gets my full recommendation
Great Mixer - Outstanding Quality FX
I purchased this mixer to go along with my new QSC K Series Loud Speakers. This was the first Allen and Heath board that I ever purchased. I initially was going to purchase a cheaper, more affordable mixer, but after I read about the design, construction and sound quality of the A&H mixers, I figured I'd spend the money, and see what I thought.

Well, they were right. The sound quality that comes out of this board, is a night and day difference from all other mixers. There is absolutely no noise from this mixer, and it's the cleanest sound I've ever put through a speaker. The built in effects on this ZED 12FX are outstanding. I use it for Reverb on vocals and guitars, and it's the best sounding reverb I've ever used. It's clean, but powerful. The ability to have a different level of reverb in the AUX outs is a huge bonus as well. This is great for using in ear monitors, when you want more reverb in your ears.

I highly recommend this mixer.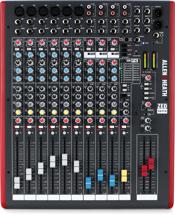 12-channel Mixer with 6 Mic/Line Channels, 3 Stereo Channels, 16 Built-in Effects, USB, and SONAR LE Recording Software — Mac/PC